The art of healing Coeur d'Alene teen manages health anxiety through creativity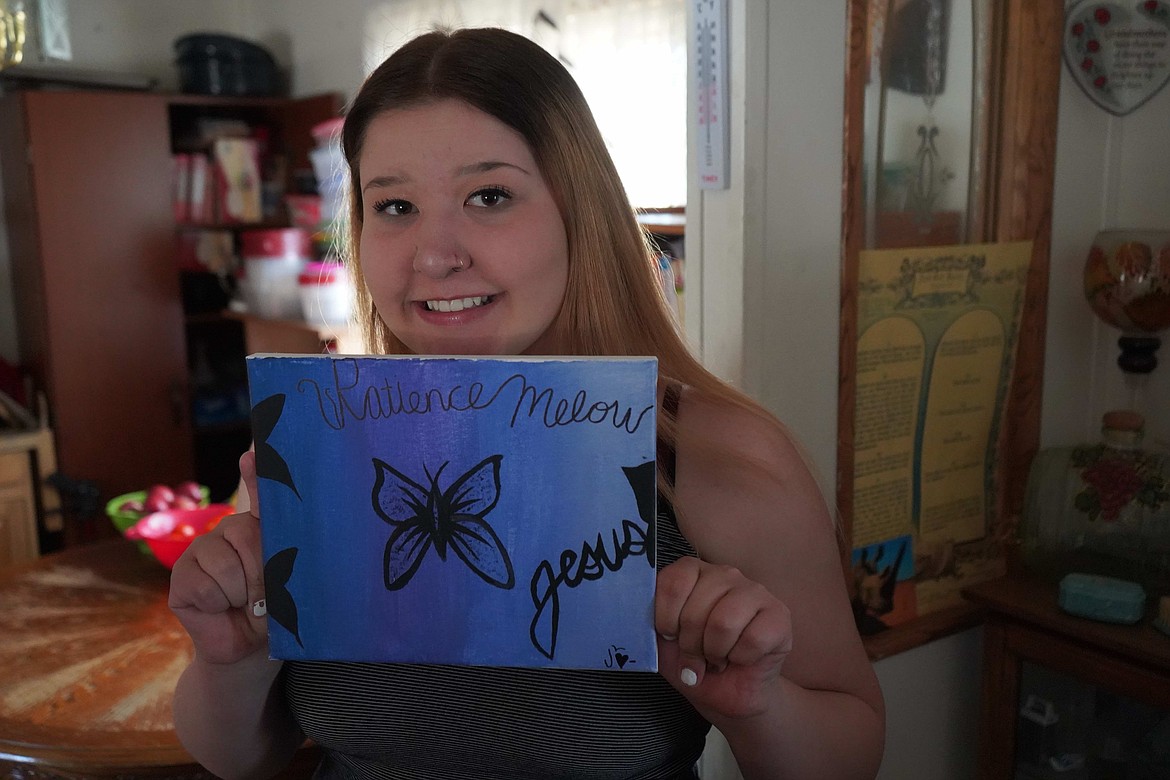 Jayden, a Coeur d'Alene teen, says her art therapy group helps her cope with her health anxiety.
Marc Stewart
by
Marc Stewart
|
April 22, 2021 3:05 PM
Jayden's journey is cataloged in color.
The Coeur d'Alene teenager's artwork is proudly displayed in her home. She'll tell you that the colors in her paintings reflect her mood at the time she created them.
Red symbolizes anger and frustration. Blue represents calm and serenity.
"Art is important to me because I am a very creative person," she said. "This has allowed me to get better. I made a Hope Box and I put positive affirmations in it. Every day I pull one out and read it. I know I am getting better."
Jayden is a bright 17-year-old who has been through a lot in her young life. She lost a brother to a drug overdose. She has battled depression and she also suffers from severe health anxiety.
"I had a lot of stress in my life between work, school, and the environment around me," says Jayden. "My brother had died of an overdose about three years ago. It sent me into a depression. I was trying to balance everything, and it became too much."
Health anxiety is an obsessive and irrational worry about having a serious medical condition. About 5% of people have it. The causes of health anxiety are still mysterious to medical providers, but often an underlying trauma or event can trigger it.
"It's not uncommon for adults or children to have health anxiety," Dr. Nicki Odom, a pediatrician at Heritage Health. "It just requires a more involved approach in treating it. Part of the treatment is seeing your doctor every week. Eventually, those visits become less frequent as the person begins to manage their anxiety."
Odom told Jayden that she had health anxiety, which can be treated with medication and counseling.
Jayden took to art therapy like a duck to water.
"I love going to art therapy," said Jayden. "It's helped me a lot. I am able to express my feelings. Sometimes painting is easier for me than putting things into words."
The art therapy group meets every Friday at 3 p.m., at Heritage Health's FSS North location.
"Our art therapy group allows the individual to express themselves," said Heritage Health Counselor Melinda Soltys. "It's open to everyone of all ages. Jayden really embraced the concept and it's cool to see her grow."
The art group supports each other too. The positive environment fosters some incredible artwork, said Soltys.
"I will give them a general prompt about what to do and it's always exciting to see what each person comes up with. The pieces are often totally different based on what they are feeling at the moment they create them."
Jayden's progress with health anxiety has been remarkable.
"Jayden embraced the challenge and she put in all the hard work," said Odom. "She really has come a long way."
Jayden also regularly attended group therapy sessions and received peer support to learn coping skills and deal with psychological triggers.
"Through the counseling, I have grown a lot," Jayden says. "The services through Heritage Health are very supportive in multiple areas of my life. I had a doctor who really cared about me and where I was going to go in my life."
To sign-up for art therapy classes call (208) 769-4222.
---