Silver Valley Sports Recap: Aug. 23-29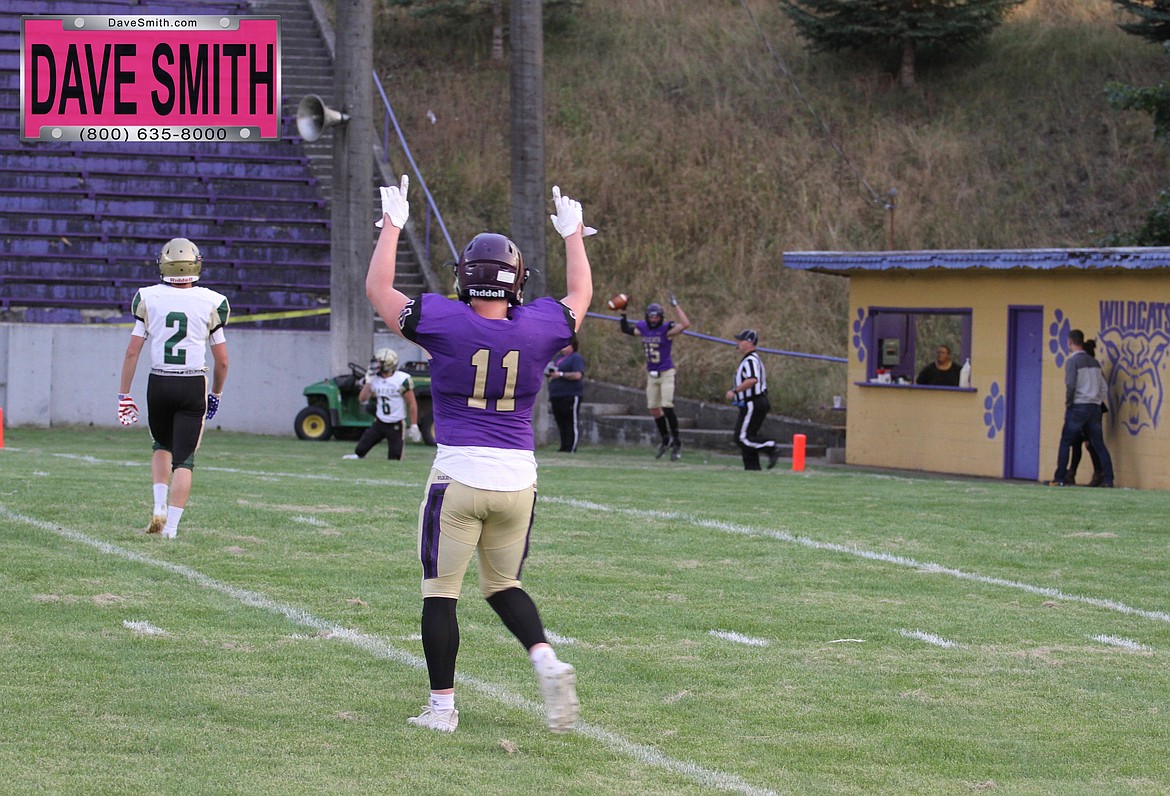 Kellogg's K.J. Walker throws up the touchdown sign to teammate Kolby Luna after Luna's 40-yard touchdown grab early in the Wildcats' 32-0 blowout of the St. Maries Lumberjacks last week.
Radley McDonald
|
August 31, 2021 7:00 AM
• KELLOGG FOOTBALL
Kellogg — 32
St. Maries — 0
KELLOGG — It took all of two plays for LunaVision to work its magic on the visiting Lumberjacks as Riply Luna found twin brother Kolby on a 40-yard rainbow touchdown.
The junior tandem would link up again on the other side of the field for another big score, part of Riply's 19/34, 300+ passing yards, three touchdown evening.
Kellogg led 20-0 going into the intermission, but somehow it felt a little hollow, something head coach Dan Davidian pointed out post game.
"Offensively we played well, but we felt like we left points on the field in a few drives," he said.
The Lumberjacks, who for the last decade or so had dominated the matchup between the two schools, had several opportunities to get on the board, but the Wildcats defense would stiffen up at the right time and stall out each and every one of their drives.
Senior Austin Miller and junior transfer Varick Meredith anchored the Wildcats' stout defense, each recording eight solo tackles and several assisted tackles.
The second half was slightly less interesting until the final three minutes of the game when St. Maries botched a snap on punt that resulted in a Wildcat touchdown, and then on the next Lumberjack drive sophomore Ramsey Rainio picked off Sean Elliot for the second time of the game and took it back to the house.
Depth was a concern for the Wildcats just a few weeks ago, but with over 40 kids coming out to play this year, the Wildcats have quality reserves for the first time in several years.
They do still have a few guys who play both sides of the ball — including Meredith, who moonlights as a runningback — and also caught the other of Luna's touchdown passes.
Davidian now begins to prepare for the Wildcats' next challenge from Corvallis, MT., who dropped their season opener to Hamilton 46-8.
A similar sized school to what Kellogg faces in their Intermountain League play, it will be up to Wildcats' playmakers to keep them on the right track if they want to knock the visiting Blue Devils off.
"We have a lot of two-way players who played extremely well," Davidian said. "It's nice to win the first game to set the tone. We still have a lot of things to clean up and we know that we need to prepare each week for the next opponent. We're hoping to fill the stands all year long and get people excited for Kellogg Wildcat football again."
Kellogg and Corvallis will kick off this Friday at Teeters Field at 6 p.m.
• WALLACE FOOTBALL
Wallace — 46
Kootenai — 42
HARRISON FLATS — The host Warriors nearly delivered a victory to Jake Pfeiffer in his first game as head coach at his alma mater, but the Miners scored with less than 3 minutes remaining to capture the nonleague season opener for both teams.
Landon Streeter's 16-yard touchdown pass to Parker Goldade gave Wallace the lead for good.
Streeter was a man on a mission for the Miners, racking up 259 yards and one touchdown on the ground for the Miners, while Liam Murdock added 43 yards and three scores of his own.
Head Coach Jared Young attributed the win to a total program effort, including his coaching staff for righting a ship that got going in the wrong direction early on.
"We did a great job of battling through adversity in this one, fumbling on our first two plays and losing them," Young said. "We went down 18-8 early and then at the start of the second quarter we flipped a switch on offense and defense behind some great running from Landon and Liam."
Murdock's night would end early as warm conditions led to some cramping issues that took him out of the game for much of the second half.
Streeter picked up the slack for Wallace, making play after play until that final drive where he found Goldade to take the lead.
But he wasn't done yet.
Kootenai had roughly three minutes to make something happen, which can be an eternity in football, but Streeter wasn't interested in the home team making a comeback and picked off a Kootenai pass to seal the game for the Miners.
"Coach Corey Miller called a great game on offense for us," Young said. "And Coach Griff Rasmussen really had the defense working and dialed up coverage at the right time to give us just enough to start the season off on the right foot."
Wallace plays host to Clark Fork this Friday at Sather Field at 7 p.m.
This Sports Recap was brought to you by Dave Smith Motors, a proud supporter of Silver Valley athletics!
Recent Headlines
---