Arrest made following death threat to district one judge
by
CHANSE WATSON
Managing Editor
|
December 2, 2021 6:15 PM
SILVERTON — A Silverton man was taken into custody by the Shoshone County Sheriff's Office Wednesday night following alleged threats he made to District One Magistrate Judge Barbara Duggan earlier that day.
Shoshone County Deputy Prosecuting Attorney Benjamin Allen explained that the Shoshone County Court Clerk contacted the Prosecutor's Office around 3:30 p.m. the same day with an emergency request regarding a letter that had been mailed to the courthouse. While few specifics of the letter have been released, court documents indicate that its contents included a direct threat to use weapons of mass destruction to kill Judge Duggan and/or other law enforcement officers by strapping a bomb to their chest.
Once the matter had been brought to the attention of the Prosecutor's Office, swift action was taken.
"We made the determination that the threat was serious, needed immediate attention, and summoned the SCSO to respond to the courthouse and begin the investigation into the threatening letter," Allen explained.
Security at the courthouse was temporarily increased to ensure the safety of those inside and determine the source of the threat.
Robin Lee Gutierrez, 38, made no effort to hide his identity and was quickly discovered to be the author of the letter.
Gutierrez had already been charged with first-degree felony stalking and violating a protection order after the victim came forward on or around Oct. 21. As a result, Judge Duggan was the one who issued a $20,000 warrant for his arrest on Oct. 26.
"We requested that law enforcement take immediate action in an attempt to locate and to ensure the safety and security of the public courthouse and/or the judge and law enforcement," Allen said.
The search for Gutierrez began immediately where he was believed to have been in Silverton.
Around 8 p.m. Wednesday, deputies finally tracked Gutierrez to a residence — despite numerous attempts on his part to evade them.
Following roughly an hour of negotiations, he surrendered himself peacefully.
Gutierrez was booked into the Shoshone County jail on charges of stalking and violating the terrorism control act. He went before Judge Scott Wayman Thursday afternoon and his bond was set at $250,000.
Allen was thankful for the quick response of all involved to ensure that the serious situation ended peacefully.
"Terroristic threats…are something that warrants the highest level of priority from our office," he said. "I think that was evident by the quick nature in the response, both by the Prosecuting's Attorney's Office and our local law enforcement…It's exactly the type of response that we would hope for in this type of situation."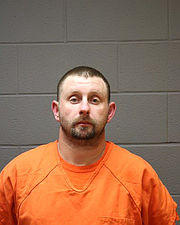 Recent Headlines
---