Shoshone County welcomes new pediatrician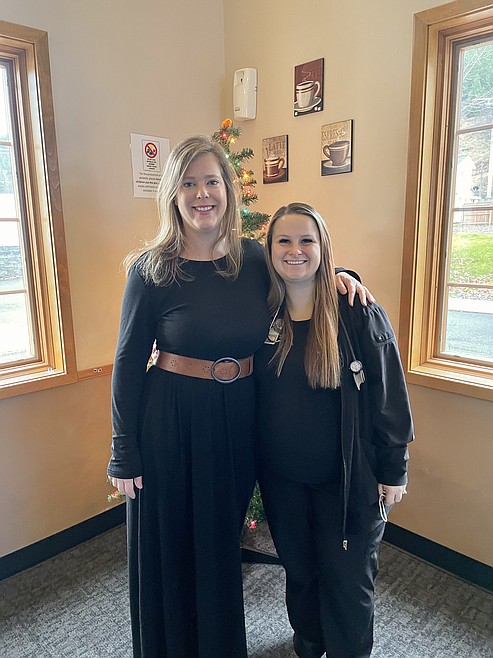 Doctor Nicole Odom (left) with her nurse Chelsea Johnson. Dr. Odom is now accepting new patients from birth to age 21 at Heritage Health in Kellogg.
Photo by CHELSEA NEWBY
by
CHELSEA NEWBY/Staff Reporter
|
December 3, 2021 6:00 AM
KELLOGG — The Silver Valley welcomes its first Pediatrician in more than 26 years, as Dr. Nicole Odom recently joined the staff at Heritage Health in Kellogg.
Dr. Odom is no stranger to the Heritage Health family, as she has been practicing primarily at their Coeur d'Alene location for the past six years, while also seeing patients at their Rathdrum and Post Falls locations for the past two years.
Odom said that she has seen many patients from the Silver Valley while working at other locations, and that she has always had an interest in working in the Kellogg office, if the opportunity were to come.
"Kellogg has always had a team of great family doctors, who are comfortable seeing young patients, so I was always interested, but they didn't really have a need," she said.
After seeing the office go through changes in staff earlier this year, Odom said that she reached out to Heritage Health's clinic director to ask if they could use her part-time assistance.
"After that, things came together super fast," she said.
Odom graduated from medical school at the University of Colorado in 2013.
She then attended her pediatric residency at Children's Medical Center in Dallas, Texas, and has since made Coeur d'Alene her home with her husband and their three children.
She said she is curious to get to know the people of the Silver Valley better, while providing care for new patients from birth to age 21 in the area.
"We like traveling around and being a part of Heritage. It's great. I like to go to the other clinics — meet the other people. Post Falls and Coeur d'Alene are kind of similar, but then Rathdrum totally has its own culture and I imagine that I'm going to find that here too," Odom said. "I think what I sense already is that these are not the type of people that are going to go to the doctor for every little cough or sneeze. These people are tougher — I think they are heartier folk."
Odom looks forward to the variety of work that she will experience while at the Kellogg office and lessening the commute for those seeking pediatric care — especially patients in need of same-day appointments.
"I pride myself to a degree on taking walk-ins even if it means being double booked," she said. "If you have a sick kid, we will see them."
Dr. Odom is now serving Kellogg every other Thursday from 8 a.m. to 5 p.m. — although hours may change depending on demand. To schedule an appointment, please call 208-620-5250.
Recent Headlines
---