WTF is going on here?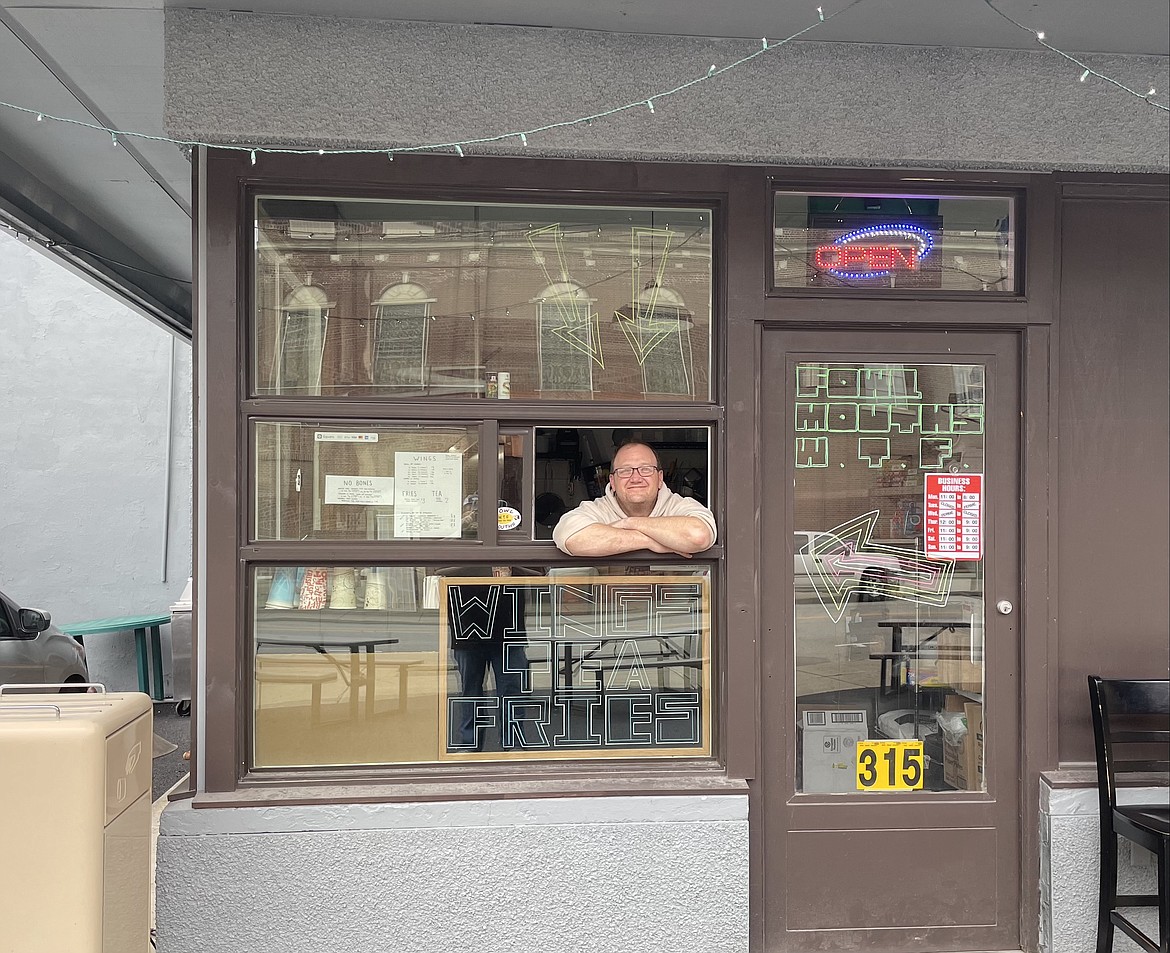 Drew Plate leans out from the order/pick-up window of his brand new chicken wing restaurant W.T. Fowlmouth. Plate is the owner and operator of the hot new wing stop in Wallace — which is quickly gaining popularity throughout the Silver Valley.
Photo by JOSH McDONALD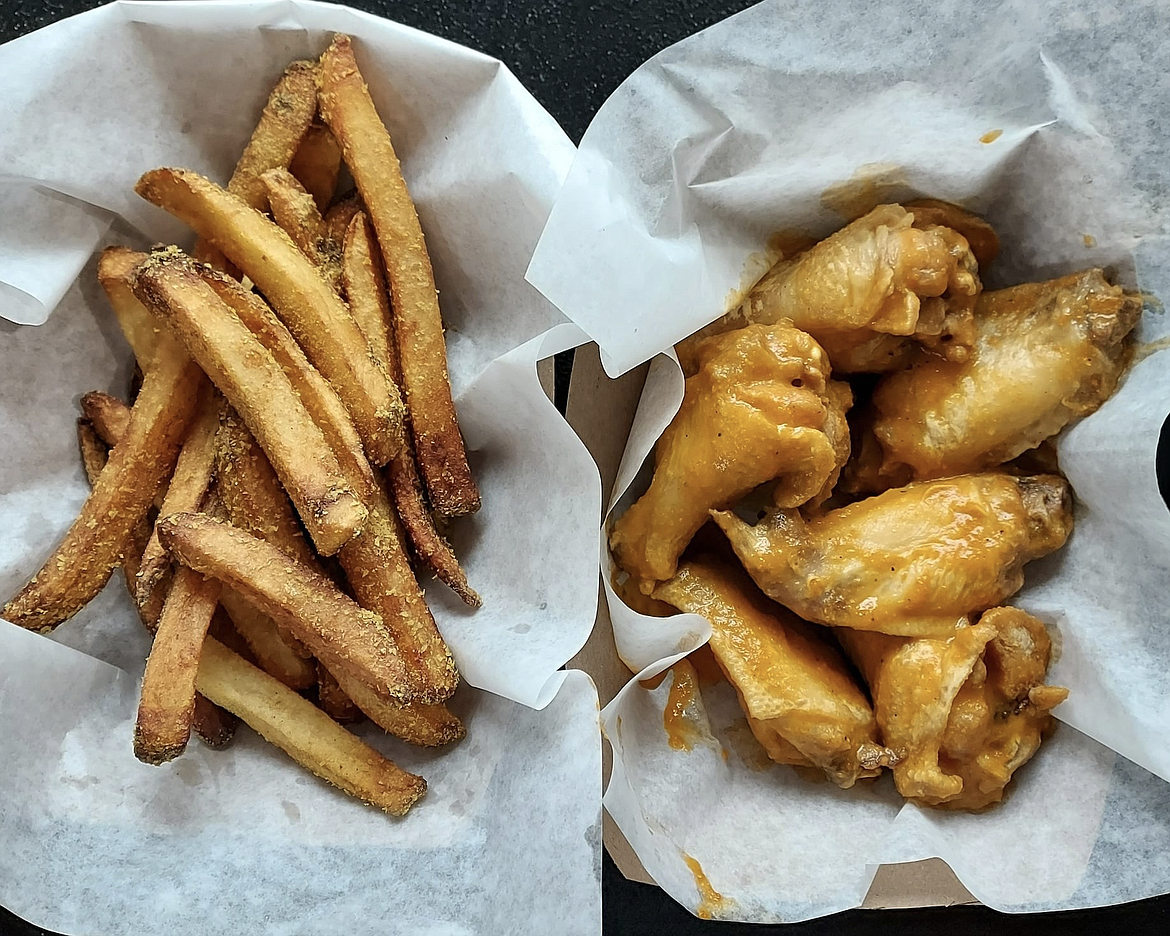 Here's a sneak peak at what the homemade fries and hand-spun wings look like at W.T. Fowlmouth. It's OK if you're drooling.
Previous
Next
by
JOSH MCDONALD
Staff Reporter
|
December 3, 2021 6:00 AM
WALLACE — A new food joint in town has customers quite literally saying WTF.
Wings. Tea. Fries.
Officially known as W.T. Fowlmouth, the concept has been brewing in the mind of owner-operator Drew Plate for several years and now, armed with a cool new space and an unlimited imagination for flavors.
"I have this uncanny knack for being able to taste things in my head," Plate said. "You can throw out a couple flavors and I can tell you how it would taste, if it would be good."
For Plate, working in restaurants has been a common occurrence, both taking orders and prepping food, but he has never been the sole person responsible for handling both.
Now, he's taking orders, creating flavors, spinning wings in sauces, chopping potatoes and putting every ounce of his culinary genius and cross country experience into what has quickly become a popular spot in the Wallace community.
Plate has made sure that he can facilitate a variety of different lifestyles and diets, offering gluten free options, lower sugar options, and even a plant-based vegan wing option.
"I want to be as accommodating as possible," Plate said. "More and more these days people are simply more aware of their needs and diets, and that's important to me."
From a flavor perspective, the mad scientist has cooked up a variety of flavors that cross all flavor barriers and have some customers challenging what they used to believe were normal flavor combos.
5th Street Heat, a not so spicy play on WTF's location, the 10 Billionth BBQ Sauce (named that because according to Plate, there are so many different barbecue sauces on the market), and pineapple ginger are just a few of the mouthwatering tastes one can experience.
"Everyone who has come to the window has been so enthusiastic and positive," Plate said. "People are eating the food and then the word of mouth online has been great."
Some restaurants pride themselves on having a diverse menu, Plate on the other hand, is very proud of the relative simplicity of the menu and how he has been able to tailor his prices to his audience.
"We want to give customers some options, but I also want this to be simple for folks," Plate said. "It's all about the prep work, but it's working out pretty good so far. I know that I want to keep our prices at a place where when I ask myself, 'would I shop here?' I say yes every time. I'm trying to keep it $10-$15 per person. For $15 you're leaving with a WTF combo and for a dollar more, some tea too."
Opening a chicken restaurant in the midst of a global pandemic that is now including a shipping crisis isn't making things easy for guys like Plate, but he is working with local grocery stores and so far hasn't had to feel any sort of supply shortage sting.
"Luckily we live in this beautiful bubble here in Wallace," Plate said. "I've been able to work with the local grocery store and been able to keep WTF as local as possible. But right now, I'm having no problem getting high quality, antibiotic-free chicken."
Plates offers varying levels of sweetness for his southern-inspired sweet tea, which perfectly pairs with the wings and homemade fries.
W.T. Fowlmouth is open Thursday through Monday, including Monday from 11 a.m. to 8 p.m., Thursday from noon to 9 p.m., and then Friday through Sunday from 11 a.m. to 9 p.m.
W.T. Fowlmouth is located at 315 Fifth St. in Wallace and orders can be placed by phone at 208-682-6168.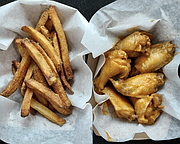 Recent Headlines
---