Clean water at Canyon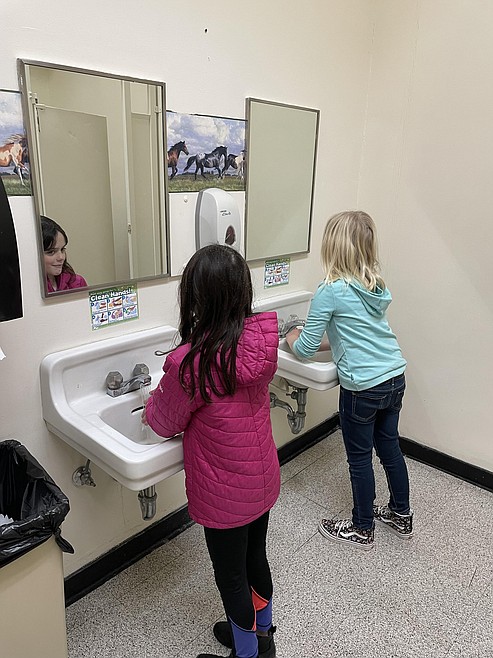 Canyon Elementary students and staff are back to using the water for hand washing only — taking extra precautions until Jan. 3 when results of the final water sample will be revealed.
Photo by CHELSEA NEWBY
by
CHELSEA NEWBY
Staff Writer
|
December 10, 2021 12:36 PM
CATALDO — Canyon Elementary School appears to have found the light at the end of the tunnel for its school's water system worries.
The rural elementary school has been operating under Panhandle Health's boil order since Oct. 20, after its quarterly water sample led to the discovery of E. coli bacteria in the school's reservoir tank.
After several minor repairs and attempts to clean the tank proved unsuccessful, the school went on to hire a specialty company to perform a final deep-cleaning and extended chlorination flush of the reservoir tank during the school's Thanksgiving break.
On Wednesday, the school received notice from Panhandle Health District declaring that the boil order that the school had been operating under has been lifted.
The letter stated "All sanitary defects identified in the Level 2 Assessment conducted October 18, 2021 have been corrected, the system underwent three rounds of disinfection processes, and results from drinking water samples submitted December 1, 2021 (2 samples) and December 3, 2021 (1 sample), were absent of total coliform and E. coli bacteria. Therefore, PHD has approved lifting the boil order for the Canyon School District."
Principal Jenny Ferriera sent a letter to all Canyon parents sharing the good news, then went on to state that despite the positive development, CES will continue to use safeguards for the next several weeks.
"In an abundance of caution, we are going to gradually take steps back to full water usage," Ferriera said. "Beginning tomorrow, water will be restored to faucets for hand-washing, cleaning, etc. Water fountains will still remain off and students will still be provided bottled water for drinking. The kitchen will still use bottled water in food preparation. We will continue with these limitations until Jan. 3. Prior to students arriving back at school on Jan. 3 an additional sample will be taken to ensure that our water is still contaminant-free. As long as that sample comes back clean, we will go back to full use of our water on Jan. 3."
Superintendent Lance Pearson, who has been hands-on in solving the issue, was very pleased by the news and handling of the situation saying, "I cannot say enough good things about the families, parents, teachers and community at Canyon Elementary," he stated. "They have stayed positive and showed incredible resilience. They have taught their students to deal with adversity rather than complain about it."
Recent Headlines
---