Tiger duo headlines local all state selections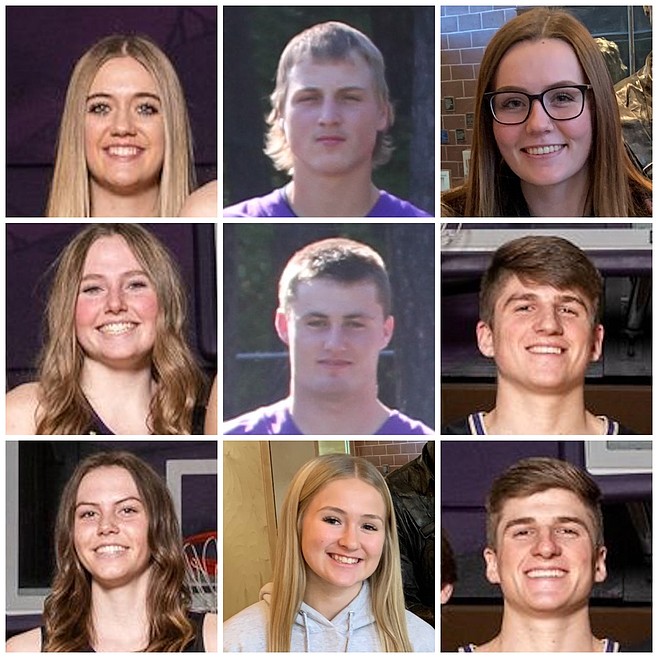 The nine local athletes who were named to the Idaho Statesman's all state teams. Pictured (from the left) in the top row is Grace Nearing, Luke Trogden, and Jaden House. Middle row is Maddie Cheney, Adam Ball, and Riply Luna. Bottom row is Hailey Cheney, Riley Valley, and Kolby Luna.
Courtesy photos
|
December 16, 2021 1:05 PM
Nine local athletes represented the Silver Valley in tremendous fashion during their respective fall sports seasons.
Each year the Idaho Statesman releases their annual all-state team selections. The all-state team is selected by each classification's coaches.
The football teams were released earlier this week, while volleyball was released last week.
The Mullan/St. Regis Tigers were led by a pair of first-teamers who unfortunately came up short in their playoff quarterfinal matchup against Carey.
Standing 6-1, and weighing in at 200-pounds, St. Regis senior running back Adam Ball (1A DII first team running back) missed the 1,000-yard mark by just three carries, but did it on just 57 carries. Scoring 12 touchdowns and averaging 17.5 yards per carry in the process.
Mullan's Luke Trogden (1A DII first team defensive line) anchored the Tigers' defensive line for four years now, this year's numbers were eye popping as he finished with 72 tackles, 16 of them for loss, 11 sacks, four forced fumbles and two blocked punts.
Mullan head coach Stetson Spooner has erred on the side of class with his two senior standouts, oftentimes limiting them in games that routinely were blowouts before halftime.
"These guys are top notch, all-state talents that are at times limited, oftentimes due to our own success," Spooner said. "Luke and Adam could've had probably near 2,000 yards a piece this season this year if we kept the pedal down all game every game. But we have multiple weapons and we don't want them standing around so we like our balanced attack."
This marks the fifth consecutive season where Mullan has had representation at the all state level.
Kellogg football had a marvelous season, due largely in part to the efforts of Riply and Kolby Luna, both of whom found themselves selected for first and second team spots respectively.
Riply Luna (3A first team quarterback) broke several long standing 3A records this season, including total passing yards (2,597) and set the single-game passing touchdown record (throwing eight at home against Priest River). Kellogg threw the ball on nearly 80% of their plays and Riply was pretty accurate, connecting on 62% of his throws, while throwing 37 touchdowns to only six interceptions.
Kolby Luna (3A second team wide receiver), made the most of his brother's accuracy, catching 16 scores while also racking up 1,077 yards.
"Couldn't be more proud of two young men who exemplify the right work ethic, attitude, and drive to excel in football and academics," Kellogg coach Dan Davidian said. "This award is well deserved for both."
Kellogg volleyball qualified for their fourth consecutive trip to the 3A State Tournament, much of that fell on the shoulders of 3A first team selection Hailey Cheney. The senior, Northwest Nazarene commit led a punishing Wildcat attack that had teams throughout the region constantly on their heels.
Joining Cheney were 3A honorable mentions Maddie Cheney and Grace Nearing.
Wallace volleyball was well represented despite missing the state tournament this season as seniors Riley Valley and Jaden House were named 1A DI honorable mentions.
The full list of all state teams can be found at idahostatesman.com.
Recent Headlines
---