Silver Valley Sports Recap: Dec. 13-19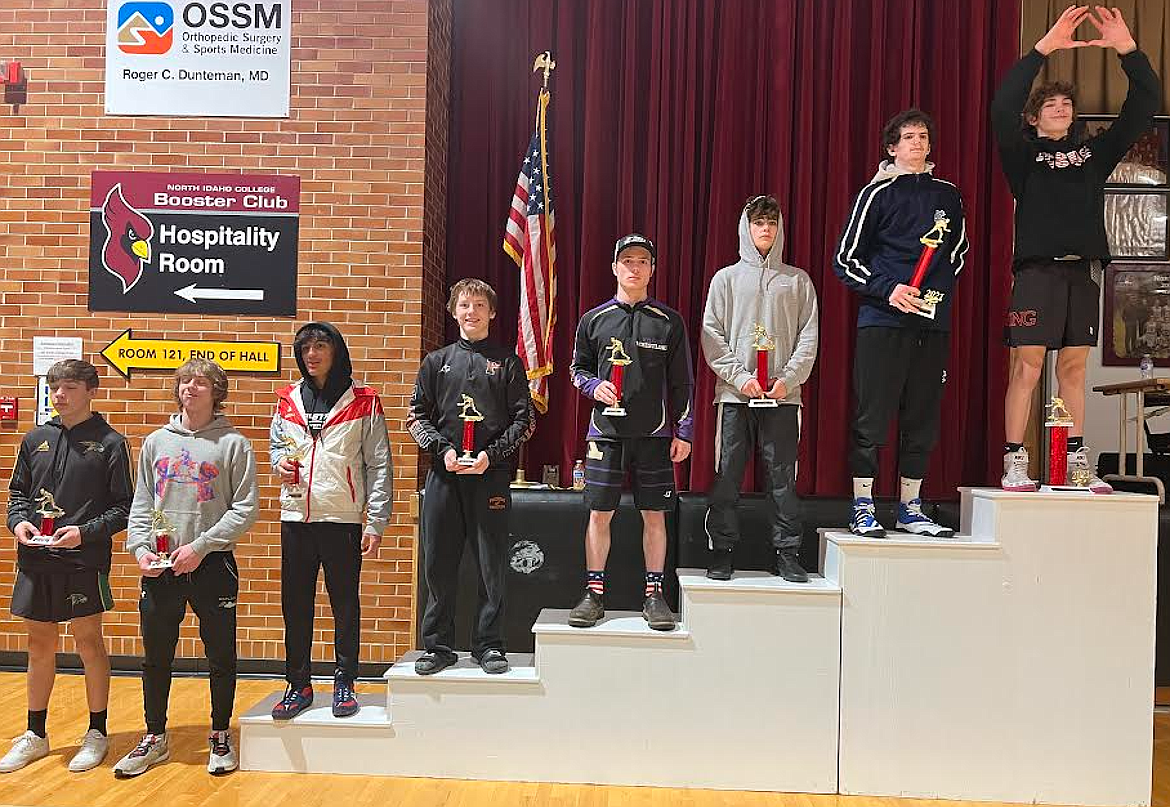 Wyatt Hei (fourth from the top) turned in a program leading fourth place performance during the annual Tri-State Invitational over the weekend at North Idaho College.
Courtesy photo
|
December 20, 2021 11:09 AM
KELLOGG WRESTLING
Dec. 15
KELLOGG — The Wildcats decided to mix it up with a couple of the biggest schools in the area just a few days before the Tri-State Invitational.
Kellogg struggled with some forfeits, but still picked up a few wins against the Vikings, falling 65-17.
The Wildcats were a lot more competitive against Lake City, falling 42-32, but picking up keys wins from Ricky Haralson (113-lb), Jaeger Hall (126-lb), Kolter Wood (120-lb), Carter Stepro (138-lb), Raymond Heely (145-lb), and Austin Miller (182-lb).
Haralson, Hall, and Miller were 2-0 on the evening.
"I thought our kids wrestled well. Forfeits didn't help but we focused on our matches and went 10-7 on the night – 16-11 overall including the JV matches," Head coach Scott Miller said. "All of our kids found wins against really good competition."
Dec. 17-18
TRI-STATE INVITATIONAL
NORTH IDAHO COLLEGE — A trio of Wildcat wrestlers made their way onto the podiums in the aftermath of the fierce competition that is the Tri-State Invitational.
Wyatt Hei, Kolter Wood, and Ricky Haralson wrestled hard and represented the purple and gold proudly on their way to fourth, fifth, and seventh place finishes respectively.
"Wyatt wrestled really well this weekend, beating the number one seed on the way to his fourth place finish," Head coach Scott Miller said. "He found ways to win in difficult matches. I'm really pleased for him. Kolter has found his match and did a great job staying with it all weekend. He beat some excellent kids and gave himself a chance to win in the two he lost which is so important as we move forward into the season."
Haralson's performance became fairly noteworthy among the wrestlers and coaches, as the freshman fought his way back into contention after being put in a tough situation from the outset of the event.
"It's not often that a freshman finds their way onto the podium at this tournament so that tells you how well Ricky wrestled this weekend," Miller said. "He lost his first match to the eventual champion and then came all the way back through the consolations to earn his trophy. Very proud of his performance."
Kellogg found themselves right in the middle of the 47 schools represented, finishing 25 overall as a team with several quality performances from their top guys.
"We went 17-16 on the weekend against excellent competition," Miller said. "Having three placers was very good for our program and the most since I've been here. We also finally broke the top 25 which is exciting and nearly doubled our previous high score so it was a good weekend all around. All of our kids had good moments and didn't shrink from the competition so we look forward to moving into the new year."
Kellogg had eight wrestlers invited, all of which were among some of the most competitive weight classes.
Raymond Heely came just short of placing, while Jaeger Hall, Colby Lemmon, Carter Stepro, and Austin Miller all performed admirably throughout the tournament.
TEAM SCORES: (47 Total Teams)
TOP 10
1) Coeur d'Alene 205.5
2) Flathead (Kalispell) 191
3) Mead 164
4) LaGrande (OR) 159.5
5) Post Falls 154
6) Orting (WA) 140
7) University 135
8) Central Valley 132
9) Chiawana (WA) 129
10) Frenchtown (MT) 126
OTHERS…13-Lewiston 115, 19-Lakeland 74, 20-Lake City 67, 22-Timberlake 62, 25-KELLOGG 55, 29-Bonners Ferry, Priest River 40, 32-Potlatch 39
WALLACE GIRLS BASKETBALL
Dec. 14
Wallace 49, Priest River 16
WALLACE — Layla Burmeister scored 13 points for the Miners in a nonleague win over the Spartans at Kirby Krulitz Court. Brittany Phillips scored 11 points for Wallace.
Priest River 5 5 2 4 — 16
Wallace 8 11 15 15 — 49
PRIEST RIVER — Burgess-Duquette 0, Pound 2, Freitas 4, Thompson 0, Humphrey 3, McCracken 0, Kingery 2, Barton 5.
WALLACE — Specht 3, Lewis 0, Gibson 0, House 2, B. Phillips 11, Welch 6, Burmeister 13, Hendrick 0, Hemphill 6, Hunter 8, Taylor 0.
Dec. 15
Wallace 43, Post Falls JV 26
POST FALLS — Jaden House scored 16 points to lead the Miners past the Trojans junior varsity at The Arena.
"The first half, our girls played some really tough defense," Post Falls JV coach Matt Barkley said. "We just couldn't break their zone and we struggled to score in the third quarter. I'm proud of our girls. They hung in there."
Ellie McGowan, Myckenzee Mitley and Kayden Allen scored six points each for the Post Falls JV.
Wallace 10 11 15 7 — 43
PostFallsJV 513 2 6 — 26
WALLACE — Specht 0, House 16, Phillips 10, Welch 5, Burmeister 6, Hemphill 2, Hunter 4, Taylor 0.
POST FALLS JV — Berg 0, Van Volkinburg 0, Byrne 0, McGowan 6, Nipp-Berger 2, Mitley 6, Miller 1, Gilmor 5, Conijn 0, Allen 6.
KELLOGG GIRLS BASKETBALL
Dec. 14
Kellogg 53, Bonners Ferry 25
KELLOGG — Hailey Cheney had 21 points and 13 rebounds for the Wildcats in a win over the Badgers in the Intermountain League opener for both at Andrews Gymnasium.
"We came out and played aggressively on defense and were organized on offense and played good team basketball," Kellogg coach Jana Nearing said. "We had a few and-ones and that really got our momentum going in the first."
Emily Coe had 12 rebounds and seven points for Kellogg.
Asha Abubakari scored 11 points for Bonners Ferry.
Bonners Ferry 4 6 12 3 — 25
Kellogg 19 4 12 18 — 53
BONNERS FERRY — Burt 0, Pluid 0, Blackmore 3, Abubakari 11, Petsch 0, Br. Bayer 0, Sumpter 10, A. Bayer 1.
KELLOGG — Karst 0, Jerome 6, VanHoose 4, Coe 7, Hill 3, Nearing 8, H. Cheney 21, Reed 0, M. Cheney 4, Potts 0.
Dec. 17
Timberlake 65, Kellogg 54
SPIRIT LAKE — Freshman Jozee MacArthur hit a pair of 3-pointers late in the first quarter to spark a struggling offense, and the Tigers went on to post a convincing win over the visiting Wildcats in Intermountain League play.
Junior Ciara Soumas scored 15 points for Timberlake, which led by as much as 21 points in the second half.
"Was really proud of the girls," Timberlake coach Matt Miller said. "They played hard the entire game; they didn't have an 'off' switch. They showed a lot of toughness; that was really cool to see."
MacArthur finished with three 3s and 12 points for Timberlake. Marissa Needs added 10 points, and Jenna Chase hit three 3s and finished with nine points.
"Their work ethic and grit was excellent tonight," Miller said.
Hailey Cheney led all scorers with 29 points for Kellogg.
Kellogg 13 15 11 15 — 54
Timberlake 15 20 20 10 — 65
KELLOGG — Karst 3, Jerome 11, VanHoose 2, Coe 2, Nearing 2, H. Cheney 29, Reed 0, M. Cheney 0, Hill 5.
TIMBERLAKE — Soumas 15, Dickenson 2, Webberley 0, Kronenberg 0, MacArthur 12, Wall 8, Needs 10, Patrick 9, Chase 9.
MULLAN BOYS BASKETBALL
Dec. 14
Genesis Prep 68, Mullan 18
MULLAN — Caleb Schroeder scored 13 points, Ayson McCluskie added 11 and the visiting Jaguars enjoyed a size advantage in beating the Tigers in nonleague play at the Mullan Pavilion.
"They're huge, compared to us," Mullan coach Paul Elston said. "We actually did a lot of good things tonight. That's a tough matchup for us; they have depth that we usually don't have.
They took advantage of their size, and they shot the ball well."
Luke Trogden had six points, three assists and two steals for Mullan, Austin Zingler had three steals for the Tigers.
Genesis Prep 12 28 17 11 — 68
Mullan 5 5 5 3 — 18
GENESIS PREP — Young 3, Schroeder 13, Daniels 8, Russworm 6, McCluskie 11, Rubert 5, Shinn 2, Specht 9, Snowder 9, Wood 0.
MULLAN — L. Trogden 6, Nelson 1, A. Zingler 4, T. Zingler 4, S. Petit 3, Rupp Connors 0, L. Petit 0, A. Trogden 0.
WALLACE BOYS BASKETBALL
Dec. 17
Wallace 70, Kootenai 7
WALLACE — No other information was available.
Recent Headlines
---