KHS GIRLS BASKETBALL: All or nothing for Lady Cats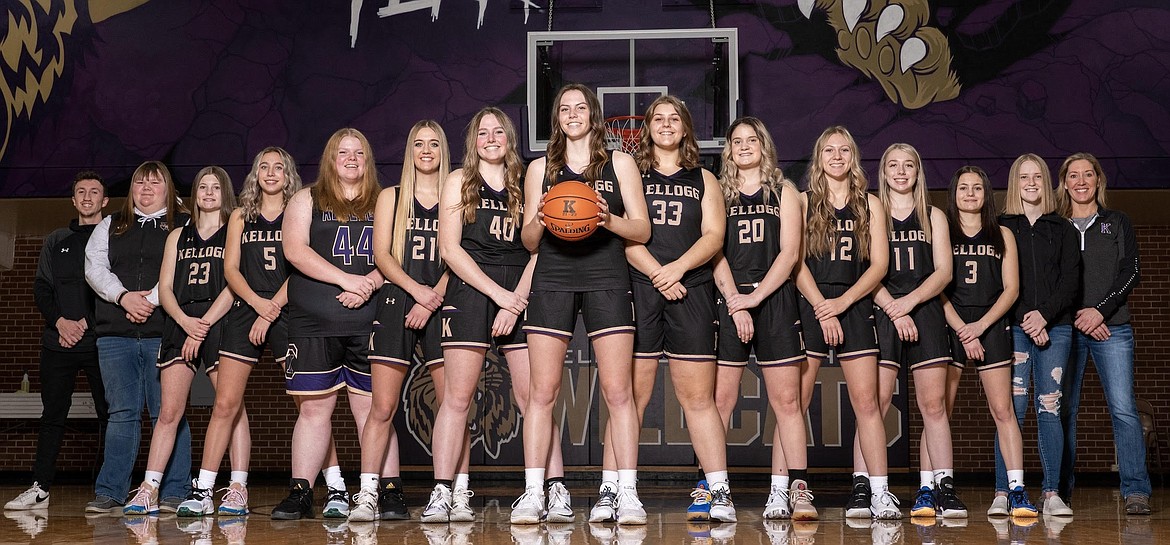 The Kellogg High School girls basketball team pictured from left are coach Gus Colburn, Alyssa Miliron, Alex Karst, Macy Jerome, Haylee Potts, Gracelynn Nearing, Maddie Cheney, Hailey Cheney, Kay Reed, Darian Hill, Emily Coe, Emma VanHoose, Sam Karst and coach Jana Nearing.
Photo by SMD PHOTOGRAPHY
EDITOR'S NOTE: This story is part of a series of stories from our annual Winter Sports Preview, which was published in our December 10, edition of the Shoshone News-Press. The full tab can be found in that print edition or in the E-edition found on our website.
KELLOGG — It's about depth for the Lady Wildcats, and this year head coach Jana Nearing has it.
This year Kellogg is looking down the barrel of an incredibly experienced team that has six seniors who have played together for at least the last decade.
Anchors Hailey Cheney and Grace Nearing have been key cogs in Coach Nearing's game plan for the past three seasons — and could be in line for some Intermountain League honors by the end of the season.
Along with fellow senior Darian Hill and joined by terrific sophomores Macie Jerome, Maddie Cheney and Emily Coe, Kellogg has the horses in the stalls to make a run at a league championship, even if it means knocking off Timberlake.
The pattern has developed over the years where the Wildcats finish second in the IML, win their semifinal game, play Timberlake in the district championship, and then for whatever reason they can't replicate their efforts from the semifinal round and come up just short of getting to the state tournament — even when the talking heads throughout the state believe they are among the top eight teams in the state.
The question remains, can they break the cycle?
"We should be able to take advantage of our speed defensively and our size inside," Nearing said. "It is feeling like we have what it takes to have a successful season. Our sophomores have grown and matured as well which will add depth to our bench. We are looking forward to being competitive in our league this year, and ending the season with some hardware and a trip down south."
With that kind of confidence it seems like they can.
Recent Headlines
---