Silver Valley Sports 12/20 - 12/26
|
December 27, 2021 11:05 AM
MULLAN — The all-state duo of Adam Ball and Luke Trogden announced their gridiron plans after high school early last week.
Ball, an all-state running back from St. Regis, has committed to play football at Rocky Mountain College in Billings, Mont.
He was the primary weapon for the Mullan-St. Regis Tigers' offense for the past two seasons, including this past year where he just barely missed the 1,000-yard mark, while playing roughly half of the snaps.
It was the culture of Rocky Mountain that attracted Ball to the school, the familial atmosphere is very similar to what he has experienced throughout his time playing in the Mullan-St. Regis co-op.
"Playing football for the Mullan-St. Regis Tigers has been a blast," Ball said. "It was the highlight of my high school years. Without the co-op I don't know if I would have had the opportunity to play the game that I love. It also provided me with many special memories, great friends, a second home in Mullan and a chance to play at the next level."
Ball was incredibly thankful for his coaches, who put in an extraordinary effort to ensure that both of these communities had a football team to rally around.
"This co-op would not have been possible, or as successful without my great coaches," Ball said. Coach (Jesse) Allan made a huge sacrifice to drive us over the pass every day. He was also a big support in the weight room, and he has helped me develop into the player I am today. Coach (Stetson) Spooner has been extremely impactful as well. Spooner is a big reason why I am playing at the next level. He was a huge advocate during my recruiting process, spending countless hours talking with coaches and sending out highlights.
All-state defensive lineman and Mullan native Luke Trogden has committed to playing for the Montana Tech Orediggers next year.
Trogden did a little bit of everything for the Tigers during his four years as a featured player on their varsity squad.
From quarterbacking as freshman, transitioning into running back and a receiving threat, all the while maintaining a physical presence on the defensive side of the ball that helped the Tigers go 21-7 over the past three years.
With his size, speed and strength, Trogden will likely be used all over the field by the coaches at Montana Tech, where he could see time on both the offensive and defensive line, as a fullback, and even more likely, as a special teams specialist.
Both players signing with schools in the National Association of Intercollegiate Athletics' Frontier Conference means that at least once a year, these two former teammates will be on opposing sides of the ball — which could produce a few more memorable meetings for the pair.
12/20
Kellogg 66
Wallace 51
WALLACE — Tanner Groves had 23 points and four assists for the Wildcats in a non-league win over the Miners at Kirby Krulitz Court. Riply Luna had 17 points, seven steals and four assists and Kolby Luna 15 points and five steals for Kellogg.
Kellogg turned the ball over and the Miners shot the ball well enough to keep themselves in the game in the first half, but in the second half Kolby Luna hit a trio of late three pointers to effectively put the game out of reach.
Brad Tesky scored 14 points and Robbie Morin 13 points for Wallace.
Kellogg 14 21 12 19 —66
Wallace 8 22 12 9—51
KELLOGG — Miller 2, Whatcott 0, R. Luna 17, K. Luna 15, McLean 4, Groves 23, Maciosek 0, Frohlich 4, Walker 3, Hendrix 1, Bristow 0.
WALLACE — Goldade 2, Davis 6, Tesky 14, Streeter 2, Allison 6, Jaramillo 0, Hasz 0, Schmidt 1, Murdock 0, Morin 13, Hull 0, Wilkinson 0.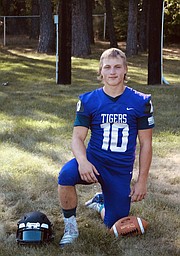 Recent Headlines
---