Trogden signs on to Dickinson State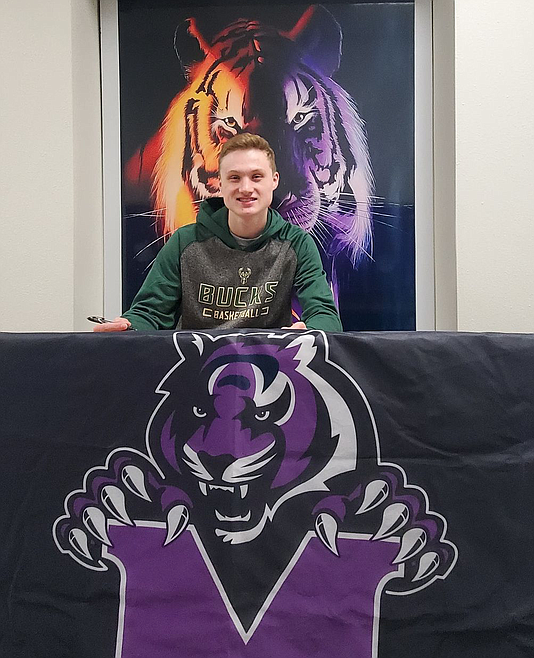 Mullan High School football player Riley Trogden signed his letter of intent to play collegiate football at NAIA school Dickinson State.
Courtesy photo
by
JOSH MCDONALD
Staff Reporter
|
February 9, 2021 11:57 AM
MULLAN — The Mullan Football Program is proud to announce that senior Riley Trogden has signed with Dickinson State University to continue with his football career.
Trogden was recruited to play safety after spending four years vulturing more than 20 interceptions from North Star League opposition and being named a second team selection to the 2020 Idaho All State team.
Dickinson State, a 4-year, National Association of Intercollegiate Athletics (NAIA) school, finished with a perfect 9-0 season last year making Trogden a solid addition to an already impressive Blue Hawks roster.
Mullan Head Coach Stetson Spooner is excited for Trogden, whom he fawned over following his signing last week — both for his work on the field and his character off it.
"Riley is a very hard worker, intelligent and respectful player to coach," Spooner said. "The Blue Hawks will be getting a young man that plays his hardest every snap and stays hungry. Riley is very humble, level headed and focused on the goals he has for himself. Coaches would be very lucky to find talent to replace a kid like Riley, but trying to replace the type of young man he has become seems nearly impossible."
Riley was part of Spooner's Swiss-Army knife system that saw players become big play threats at every position, including defense, which means that Trogden may end up being valuable to the Blue Hawks and more than just the safety position.
"He's truly a coach's dream," Spooner said. "It's a player like Riley over the top defensively — or blocking in the open field — or catching big passes offensively that allowed us to be creative with our other pieces."
Trogden is just excited to be continuing his playing career, even if he didn't necessarily expect to.
"I was a little shocked and also really nervous," Trogden said. "But I'm excited and blessed at the same time. My goal is to go in with a positive attitude and contribute as much as I can. I'm looking forward to being a part of a new family and to continue my football career."
---