ON TO STATE!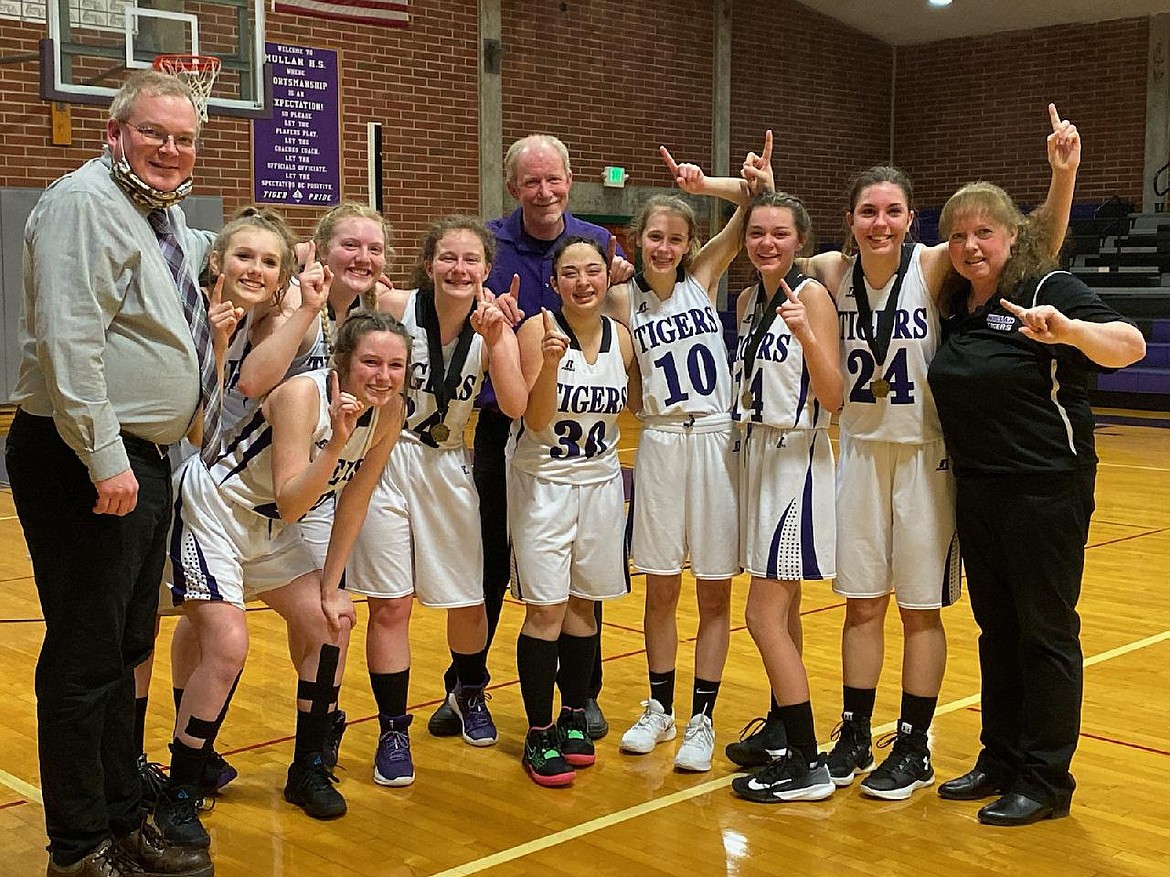 The Mullan Lady Tigers are headed to the 1A State Tournament after a 35-year drought. They clinched their berth after beating Clark Fork in the North Star League Championship Game on Wednesday night.
Courtesy photo
by
JOSH MCDONALD
Staff Reporter
|
February 12, 2021 11:19 AM
MULLAN — They had beaten them twice already, but for coach Sherry Leitz, Wednesday night was just another game against Clark Fork.
Or at least that's what she told her squad.
"I didn't want them looking past this game," Leitz said.
The response was exactly what Coach Leitz was hoping for.
Her Mullan Lady Tigers are headed to the state tournament for the first time since 1986 after beating Clark Fork 37-34 in the 1A DII District 1 Championship game.
Mullan jumped out to an early lead, but the Wampus Cats stormed back to close the gap to just two points at the intermission.
Powered by 17 points from freshman Jazzmyn Nelson and 16 points from Talowa Fallingwater, the Tigers weathered one final flurry of points in the fourth quarter and it came down to game planning and proper adjustments.
"The biggest key for us is that we changed defenses two days ago and they couldn't figure it out," Leitz said. "We were patient, and then we didn't let them get shots off after we adjusted our defense to match their offense."
Nelson's scoring outburst was one that almost never happened after she picked up a pair of quick fouls early on, but then didn't pick up any more following a quick chat with her coach.
Leitz praised her team at every level, discussing how years of trials and tribulation really set the table for this team to finally break through the glass ceiling.
Over the last few years Mullan has endured years of five- and six-player rosters, playing strictly JV schedules due to having to bring up eighth-graders to field a team at all, and having no postseason hopes because of it — but that's all behind them now.
"My freshmen really stepped up for us," Leitz said. "But then my three seniors showed so much poise for us on the court. Our bench was incredible too. Whenever I called on one of them there were right there. This was a very emotional ride for us as a team."
Coach Leitz will now get her squad ready for the second seed out of Districts 5-6 as they make their way to Nampa High School for their matchup next Wednesday at 2 p.m. (MST).
Clark Fork 2 14 5 13 — 34
Mullan 8 10 16 3 — 37
CLARK FORK — Matteson 9, Valliere 6, Myers 9, Shelton 4, Reuter 3, Yancey 2, Mace 1, Fournier 0.
MULLAN — Waters 1, Nelson 17, Blankenship, Stahle 0, Fallingwater 16, Frazier 3, Dykes 0, Charvez 0.
---