Like a breath of fresh air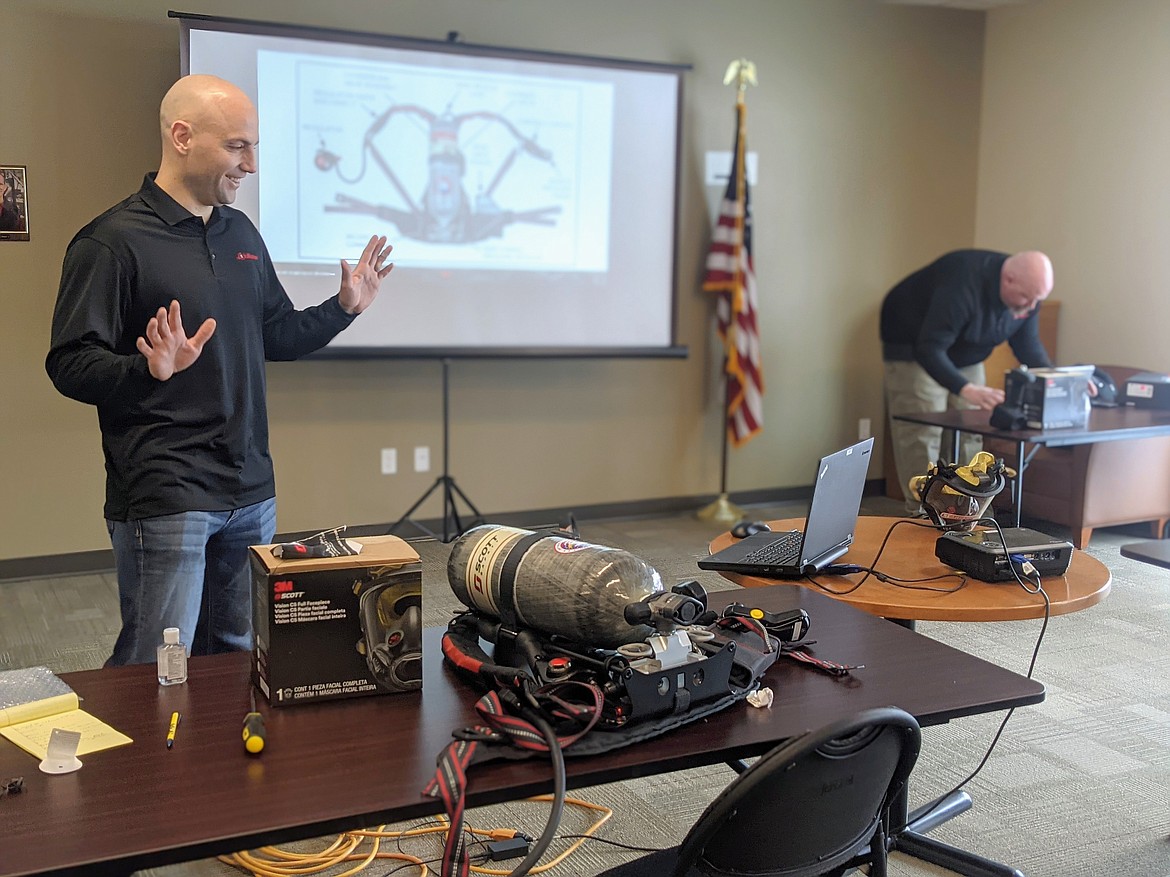 Sea-Western Inc. representatives Will Allen and Mike Killian go over the features of the new 3M Scott Air-Pak SCBA's last Thursday at Shoshone County Fire District No.1 in Osburn. These new SCBA's replaced many outdated ones that were being used by agencies across the county.
Photo by CHANSE WATSON
by
CHANSE WATSON
Managing Editor
|
February 15, 2021 3:46 PM
OSBURN — It almost goes without saying that firefighters need the right gear to safely and effectively work in the hostile environments they encounter.
Thanks to funding from a yearly Assistance To Firefighters grant, made possible through the Federal Emergency Management Agency, the various fire agencies of Shoshone County now have some of that right gear.
Shoshone County Fire District No. 1 Lt. Victor Malsom explained to the News-Press that his district, SCFD No. 2, SCFD No. 3, Prichard/Murray Volunteer and Mullan Volunteer all recently received brand new 3M Scott Air-Pak Self-contained breathing apparatus' to replace outdated equipment.
The National Firefighter Protection Association has compliances on SCBAs and many in the county were 10 years out of compliance and originally acquired in 2003.
"We've been in talks in years past to try and get new Scott Paks," he said. "We used to have MSA, but we wanted to switch over to Scott. All of our neighboring agencies — Kootenai, Coeur d'Alene, Benewah, Selkirk — all use Scott. Shoshone was the last county using MSA and we wanted that interoperability with our neighbors so all of our equipment will work with each other's equipment."
In the past, the individual departments applied for ATF funding, but were denied. So on behalf of all the Shoshone County agencies, Lt. Malsom and District 1 submitted another proposal in 2019 for everyone to get new SCBAs — not just them.
With this grant application being approved, everyone now can get their hands on some top-shelf gear without the bill going to the taxpayers.
"We're all working to give our citizens the best that we can and really try to understand that Shoshone County is a limited income area," Lt. Malsom said. "After getting the support for two new fire stations, we thought 'how can we do this in the most cost effective way so there is no increased cost on the taxpayer or dipping deep into our saving account."
The ATF grant covered the cost of 72 new SCBAs — valued at $503,000.
In a nutshell, SCBA's provide firefighters with clean air to breathe in smokey situations. The brand new 3M Scott Air-Paks that the local agencies received are up to the latest NFPA standards and even came with the latest C-5 masks — making them ahead of the curve.
The paks provide the user with roughly 25 to 45 minutes of clean air (depending on amount of strain) and the masks come equipped with a HUD that provides the user with a digital readout of how much air they have left. The masks also have built-in communications equipment (bluetooth capability) and the ability to have thermal imaging installed.
"It's a massive improvement over our old equipment and it sets us up for success in the future," Malsom said. "When upgrades come out, we don't have to buy brand new stuff — we can just purchase upgrades as needed."
The old SCBA's used by the various local agencies will be gathered and sent off to a buyback program through Scott — where they will either be recycled for parts or sent to Central/South America.
"I'm super excited," Malsom said after receiving the gear. "It has been talked about for a long time to get all the departments on board."
---