Silver Valley Sports Recap: Feb. 8-14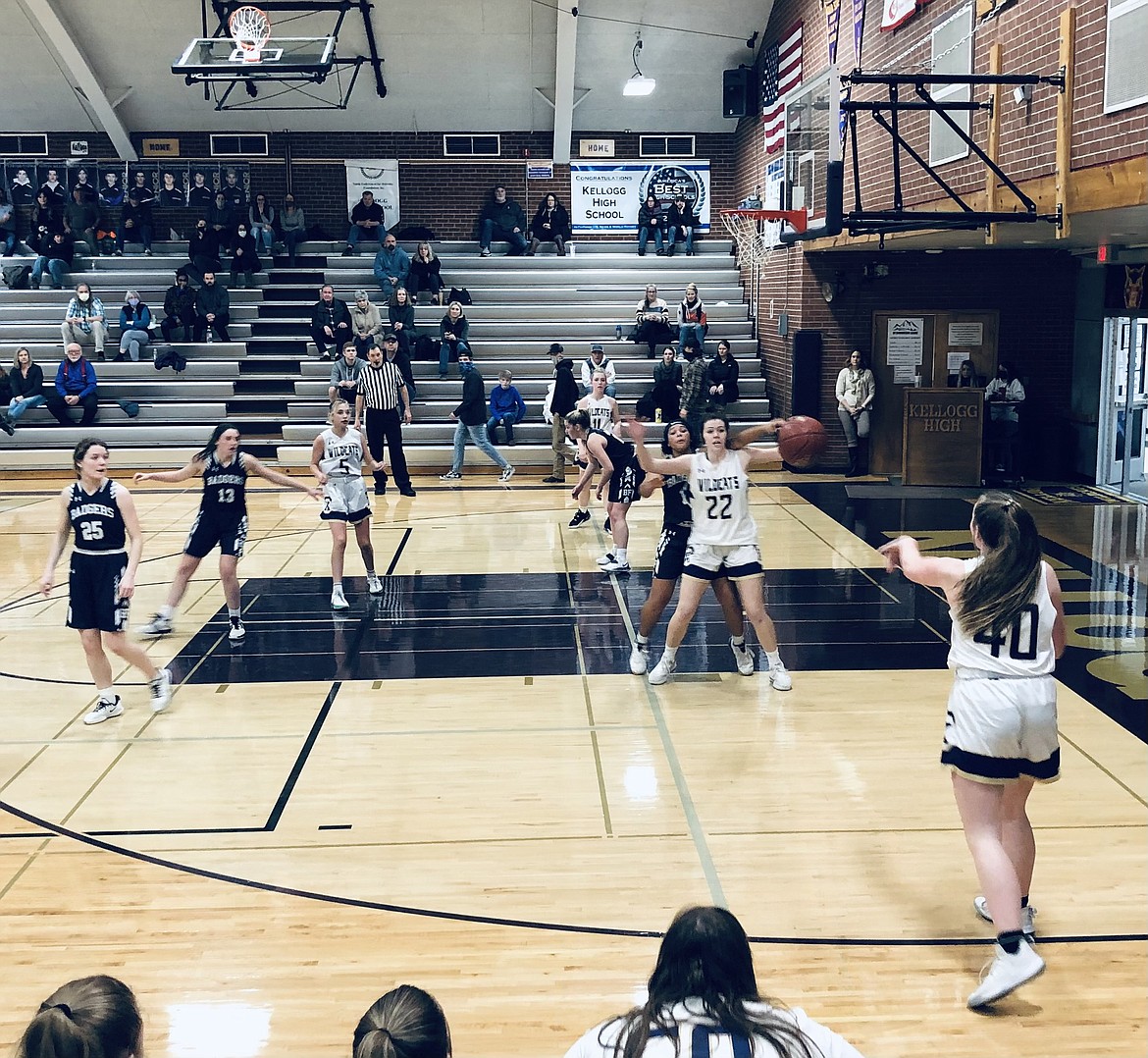 Kellogg's Hailey Cheney takes a pass from sister Maddie during the Wildcats season ending loss to Bonners Ferry.
Photo by JOSH McDONALD
|
February 15, 2021 10:19 AM
WALLACE BOYS BASKETBALL
WALLACE — Wallace won the game, but the road to the state 1A Division I tournament still runs through Lakeside's Ron Miller Court.
Carter Bailey scored 21 points, 10 coming in the third quarter for the Miners, who beat the Lakeside Knights 57-55 in a Scenic Idaho Conference game at Kirby Krulitz Court on Thursday.
Lakeside (13-4, 3-1 SIC) and Wallace (7-10, 3-1) finished tied for the league title, but the Knights won the coin flip following the game to earn the top seed to the district tournament. Wallace will host Genesis Prep (2-9, 0-4) on Feb. 23 at 6 p.m. in an opening round game. Lakeside will host the winner Feb. 26 for a berth to state.
"We've been playing really well and together lately," Wallace coach Corey Miller said. "It's amazing that we're co-champions. We played consistent and steady throughout the game."
Kenyon Spotted Horse scored 20 points and JJ Hall added 16 for Lakeside, which won the state 1A Division II title last year before moving up to Division I this year.
With Lakeside trailing by three points, Spotted Horse was fouled with 1.5 seconds left. He made the first free throw and intentionally missed the second. The Knights rebounded, but missed a putback that would have forced overtime.
"Lakeside's so athletic and their size is a problem for us," Miller said. "They're well coached. We just played great defense and to hold a team like Lakeside was outstanding. Lakeside's very talented and an outstanding team."
Hayden Hogamier scored 17 points for Wallace.
Lakeside 14 8 18 15 — 55
Wallace 14 17 16 10 — 57
LAKESIDE — Abuan 9, Higgins 6, J. Hall 16, Spotted Horse 20, C. Matt 4, Q. Hall 0.
WALLACE — Tesky 8, Hogamier 17, Bailey 21, Denson 5, Hull 6, Farkas 0, Hammerberg 0.
WALLACE GIRLS BASKETBALL
Wallace 65
Genesis Prep 13
WALLACE — Jaden House and Britany Phillips scored 14 points each for the Miners in a win over the Jaguars in a 1A Division I District 1 tournament game at Kirby Krulitz Court.
Miyah Andersen scored eight points for Genesis Prep, which finished 0-10.
GenesisPrep 7 0 4 2 — 13
Wallace 19 14 19 13 — 65
GENESIS PREP — Martin 0, Yount 1, Meerdink 0, Kelley 2, Wilson 0, Robertson 2, Andersen 8.
WALLACE — Specht 8, Cielke 8, House 14, Phillips 14, Welch 10, Burmeister 4, Hemphill 2, Hunter 5, Bergem 0.
PLUMMER — Shooters shoot, and on Friday night, Ashlee Holt shot it.
No thought, just shoot.
"I never get nervous, I just like to shoot," Holt said. "Every one of them I think is going in, even if they roll out. I just never get nervous. I just like to play."
Holt, a junior, scored 16 points, hitting three 3-pointers in the third quarter for the Knights, who pulled away from the Wallace Miners for a 65-42 win in the 1A Division I District 1 girls basketball championship game at Ron Miller Court on Friday.
"This was a really important game for us this year," Holt said. "We lost both games to them last year, and we only graduated two seniors. And we only have two seniors this year (Tyshea Twoteeth and Kria Peters), so I just want to get our seniors to state as many times as I can. And me being a junior, I'm looking for a title, even though we moved up a division (from 1A Division II). Me and my sister (Jolissa) just both want a title."
"She's a great shooter, and definitely needs to be covered," Lakeside coach Chris Dohrman said of Ashlee Holt. "She can bring a lot of attention to her, it helps our other ladies out on the court. It's a nice balance that we have. But she's one of our better players. She does a great job."
Lakeside (12-7) opens at state Wednesday at 11 a.m. PST at Columbia High in Nampa against Lighthouse Christian (14-5) of Twin Falls. The Knights went 0-2 in the Division II tournament before moving up a classification this year.
"It's going to be some tough competition, and always is down there," Dohrman said. "We're going to go down there, play our hearts out, and see what happens."
Junior Jolissa Holt, later named the co-MVP of the Scenic Idaho Conference, scored 18 points for Lakeside, which beat Wallace 67-55 on Feb. 2 to lock up the top seed in districts.
Wallace led early on a 3-pointer by junior Jaden House, but then went scoreless for six minutes in the first quarter as Lakeside took a 14-10 lead after the first. Jolissa Holt scored nine of her 18 points in the second quarter as the Knights began to pull away. "We had some good ball movement tonight," Dohrman said. "I think we were a little tight in the first quarter, and especially in the first four minutes. But we did a good job of relaxing and slowly pulling away. We did a great job of extending our lead, and kind of continuing what had worked well against them earlier this year. The girls were really focused and wanted to earn that trip to state, which is always hard to get. And they did a great job, all of them."
House, also named co-MVP of the league, scored 18 for Wallace, which finishes 8-9.
"We just gave up a lot of rebounds and just had a lot of miscommunication on defense," Wallace coach Nichole Farkas said. "It just wasn't our night. We gave it all our effort, but it definitely was Lakeside's night tonight."
Wallace was playing for its first state tournament appearance since 2007, when the 1A tournament was a 16-team, four-day event. In recent years, Wallace had to face the thirdplace team from District 2 in a playoff game to determine its state fate.
"It's great to be in a league and it's probably our best shot at getting to state instead of the District 2 route," Farkas said. "We don't really know those teams before playing them, so you really don't know what to expect from them."
Wallace 10 15 8 9 —42
Lakeside 14 22 18 11 — 65
WALLACE — Specht 3, Cielke 2, House 18, Phillips 4, Welch 5, Burmeister 6, Hemphill 2, Hunter 0, Bergem 2.
LAKESIDE — A. Holt 16, Gorr 8, J. Holt 18, Twoteeth 8, White 0, Lawrence 0, Wienclaw 0, Rivera 0, Matt 0, Lowley 4, Peters 7, Marchand 4, Allen 0.
ALL-SCENIC IDAHO CONFERENCE CO-MVPs — Jolissa Holt, jr., Lakeside; Jaden House, jr., Wallace.
Ashlee Holt, jr., Lakeside; Kria Peters, sr., Lakeside; Arianna Gorr, jr., Lakeside; Elli Welch, jr., Wallace; Chloe Cielke, sr., Wallace; Britany Phillips, fr., Wallace; Lindsay Meerdink, fr., Genesis Prep.
MULLAN BOYS BASKETBALL
Clark Fork 63
Mullan 32
MULLAN — Led by senior guard Cameron Garcia and junior guard Sam Barnett, the Wampus Cats opened a 19-point lead after one quarter and cruised past the host Tigers for a convincing North Star League victory.
"Garcia led the way for his team," Mullan coach Paul Elston said. "Clark Fork came out and played with a lot of energy tonight. We were very, very flat and did not have a response for their energy."
Barnett led all scorers with 24 points, while Garcia added 21 for the Wampus Cats (3-11, 1-1 NSL), who split their league games with Mullan. The site of their postseason matchup remains undetermined, Elston said.
Riley Trogden had 16 points and Austin Zingler had 10 for the Tigers.
ClarkFork 21 22 12 8 — 63
Mullan 2 10 8 12 — 32
CLARK FORK — Garcia 21, C.H. SanRoman 0, Reuter 3, Matteson 0, Carter SanRoman 5, Mintken 0, Barnett 24, Howard 0, Mayorga 8, Shelton 0, Wade 2, Christofferson 0.
MULLAN — R. Trogden 16, Nelson 4, Lowman 0, Zingler 10, A. Trogden 0, Layton 2, Appiah 0, Houston 0, Knoll 0.
Orofino JV 50
Mullan 31
OROFINO — Floyd Nelson scored 13 points for the Tigers, who fell to the Maniac JV at Orofino High. "That's a fairly athletic and competitive 2A JV team we played," Mullan coach Paul Elston said. "I thought we tried to do things correctly, but we're still down a few guys."
Riley Trogden scored 11 points for Mullan.
Mullan 12 7 9 3—31
OrofinoJV 8 17 14 11 — 50
MULLAN — R. Trogden 11, L. Trogden 2, Nelson 13, Zingler 3, Layton 0, A. Trogden 2, Houston 0, Haning 0, Appiah 0, Knoll 0.
OROFINO JV — Barlow 2, Schneider 10, Howell 5, Hudson 2, Cochran 13, Adkins 0, Santos 2, Hanna 7, Erbst 6, Sneddon 2.
MULLAN GIRLS BASKETBALL
Mullan 37
Clark Fork 34
MULLAN — Jazzmyn Nelson scored 17 points for the Tigers, who held off the Wampus Cats to win the 1A Division II District 1 championship at the Mullan Pavilion.
Talowa Fallingwater scored 16 points for Mullan (10-7), which advances to state for the first time since 1986, when the Tigers finished third in the A-4 tournament.
Mullan opens at state against the District 5-6 runner-up next Thursday at Nampa High.
Katelyn Matteson and Emily Myers scored nine points each for Clark Fork, which finishes 2-14.
ClarkFork 2 14 5 13 — 34
Mullan 8 10 16 3 — 37
CLARK FORK — Matteson 9, Valliere 6, Myers 9, Shelton 4, Reuter 3, Yancey 2, Mace 1, Fournier 0.
MULLAN — Waters 1, Nelson 17, Blankenship, Stahle 0, Fallingwater 16, Frazier 3, Dykes 0, Charvez 0.
KELLOGG GIRLS BASKETBALL
Bonners Ferry 60
Kellogg 50
KELLOGG — The third-seeded Badgers beat the second-seeded Wildcats for the second time in three days in the 3A District 1 tournament at Andrews Gymnasium, advancing to a state play-in game on Saturday at Grangeville High.
Bonners Ferry (13-7) then knocked off Weiser 51 - 40 to advance to the 3A State Tournament.
Kellogg finishes 8-11.
---