Beatrice Joanne Niemi, 90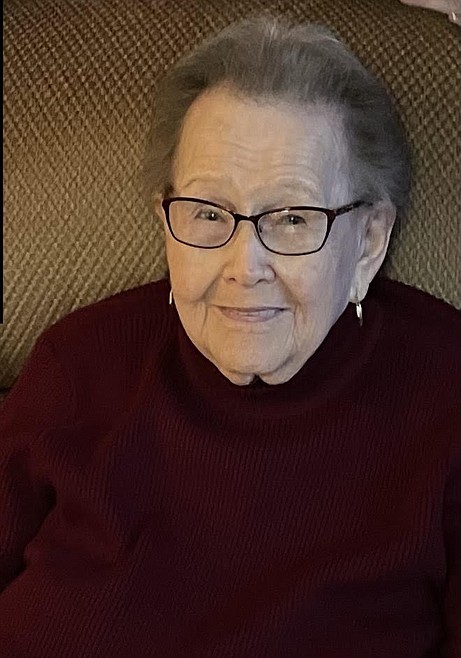 |
February 17, 2021 10:15 AM
Beatrice Joanne Niemi, 90, of Mullan, Idaho, passed away peacefully Feb. 9, 2021. She was born April 15, 1930, in Saxon, Wis. Beatrice was the daughter of Carlo and Elizabeth (Cloud) Peite.
Beatrice grew up in Wisconsin with her siblings and they were a tight bunch. She attended school in Saxon and met Walfred Lahti and soon fell in love. They were united in marriage on May 28, 1948. Together, they raised three children, Linda, Kathy and Bobby. In 1964, they moved to the Silver Valley and made their home in Mullan. Beatrice worked for the Magnuson family for 25 years and considered them her dear family. She loved the Magnuson children as her own. Walfred and Bea enjoyed a happy marriage until Walfred passed away in 1982.
In 1989, Beatrice moved back home to Wisconsin. There she met Verne Niemi and married on July 3, 1991. With her marriage to Verne she welcomed two sons into her heart, Kevin and Carl. Beatrice and Verne enjoyed the next 25 years together until Verne's passing in 2016. This past year Beatrice's family eagerly welcomed her back to Idaho where she lived with her daughter, Kathy and son-in-law Sam. She loved to tell everyone how loved and spoiled she felt living with them. All of her grandchildren and great-grandchildren were so happy to have her "home."
Beatrice was a member of the VFW auxiliary in Saxon and was also a member of the Emmanuel Lutheran Church in Mullan. She was an avid reader and never skipped a day of reading her Portals of Prayer. She loved watching her soap opera the "Bold & the Beautiful" along with "Molly B's Polka Party." Beatrice was excellent at solving the word puzzles on "The Wheel of Fortune." A favorite outing was to "sneak" off to the casino with her sister and best friend RoseAnn. Every Saturday night she looked forward to her little brother Tony's phone call, who was more like a son to her. She looked forward to the many visits of her son, Carl, and to their Sunday dinners with him and his family.
Bea loved all her many nieces and nephews, and was especially close to her niece, Tammy. To her grandchildren and great-grandchildren, she was affectionately known as Mumma. Beatrice never missed calling her loved ones on their birthdays and sending special cards with handwritten wishes in her beautiful penmanship. She never forgot to secure an envelope with extra tape and added plenty of cute stickers.
Bea was very fond of her Meals on Wheels delivery man, Terry Seibel. She looked forward to seeing him every day and appreciated his caring and compassionate heart. Beatrice enjoyed watching wildlife from her window. Bea always had a twinkle in her eye that showed she was listening and cared about you. She was sharp as a tack and loved to be in the mix of everyone and everything going on around her. She will be forever remembered as a wonderful cook and a loving wife, mother, grandmother, great-grandmother, sister and friend.
Beatrice is survived by her daughter, Kathy (Sam) Davis of Mullan, Idaho; sons Carl (Kelly) Niemi of Hurley, Wis., and Kevin (Johnnie) Niemi of Hallandale, Fla.; son-in-law Dale Smith of Post Falls, Idaho; grandchildren Elizabeth (Jeremy) Seatz of Kellogg, Idaho, Robert (Emily) Davis of Hauser, Idaho, Leah (Scott) May of Post Falls, Amy (Aaron) Fox of Rathdrum, Idaho, Luke and Ross Niemi of Hurley, and Matt, Brett and Katrina Niemi of Florida; and great-grandchildren Morgan, Christian, Owen, Izabella-Bea, Jacob, Lily, Nathan, Sophie, Gabriel and Micah. She is also survived by her siblings, Tony Peite (Linda), RoseAnn Koivisto and Joyce Routhier; sisters-in-law Florence Peite and Elaine Lahti; and numerous nieces and nephews.
Beatrice was preceded in death by her parents; first husband Walfred; second husband Verne; her children, Linda and Bobby; and her brother, Robert Peite.
A celebration of Beatrice's life will be held at a later date.
Memorial's can be made to The Emmanuel Lutheran Church in Mullan.
Shoshone Funeral Services & Crematory, Kellogg, is entrusted with services. You may share your memories of Beatrice and sign her guest book at www.shoshonefuneralservice.com.
---