Bunker Hill reports shallow, high-grade zinc drill results
by
Sam Ash, President and Chief Executive Officer
|
February 22, 2021 2:39 PM
KELLOGG — Bunker Hill Mining Corporation is pleased to report that it has intercepted strong zinc mineralization over significant widths in the upper levels of the Bunker Hill Mine. These intercepts in hole 7055 are above the water level and in close proximity to existing infrastructure. They are also outside the current resource boundary, and as such are expected to increase the resource base for the Preliminary Economic Assessment ("PEA") which remains on track for completion in early Q2-2021.
Sam Ash, CEO of Bunker Hill Mining, stated: "We are encouraged by the continued progress of our drill program, and in particular this shallow, high-grade result which will support the PEA we are completing. Our strategy is yielding results, with a dual focus on rapidly restarting the Bunker Hill Mine while concurrently exploring its significant high grade silver potential. Over the coming weeks we look forward to publishing further drill results in this regard."
All of the remaining drilling program for 2021 will now be focused on exploring high-grade silver targets in the upper levels of the mine. Drilling is complete for the campaign focused on delivering a rapid and phased restart of the mine, to be contemplated in the PEA. The 2021 drilling program, currently envisaged to be 10,000-12,000 meters in total, is being informed by the recently completed 3D geologic model which leverages historical mine data collected over a 95-year period. Data has been input from more than 180,000 meters of drilling from 3,500 historic drill-holes and hundreds of detailed historic mine geology maps capturing all major faults and veins, alterations, mineralization and stratigraphy. A video summarizing the digitization process can be viewed at the following link https://youtu.be/8X3FrWfbGl4?t=229. In addition, further information is available on our newly launched website.
The full press release can be viewed here.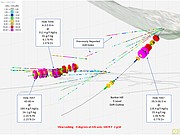 ---