Eixenberger headlines big group of Wildcats headed to Boise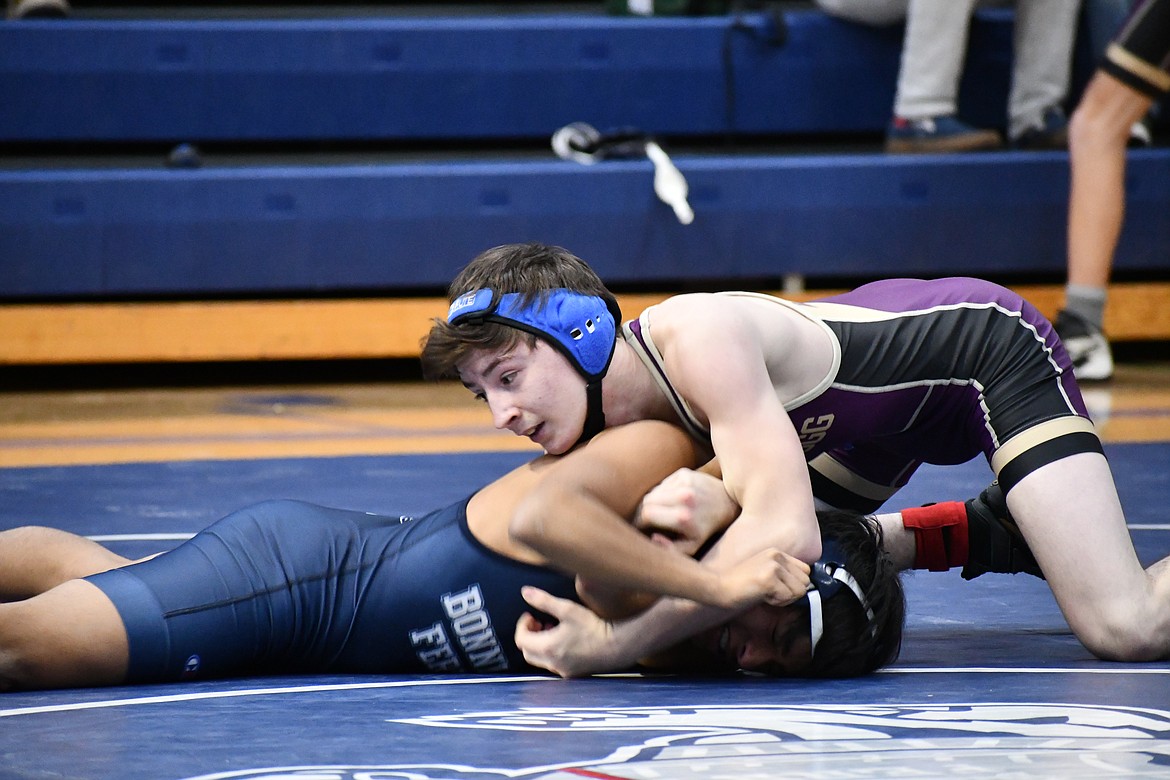 Kellogg's Dakota Eixenberger controls the head of his Bonners Ferry opponent during his run to the 3A District I 113-pound championship last week at Bonners Ferry High School. Eixenberger is a three-time district champ and the only district champion on this year's IML second place team.
Photo by TERI EIXENBERGER
by
JOSH MCDONALD
Staff Reporter
|
February 23, 2021 8:15 AM
BONNERS FERRY — Fourteen grapplers from Kellogg High School wrestling team automatically qualified for the 3A State Tournament after a successful season and a second place finish at the District I Tournament at Bonners Ferry High School.
The Wildcats put themselves exactly where they wanted to be, but a competitive championship round got the better of them and cost them a few points.
"We hoped for a better championship round but it is what it is and we move on to our matches that we will have a state," said head coach Scott Miller. "Postseason is all about surviving and advancing and being prepared for what is in front of you."
That isn't to say that it was all frustrations on the part of the 'Cats, senior Dakota Eixenberger won his third district championship — becoming a back-to-back champ in the 113-pound class (his freshman and sophomore year he competed at 106-pound and took second and first respectively), and is a favorite to bring home a state championship as well.
"I'm proud of Dakota for winning another district title and look forward to seeing him compete at the state tournament," Miller said. "He has really wrestled well since January."
Six Kellogg wrestlers took second place, including three freshmen, as well as seven third-place finishes, and two fourth-place finishers.
Kellogg could be adding two more state competitors to their state team as the two fourth-place finishers will be considered for potential wildcard berths into the state tournament — which will also be a big help to Kellogg's overall team scoring at the event.
"Taking at least 14 to state is very exciting," Miller said. "We had to really scrap throughout the day and had a big medal round where we won seven matches. Our guys did a good job recovering after disappointing losses, so we are optimistic about state."
The 3A State Wrestling Tournament is Feb. 27, at the Ford Idaho Center in Nampa.
District I Tournament Team Scores:
Bonners Ferry 300
Kellogg 215
Timberlake 188
Priest River 121
KHS INDIVIDUAL PLACERS:
(weight, name, finish)
113 — Dakota Eixenberger 1st Place (Qualifier)
106 — Kolter Wood 2nd Place (Qualifier)
113 — Asher Goodner 2nd Place (Qualifier)
120 — Wyatt Hei 2nd Place (Qualifier)
126 — Raymond Heely 2nd Place (Qualifier)
145 — Ramsey Rainio 2nd Place (Qualifier)
195 — Brodie Hoffman 2nd Place (Qualifier)
126 — Jaeger Hall 3rd Place (Qualifier)
132 — Jayce Garcia 3rd Place (Qualifier)
138 — Daeton Bauer 3rd Place (Qualifier)
170 — Kayden Zimmerman 3rd Place (Qualifier)
182 — Blaine Goodner 3rd Place (Qualifier)
195 — Josh Cropp 3rd Place (Qualifier)
220 — Carson Hudson 3rd Place (Qualifier)
170 — Austin Miller 4th Place
285 — Rob Bublitz 4th Place
---