Need a Lyft?
by
CHANSE WATSON
Managing Editor
|
February 23, 2021 8:11 AM
While taxi and transportation services aren't necessarily a new concept in the Silver Valley, few have been able to operate with any type of consistency due to a variety of factors. Recently though, two local Lyft drivers have made a push to change that.
Ashley Minzghor and Ryan Gaddy want to let folks know that a ride could be just a touch away. Both have been with the company for around three years now, but have primarily operated west of Fourth of July Pass due to the interest seemingly not being here.
Minzghor, who moved to the Silver Valley from Chicago five years ago, explains that the challenge to getting consistent customers locally is the more rural nature of the area.
"There are a lot more old-fashioned individuals here," she said. "They raise their children in the same way they were raised and since the valley is so 'secluded' so to speak, it's hard to bring in the 'new' — especially with the horrible cellphone reception. So no one here really knows what Lyft is and how to utilize it. It makes it tough to do business."
Gaddy said that he has tried in the past to get the word out about the local service so he can help cut down on DUI's.
"Sadly, it seems that most people would rather take the risk of wrecking after a fun night at the bar than paying for a sober ride home," he said.
Everyone who drives for Lyft has the same base position — driver. When someone applies to be a driver, there are a series of steps and protocols they have to go through to be approved. Everything from showing proof of registration and insurance on their vehicle to passing a background check and completing online courses.
Both Minzghor and Gaddy think that in addition to providing folks with a sober ride, another group that could benefit from their service is the large retirement age population in the Silver Valley.
"I feel Lyft would be perfect for our senior citizens," Minzghor said. "I understand costs can get out of hand, but I have codes with discounts which I would be happy to provide, because with COVID cases still on the rise, it's not safe for people of a certain age or with underlying health issues to be taking the Silver Express (bus service) with a bunch of other people. With Lyft, it's the driver and the passenger, and I wear my mask the whole trip."
Gaddy added the elderly people could also benefit from someone helping them get to the store in the winter.
To minimize costs, customers can "pool" (an option on the app) with another person riding or two people together can ride for one price. For all rides, there's one standard rate from point to point — no racking up minutes or miles — the price you were quoted is the price you get and it wouldn't change unless it is a certain time of night.
Lyft drivers use their own vehicles for the job and are responsible for keeping up with maintenance. They are also not hourly employees.
"We go the extra mile to make the best experience for our passengers. Tips aren't required, but we deeply appreciate them," Gaddy said.
Services can be 24 hours a day/seven days a week.
"It's not just about me making money or getting business," Minzghor said. "I want to help the community and if I could give a ride to one less drunk driver, or someone who happens to be walking in the cold and just needs a ride home, that's what makes me feel better at the end of the day."
Minzghor and Gaddy, along with other Silver Valley Lyft drivers, can be contacted through the Lyft app. Minzghor and Gaddy can also be contacted on Facebook.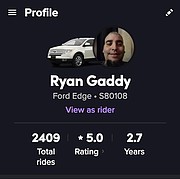 ---