Silver Valley Sports Recap: Feb. 15-21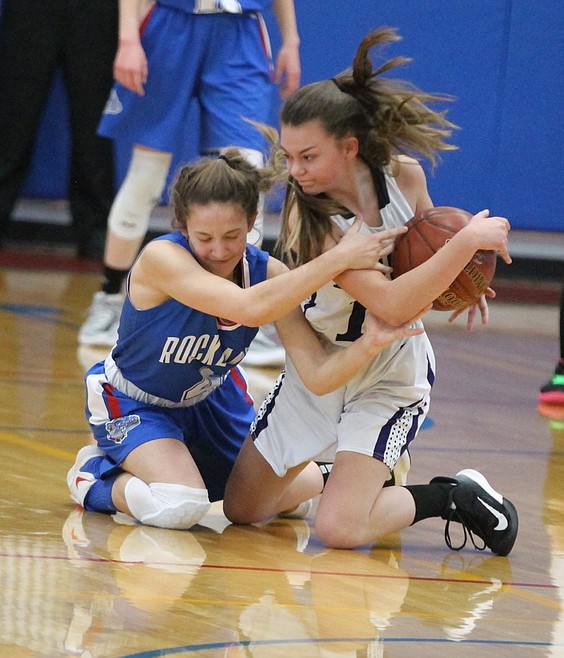 Mullan guard Jazzmyn Nelson forces a jump ball with Rockland guard Addie Wilson during the first half of Wednesday's state 1A Division II tournament game at Nampa High.
JASON ELLIOT/Press
|
February 23, 2021 7:52 AM
KELLOGG BOYS BASKETBALL
•2/16
Kellogg 49
Timberlake 47
SPIRIT LAKE — Junior Luke Frohlich's only basket of the game — with two seconds left on a drive-and-dish from Riply Luna — lifted the Wildcats past the Tigers in Intermountain League play.
Logan Jerome scored a game-high 26 points and grabbed five rebounds for Kellogg, which trailed 31-8 in the first half. KJ Walker added four assists for the Wildcats.
Ethan Riley, who led Timberlake with 14 points, hit a 3-pointer with just over a minute left to put the Tigers up 47-44.
Kolby Luna tied it with a 3 for Kellogg with 45 seconds left, and the Wildcats got a steal off the press to get the ball back for the final possession.
Kellogg coach Mike Martin said his team has fallen behind several times this season before staging comebacks, and "these guys are making me age in dog years. Honestly, the resilience is admirable. Logan Jerome was huge tonight."
"We started playing a little scared," Timberlake coach Mike Menti said, "and we lost some faith in the offense. But we played our butts off in the fourth quarter."
Kellogg 4 18 14 13 — 49
Timberlake 18 14 3 12 — 47
KELLOGG — R. Luna 14, K. Luna 6, Groves 0, Frohlich 3, Walker 0, Jerome 26, Lonn 0.
TIMBERLAKE — Olivieri 8, Riley 14, Tay. Menti 10, Pasley 5, Yetter 6, Millsap 0, Higgins 4, Tan. Menti 0, Simpson 0.
•2/17
Kellogg 74
Bonners Ferry 69
KELLOGG — KJ Walker and Tanner Groves led the way as the Wildcats rallied from a big first-half deficit for the second straight night to beat the Badgers in IML play at Andrews Gymnasium. Groves had 14 of his 18 points in the second half for Kellogg, which trailed by double digits in the first quarter. Walker scored 10 of his 12 points in the first half. "He carried us in that first half," Kellogg coach Mike Martin said. Groves also had five rebounds. "He was huge," Martin said of Groves. "Defensively he was flying around. By far the best game he's played for us this year."
Logan Jerome scored 11 of his 13 points in the second half for Kellogg, which has won six of its last seven, including three straight league games after an 0-2 start to move into second place. Kolby Luna added 13 points, and Riply Luna had 12 points, eight rebounds and four assists. Luna was 10 of 11 from the foul line, including 6 of 6 in the fourth quarter.
Braeden Blackmore scored 18 points for Bonners Ferry.
BonnersFerry 23 12 15 19 — 69
Kellogg 12 23 19 20 — 74
BONNERS FERRY — Williams 17, Petersen 14, Rice 6, Henslee 0, Stockton 3, Hubbard 9, Mai 0, Beazer 2, Blackmore 18.
KELLOGG — R. Luna 12, K. Luna 13, McLean 0, Groves 18, Frohlich 6, Walker 12, Jerome 13.
•2/19
Priest River 61 Kellogg 55
KELLOGG — Sophomore Blake Barrett scored 26 points and the Spartans survived a fourth-quarter comeback by the Wildcats to secure their first Intermountain League title since 2011 and the No. 1 seed to the 3A District 1-2 tournament next week. Jace Yount added 10 points for Priest River, which will play host to No. 4 Timberlake on Monday at 6 p.m.
Priest River led by 18 points after three quarters, only to see Kellogg get it to a two-possession game with a minute to go before coming up short.
Kolby Luna scored 16 of his 20 points in the fourth quarter for the Wildcats, including all three of his 3-pointers. He also finished with 11 rebounds.
Riply Luna also scored 20 for Kellogg, which had made a habit of coming back from huge deficits in recent league games.
"We finally found a time where the hole we did ourselves got the best of us," Kellogg coach Mike Martin said.
Barrett hit three 3s, two in the second quarter when he scored 10 points.
"Big kudos to Priest River; Kevin (Wylie) is doing a great job with those guys," Martin said. "Whenever we made a run, they stretched it back out."
PriestRiver 10 17 18 16 — 61
Kellogg 11 7 928 —55
PRIEST RIVER — Mathews 8, Butler 3, J. Nortz 5, Kreager 5, Marinello 4, Barrett 26, D. Nortz 0, Thompson 0, Yount 10.
KELLOGG — Miller 0, R. Whatcott 0, R. Luna 20, K. Luna 20, Groves 5, Frohlich 0, Walker 3, Jerome 7, Lonn 0.
WALLACE BOYS BASKETBALL
•2/17
Wallace 62
Clark Fork 42
WALLACE — Hayden Hogamier scored 15 points for the Miners in a nonleague win over the Wampus Cats at Kirby Krulitz Court.
Carter Bailey scored 13 points for Wallace, which hosts Genesis Prep in a 1A Division I District 1 playoff game on Tuesday at 6 p.m.
Cameron Garcia scored 18 points for Clark Fork, which plays at Mullan on Wednesday in the 1A Division II District 1 championship game starting at 6 p.m.
ClarkFork 12 4 5 21 — 42
Wallace 17 16 15 14 — 62
CLARK FORK — Garcia 18, C. SanRoman 10, Barnett 5, Wade 6, Shelton 0, Reuter 1, Mayorga 2, Matteson 0, Howard 0.
WALLACE — Tesky 7, Farkas 5, Hogamier 15, Allison 0, Jaramillo 0, Bailey 13, Morin 2, Murdoch 0, Denson 11, Hull 3, Hammerberg 2, Goldade 4.
MULLAN GIRLS BASKETBALL
1A D2 State Tournament
•2/17
NAMPA — Girls basketball has changed a lot since 1986, the last time the Mullan Tigers advanced to the — then A-4 — state tournament.
The intensity, the level of play.
Now, the Tigers know.
Senior Talowa Fallingwater scored eight of her 10 points in the first half for the Tigers, who fell to the defending champion Rockland Bulldogs 56-30 in the opening round of the state 1A Division II tournament at Nampa High on Wednesday.
"I think the nerves really got to them," Mullan coach Sherry Leitz said. "The venue, the whole experience of being down here. Once they settled down and started to play our game, we came out and played better. We had fun and relaxed and the girls started to play more of their style of game and got some open looks."
Rockland forced 19 turnovers.
"When we watched film, we noticed that they ran the 1-2-2 (press)," Mullan coach Sherry Leitz said. "We knew with their long arms that it was going to be difficult to get around. Being the first time down, some said we didn't deserve to be here, I think we did, I think the girls came out and proved it in the second half."
Mullan was 10 of 39 shooting, including 3 of 13 in the first half.
"I feel like we weren't working as a team in the first half," Fallingwater said. "But we came together in the second half and made some more shots and it looked a lot better in the second half."
Due to Kootenai being unable to play this season due to COVID restrictions, Mullan had to seek out games against other nonleague opponents to fill its schedule.
"We talked about this being another game, different gym and different team," Leitz said. "And we've played Troy (Mont.) and Timberlake (C team), and seeing different teams. But the whole thing is they know they're at state, and it's a big deal."
Taylor Wilson had 11 points and 10 rebounds for Rockland.
Rockland 17 14 15 10 — 56
Mullan 8 2 11 9 — 30
ROCKLAND — Petersen 5, Hansen 4, A. Wilson 4, Woodworth 0, T. Boyer 9, K. Boyer 8, Jensen 10, Lee 4, Tomkinson 0, T. Wilson 11, Farr 10, Smith 0. Totals 26-70 3-5 56.
MULLAN — Waters 2, Nelson 9, Blankenship 0, Stahle 0, Fallingwater 10, Charvez 2, Frazier 2, Dykes 5. Totals 10-39 6-12 30.
•2/18
Camas County 50
Mullan 13
NAMPA — The Tigers, making their first state appearance since 1986, were eliminated with the loss to the Mushers in a consolation round game at Nampa High.
Talowa Fallingwater had seven points and seven rebounds for Mullan (10-9), which went two-and-out.
Alyssa Whittle had 21 points, six rebounds and four steals for Camas County (15-7).
Mullan 2 2 5 4 — 13
CamasCounty 7 16 17 10 — 50
MULLAN — Waters 2, Nelson 2, Blankenship 0, Stahle 0, Fallingwater 7, Charvez 0, Frazier 0, Dykes 2. Totals 4-45 5-8 13.
CAMAS COUNTY — Martin 2, Ashmead 9, McFadyen 9, Botz 7, Staley 0, Thompson 2, Whittle 21. Totals 21-61 3-6 50.
THE COEUR D'ALENE PRESS CONTRIBUTED TO THIS RECAP
---