Snowmobiler killed in Tiger Peak avalanche
by
CHANSE WATSON
Managing Editor
|
February 27, 2021 8:04 PM
DOBSON PASS — Emergency crews recovered the body of a missing snowmobiler who was trapped in an avalanche that occurred on Tiger Peak Saturday afternoon.
Taking place roughly 10 miles northwest of Wallace, the Shoshone County Sheriff's Office was made aware of the incident around 4 p.m. A total of three snowmobilers were initially caught in the event, but only one from the group went missing.
Everyone in the riding group was equipped with proper avalanche survival gear at the time of the incident.
The deceased individual, identified as Silver Valley resident Ron Sink, was recovered around 7 p.m. the same night by his fellow snowmobilers.
Search teams comprised of six SCSO deputies, 10 SVSR personnel, and the original snowmobilers set up a command post at the base of Dobson Pass and orchestrated rescue efforts from there. Air support from Two Bear Air from Montana had been requested, but was called off before they could arrive.
It is unknown what caused the avalanche.
SCSO Cpt. Jeff Lee states that "SCSO is saddened by this tragic incident. Our thoughts and prayers are with the family and friends of the deceased."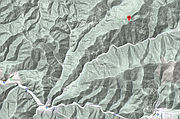 ---