Dave Smith Christmas Fundraiser doesn't skip a beat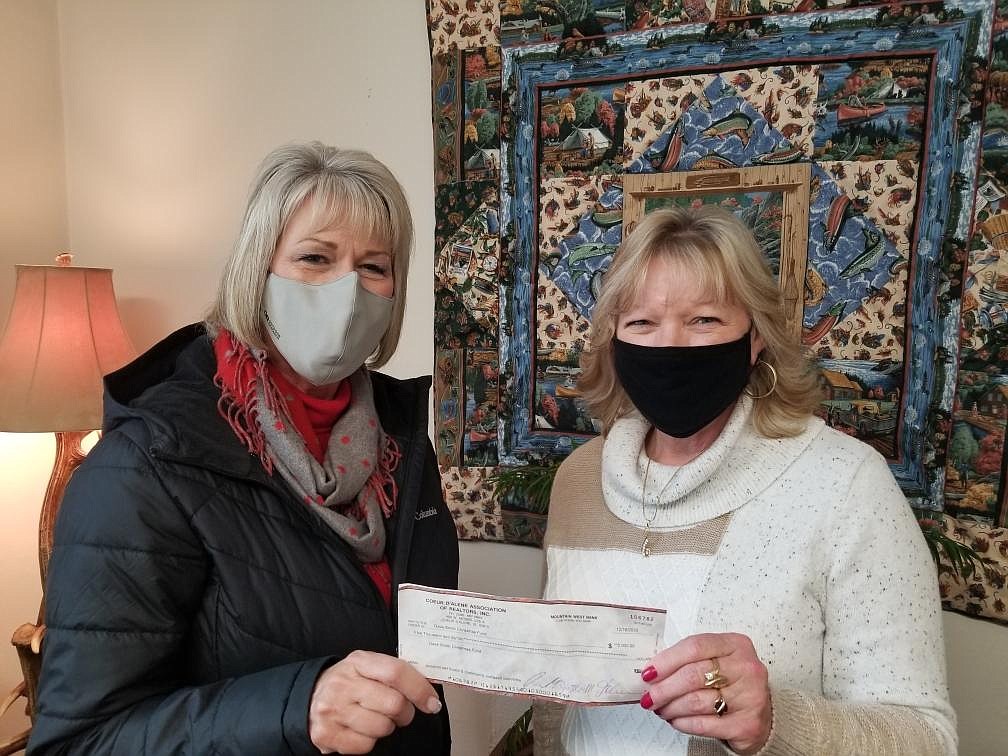 Karen Hulstrom (left), representing the Coeur d'Alene Association of Realtors, presents a check for $5,000 to Tamie Lewis-Eberhard for the Dave Smith Memorial Christmas Fundraiser. The money was part of more than $18,000 that was raised to buy holiday meals for local families.
Courtesy photo
by
JOSH MCDONALD
Staff Reporter
|
January 4, 2021 10:24 AM
WALLACE — The holiday season may have been a unique one for most people, as the generosity of Silver Valley residents never faltered. This was easy to see with how the Dave Smith Memorial Christmas Fundraiser turned out.
This year, with nothing but phone calls and the use of the postal service, the fundraiser's organizer Tamie Lewis-Eberhard was able to raise $18,405.
Due to the COVID-19 pandemic, Lewis-Eberhard, who is also the Shoshone County Clerk, was forced to change the event's normal format to ensure that the fundraiser didn't fall by the wayside.
For over 30 years, the monies from the fundraiser have provided holiday meals for needy families in Shoshone County. Once those families are covered, the remaining funds go to Silver Valley Meals on Wheels.
In 2019, the fundraiser brought in $19,690, but that was with a full day-long, open house style event at the Shoshone News-Press office in Osburn. That event featured multiple live interviews with some of the Silver Valley's most popular residents, entertaining segments, beard trimmings and a mid-day variety hour.
The donations came in a little differently this year than in years past. Instead of seeing a large amount of smaller donations, Lewis-Eberhard reported that several regular donors simply gave more.
"We did really well, it was a really good showing for the community," Lewis-Eberhard said. "Donations came in a little differently, but still it was a huge year for us."
The total number of people who benefitted from the donations is still being tallied, but roughly $10,500 was spent on holiday meals for local families.
"Donations received through this event allow us to provide gift certificates to families in need and allow them to purchase holiday dinner items at local grocery stores," Lewis-Eberhard said. "The amount of the gift certificate depends on the number of family members in the household. Last year (2019), we provided meals to over 1,130 people using these gift certificates. We also donated $8,000 to our Senior Meals on Wheels program, which has also had to change the way they provide meals to our seniors."
Lewis-Eberhard would like to shout out Dave Smith Motors, the founders of the fundraiser and historically large donors to it, as well as the Coeur d'Alene Association of Realtors who matched Dave Smith's annual $5,000 donation.
Both she and the Shoshone News-Press hope to get back to the more interactive telethon event in 2021 if things have calmed down enough to do so.
---