Silver Valley Sports Recap: Dec. 28 - Jan. 3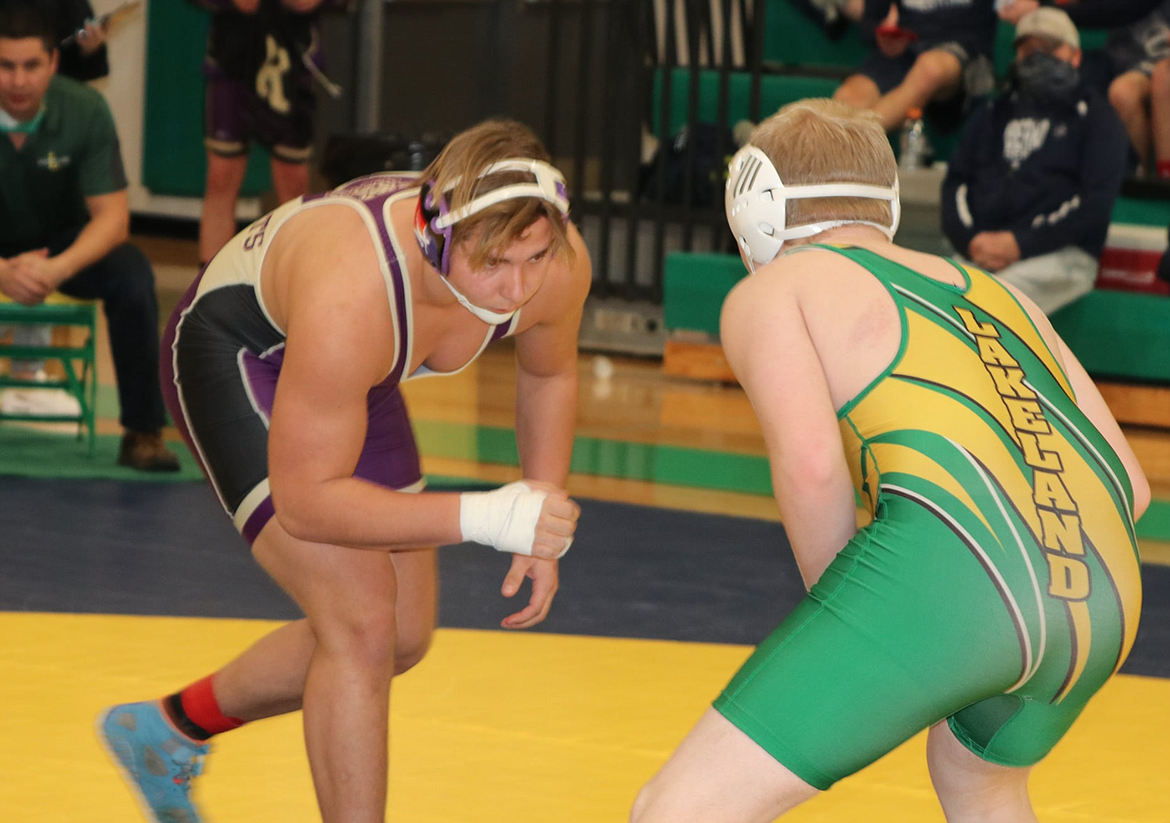 Brody Hoffman looks for an opening against his Lakeland opponent during the 2021 Lakeland JV Tournament. The event was the Wildcats' first time competing this season after missing their first few events due to COVID-19.
Courtesy photo
|
January 4, 2021 9:42 AM
RATHDRUM — Nearly one month after they were supposed to make their debuts on the mat, the Kellogg wrestling team finally got to compete.
And compete they did.
The Wildcats took on all comers at the Lakeland JV Tournament, which according to the KHS coaching staff, was more like a varsity tournament with all of the changes and challenges presented by COVID-19.
Kellogg finished second overall as a team and top finishers across all weight classes, including championships from Chase Morden (98 pounds), Raymond Healy (120 pounds) and Ethan Guy (126 pounds).
"I was really pleased with our performance," said Kellogg Head Coach Scott Miller. "We had three champs, seven finalists and 13 finishers in the top four, so our kids did a nice job competing and finding ways to win matches. Our three champions, Chase Morden, Raymond Heely and Ethan Guy all wrestled smart matches, and did good jobs controlling pace and earned their titles."
After a COVID-forced shutdown in December, Miller really just wanted to see his kids get some time on the mats, for both their own good and to see where they were after weeks of practice, a brief shutdown, and then the imbalance of practices during the holiday break.
Fortunately, it looks like his squad is on pace for a solid showing — just like Coach Miller predicted at the outset of the season.
"It was good for us to get on the mat against other teams," Miller said. "It has been quite an ordeal to get to this point — but I was really pleased with the perseverance the kids showed through the pause in December and getting themselves back into wrestling shape and at their weights, so this was good for us. We look forward to continuing developing now that we are competing again."
Kellogg is scheduled to be on the road this week against Sandpoint on Wednesday.
Kellogg Individual Results:
(Weight, name, record, place)
98 - Chase Morden (2-0) 1st Place
106 - Kolter Wood (3-1) 3rd Place
106 - Jackson Stepro (1-2) 5th Place
113 - Dakota Eixenberger (3-1) 2nd Place
113 - Wyatt Hei (2-1) 3rd Place
113 - Asher Goodner (2-2) 4th Place
113 - Taylor Stovern (2-2) 7th Place
120 - Raymond Heely (3-0) 1st Place
120 - Jaeger Hall (2-1) 2nd Place
126 - Ethan Guy (4-0) 1st Place
126 - Travis Eixenberger (1-2)
132 - Jayce Garcia (3-1) 2nd Place
132 - Carter Stepro (3-1) 3rd Place
152 - Ramsey Rainio (0-2)
170 - Austin Miller (1-3) 8th Place
182 - Blaine Goodner (3-1) 3rd Place
195 - Brodie Hoffman (2-2) 4th Place
220 - Carson Hudson (2-1) 2nd Place
285 - Rob Bublitz (1-2) 7th Place
TEAM SCORES:
1 - Post Falls 295.5
2 - Kellogg 249.0
3 - Coeur d'Alene 196.5
4 - Lake City 123.0
5 - Priest River 118.0
6 - Sandpoint 99.0
7 - Lakeland 92.0
8 - St. Maries 47.0
9 - Timberlake 47.0
10 - Bonners Ferry 18
---