Take a deep breath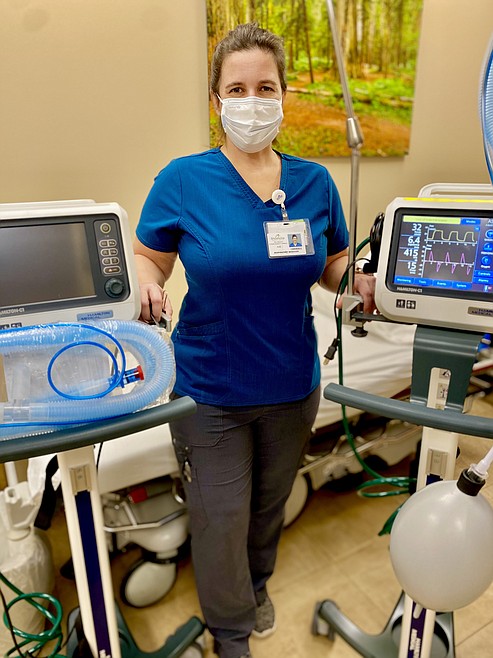 Shoshone Medical Center Respiratory/Pulmonary Rehab Manager Elizabeth Babcock displays the two new Hamilton C1 ventilators that the hospital recently received.
Photo by SHAYLEEN JEROME
by
CHANSE WATSON
Managing Editor
|
January 4, 2021 3:51 PM
KELLOGG — Among the many pieces of medical equipment that have seen an increase in demand during the COVID-19 pandemic is the ventilator. Thanks to an endowment with the Strategic National Stockpile, Shoshone Medical Center in Kellogg now has two more of these lifesaving machines.
According to SMC's Respiratory/Pulmonary Rehab Manager Elizabeth Babcock, the medical facility recently received two Hamilton C1 ventilators that are equipped with all the bells and whistles.
"With the current COVID situation and the ramp-up in ventilators that was sponsored by the government, the stockpile had a larger quantity of ventilators available than the need was," she said.
The ventilators provided are from an agreement between the Health Resources and Services Administration (HRSA) and the Assistant Secretary for Preparedness and Response (ASPR).
In mid-2020, the HRSA reached out to medical facilities across the county letting them know about a possible distribution of the devices. Later when the distribution was confirmed, Babcock made sure that SMC was on the list to receive not one, but two of whichever models they would provide them.
The C1 models that SMC ended up receiving, valued anywhere from $20,000 to $30,000 a unit, have the capability of performing multiple tasks for them that would normally require three separate pieces of equipment.
"It can go from delivering high-flow oxygen, to non-invasive ventilator, to invasive ventilator with the highest level of acuity and patient synchrony modes — all in one machine," Babcock explained.
WebMD describes a ventilator as a machine that helps you take breaths if you can't do it on your own.
"Your doctor might call it a 'mechanical ventilator.' People also often refer to it as a 'breathing machine' or 'respirator.' Technically, a respirator is a mask that medical workers wear when they care for someone with a contagious illness. A ventilator is a bedside machine with tubes that connect to your airways."
While ventilators have historically been an important part of any Emergency Room, it has become especially important during the pandemic.
In serious cases of COVID-19, the virus attacks the lungs of a patient and makes it difficult to breathe. Ventilators can then be used in this instance to handle the patient's breathing for them.
"These ventilators are going to play a significant role in allowing SMC to serve our community in respiratory emergencies and chronic situations," Babcock said.
---