Still fighting for Trump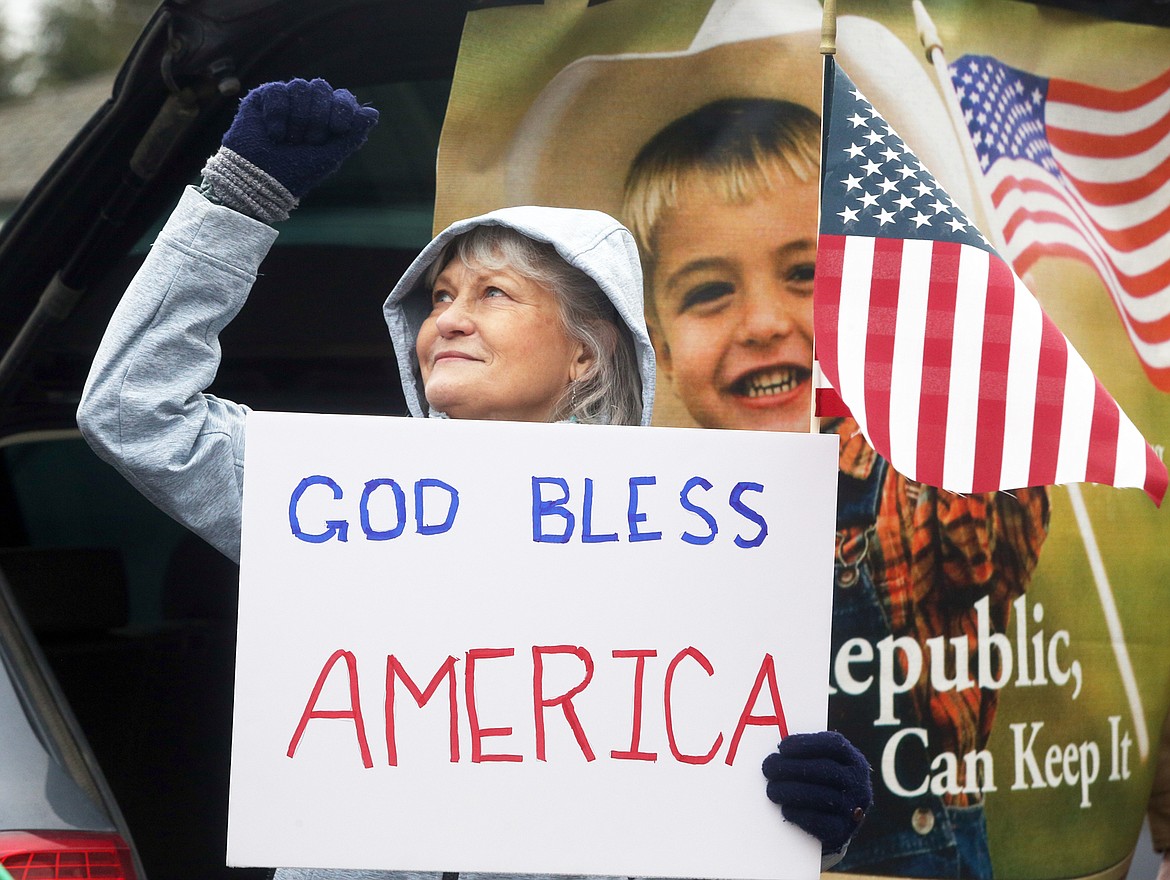 Susan Price Lake reacts during Tuesday's rally in Coeur d'Alene to support President Donald Trump.
BILL BULEY/Press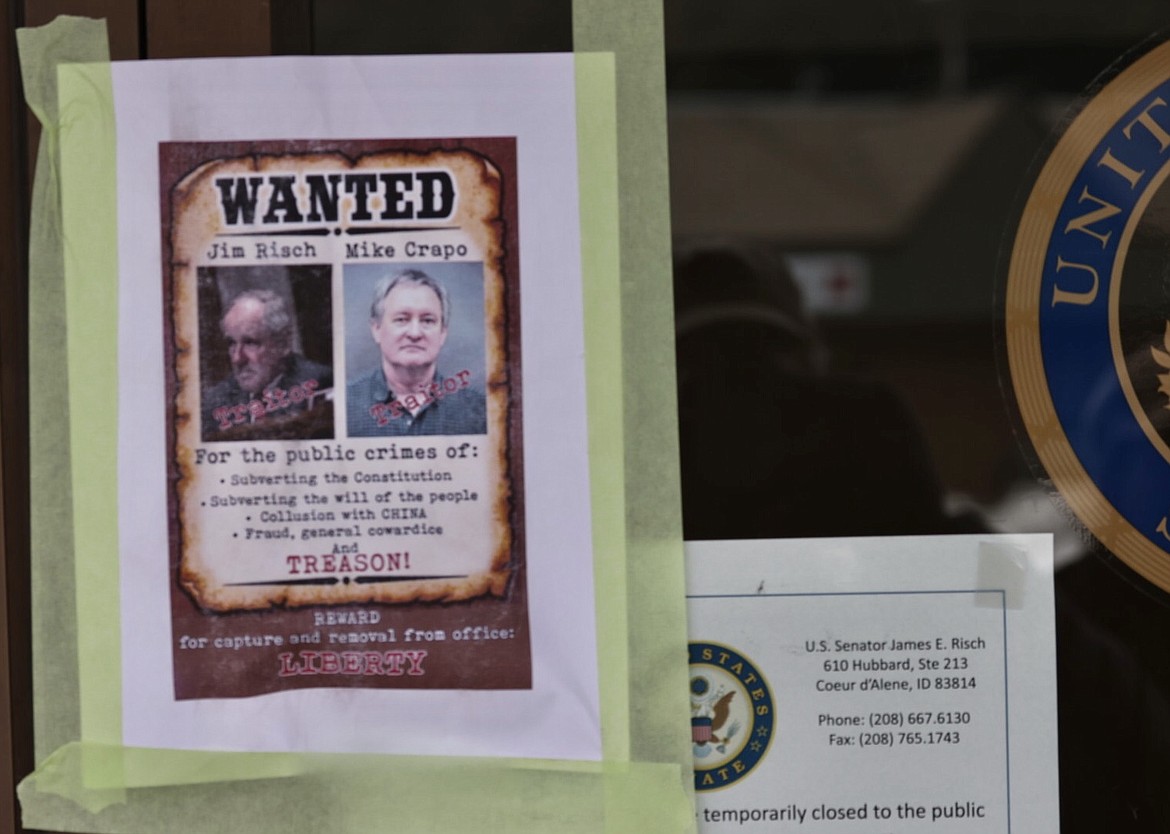 Photo courtesy of Duane Rasmussen Trump supporters taped posters and signs on Sen. Jim Risch's Coeur d'Alene office at the end of a rally Tuesday.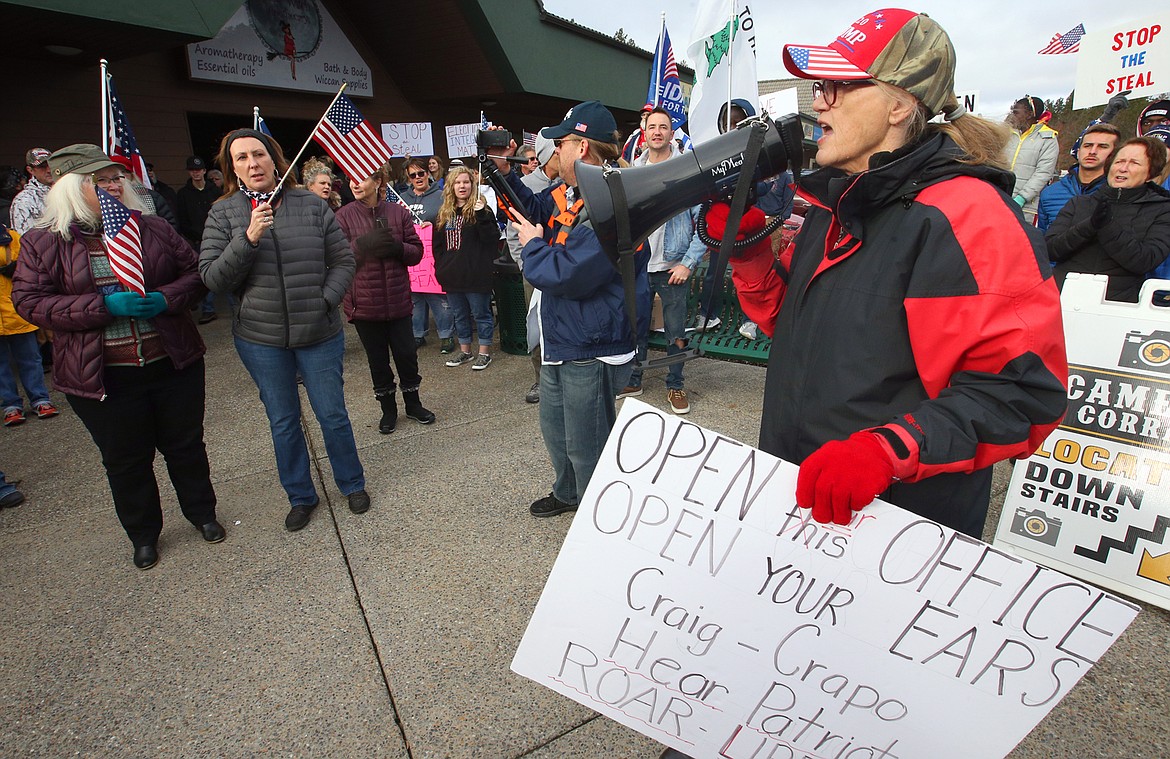 Ann Sneddon leads the crowd in chants during Tuesday's rally to support President Trump.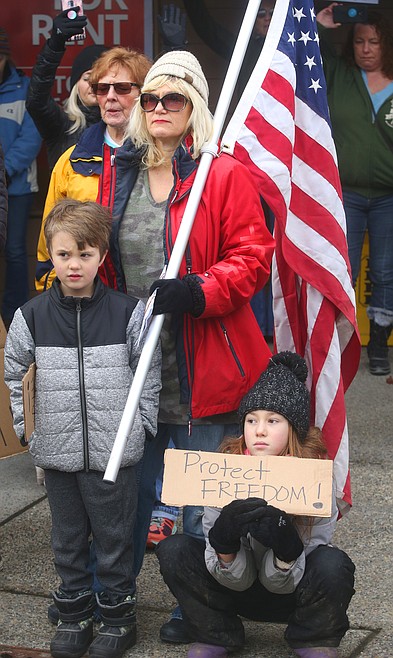 Judy Buessing holds a flag as she stands with two children during a moment of prayer at Tuesday's rally for President Donald Trump.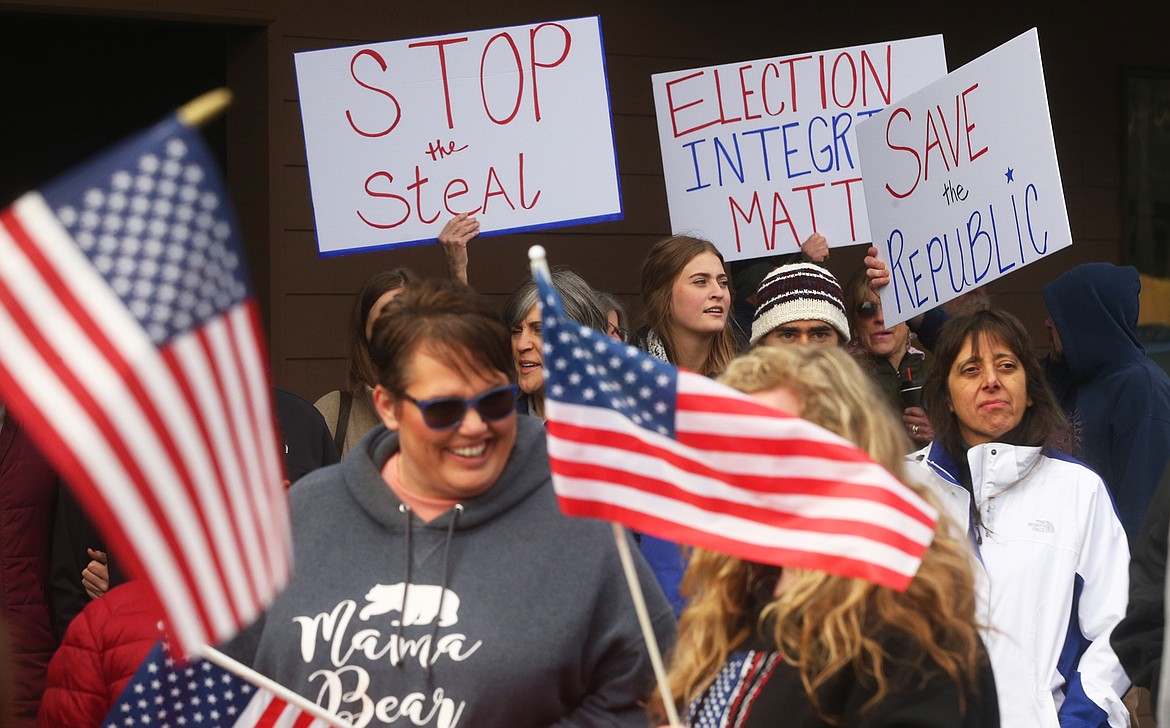 People hold flags and signs at Tuesday's rally in Coeur d'Alene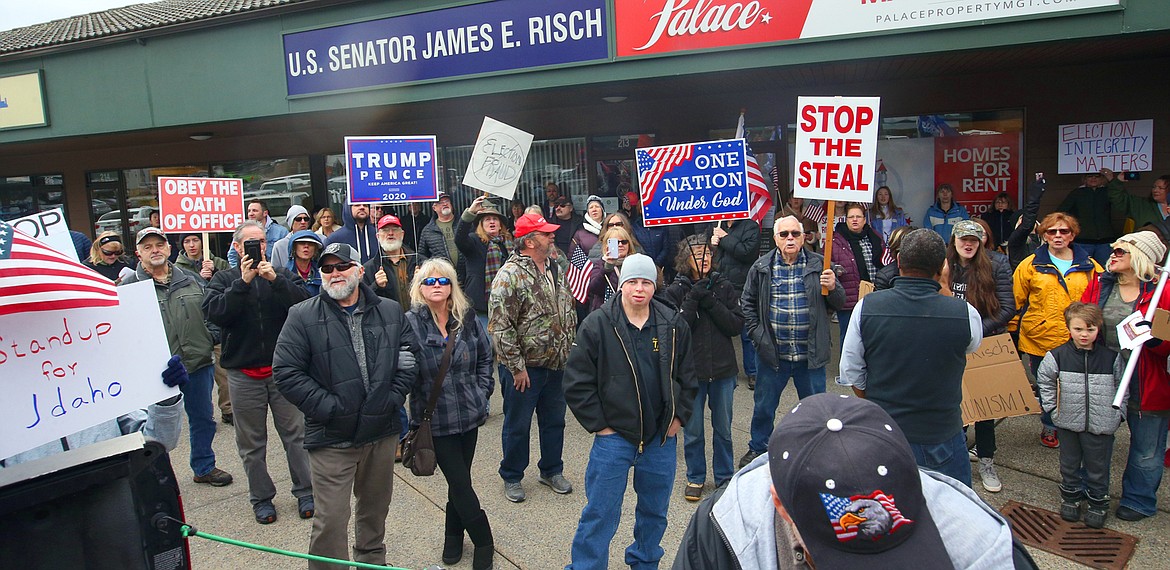 A crowd listens to guest speaker Matt Shea at Tuesday's rally in Coeur d'Alene for President Donald Trump.
Previous
Next
by
BILL BULEY
Hagadone News Network
|
January 6, 2021 1:09 AM
COEUR d'ALENE — As Judy Buessing stood holding an American flag, she was joined by two children, one with a sign that read, "Protect Freedom," on a cold Tuesday morning.
The nation, she said, is under attack and people need to wake up, because much is at stake.
"I know people who have left communist countries to flee to America," she said. "We're the last free country and if we don't stand, there is nowhere else to go."
They were among about 300 people who joined a rally outside the Coeur d'Alene offices of Sens. Jim Risch and Mike Crapo. They called for the elected leaders to oppose congressional certification scheduled today of president-elect Joe Biden's victory in November's general election.
Many held signs that read "Stop the Steal," "Election Fraud," and "Election Integrity Matters."
Throughout the 45-minute gathering chants broke out: "Save Our Republic," "We the people" and "No to communism."
None of the men and women wore masks and they generally stood shoulder to shoulder.
Susan Price Lake pumped her fist, smiled and held a sign that read, "God Bless America."
"We have a republic to save. We are not going to stand for the corruption that is infiltrating every part of our government," she said. "We want America to be what it was always supposed to be, a republic for the people."
A petition many signed read, in part, that citizens of Idaho oppose the election results, claiming they are fraud, and they challenge Biden's Electoral College victory.
Carla Mattare, president of the Kootenai County Republican Women, said they wanted to let Crapo and Risch know they expect them to support President Donald Trump and support democracy.
"We want to let them know we're watching what they're doing," Mattare said.
In a video on his website, Idaho Rep. Russ Fulcher said he objected to the Electoral College results.
He said there were "undeniable occurrences" that made the outcome flawed, such as mass mailing of ballots "with little regard for voter eligibility."
"Look, it's very obvious to us that Democrats stole the election, so it's very important to us that our representatives actually represent us and object to that," said Lee Swoboda of Rathdrum as he left the rally.
Ann Sneddon, using a bullhorn, led the group early on.
"We are facing the takeover in our country by radical socialists," she said.
Asked if she was hopeful for a successful challenge to the Electoral College results and efforts to keep President Trump in office, Sneddon paused and said, "All we can do is pray."
Matt Shea, a former Spokane Valley representative and now a pastor, stood on a pickup truck, gave a fired-up speech and led the crowd in prayer.
"We are at war in our country right now. This was not an election," he shouted. "This was an attack on our country. That's what this was. It was an attack on our republic."
He said a variety of warfare — psychological, informational, economic and political — is being used on the American people.
"It's time we as Americans recognize this for what it is and demand those representing us in government actually fight to defend this republic instead of continuing to lay down and go along to get along," he said as the crowd cheered.
Shea said no matter what happens or what anyone else does, "This area of the country will remain free and we will not consent."
"We will rise up against tyranny because Americans always fight for liberty," he yelled.
Forest Brooks of Post Falls attended the rally. When asked why he was there, he said: "Our country is being stolen. Simple bottom line, that's it."
Brooks believed there was a chance congressional certification of Biden's victory would fail today.
"If everybody in North Idaho would pray for the president, the vice president, the congressmen and the senators, I would have high hopes," he said.
Another Trump rally is scheduled this morning at U.S. 95 and Appleway Avenue.
---