Nothing like a hometown crowd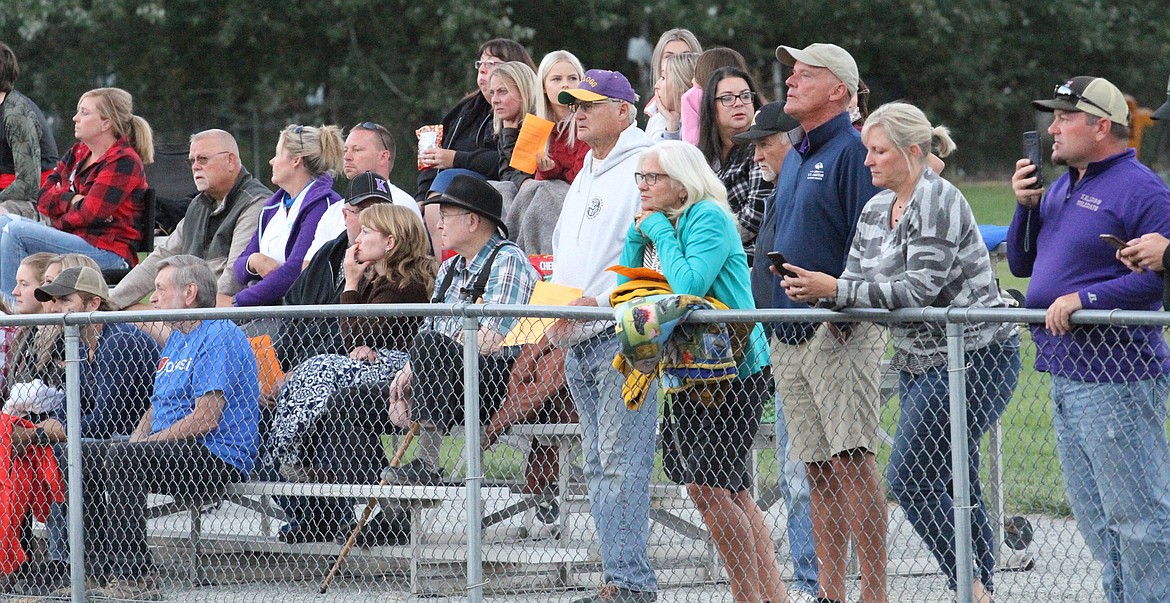 Despite it being in Priest River, Kellogg fans came out in droves for the Wildcats' first football game of the season. Some attempted to social distance, others not so much, but all of them were simply happy to be sitting at a football game again.
Photo by JOSH McDONALD
by
JOSH MCDONALD
Staff Reporter
|
January 7, 2021 12:20 PM
Fans are headed back into the stands — at least a few of them are anyways.
Idaho Gov. Brad Little signed into effect a new order that will allow a limited number of fans back into sporting events, which should make a lot of parents very happy.
The order, dated Dec. 30, sets new revised guidelines for spectators while keeping in step with the requirements of the Idaho Stage 2 Order.
Stage 2 of the state's COVID-19 plan limited the number of spectators to 10, with some additions for essential team and school personnel.
The new order also states that each athlete can have two spectators at both home and away games.
Teams are limited to 13 players each for freshman, junior varsity and varsity basketball teams. Cheerleaders are also now allowed at games, but limited to six per squad and are allowed two spectators.
Wrestling is limited to 15 athletes per team, with two spectators per athlete allowed for duals, tri-meets and quads, but no spectators are allowed at tournaments (like last weekend's Lakeland JV Tournament).
These rules have already been put into motion, and while this may be a sigh of relief for school administrations some schools have taken Gov. Little's order and tightened it up a little bit to fit their needs.
These rules will be put to the test right away this weekend when Kellogg High School hosts St. Maries for both boys and girls basketball games.
One of the adjustments being made locally is the decision to restrict young children from coming to the games.
"The ADs in the area are only allowing parents at this time," said Kellogg High School Activities Director Mike LaFountaine. "We don't want kids running around. The only exception really is if they have an infant."
Some schools are in the fortuitous spot of being away from home for a few games — making them able to watch how other schools adapt and make the necessary changes if needed.
"We plan on taking full advantage of what's been outlined by Governor Little," said Mullan AD Stetson Spooner. "We don't have a home game for a while, so we don't have to be a guinea pig. We are going to pay close attention to schools we travel to and try to make the best situation for kids to compete safely at our gym."
Other rules from the order include:
• All non-participating athletes, essential personnel, administrators and table help are required to properly wear masks. Freshmen and JV teams may remain in the gym behind the team playing.
• Masks and facial coverings are required for all spectators when not seated and physically distanced.
• Physical distancing must be practiced in any place in the facility.
• For purposes of this plan, physical distancing is 12 feet from non-household members.
• Event areas, such as gyms, will be cleared after each event, cleaned and sanitized prior to the second event taking place.
• Districts that don't sign the new agreement will still be required to follow Stage 2 guidelines and limit spectators to 10.
• Any school or district found to be in non-compliance will A. Receive a written warning. B. Forfeit the event. C. Forfeit all future athletic events for that sport during the winter season.
---