'Taking a stand'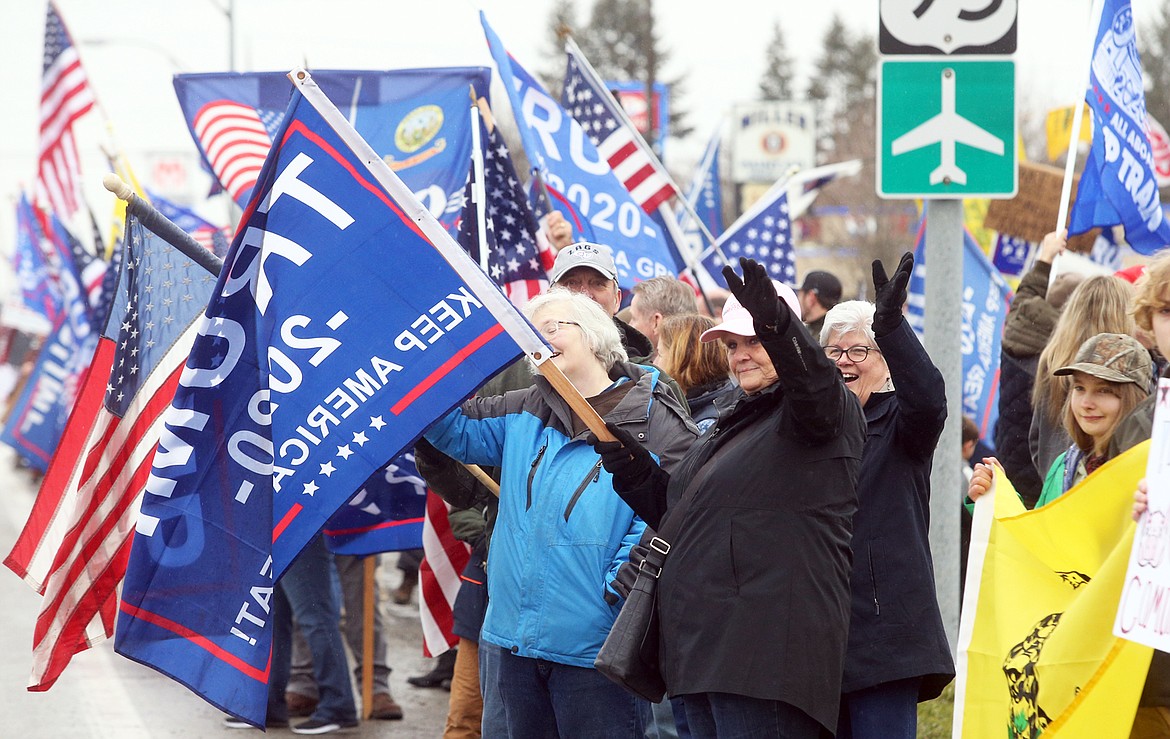 Annette Greb of Post Falls, center, waves at traffic on U.S. 95 during Wednesday's rally for President Donald Trump.
BILL BULEY/Press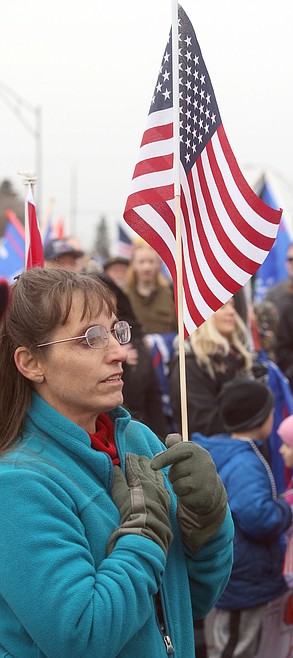 A woman holds her hand to her chest during the Pledge of Allegiance during the rally on Wednesday.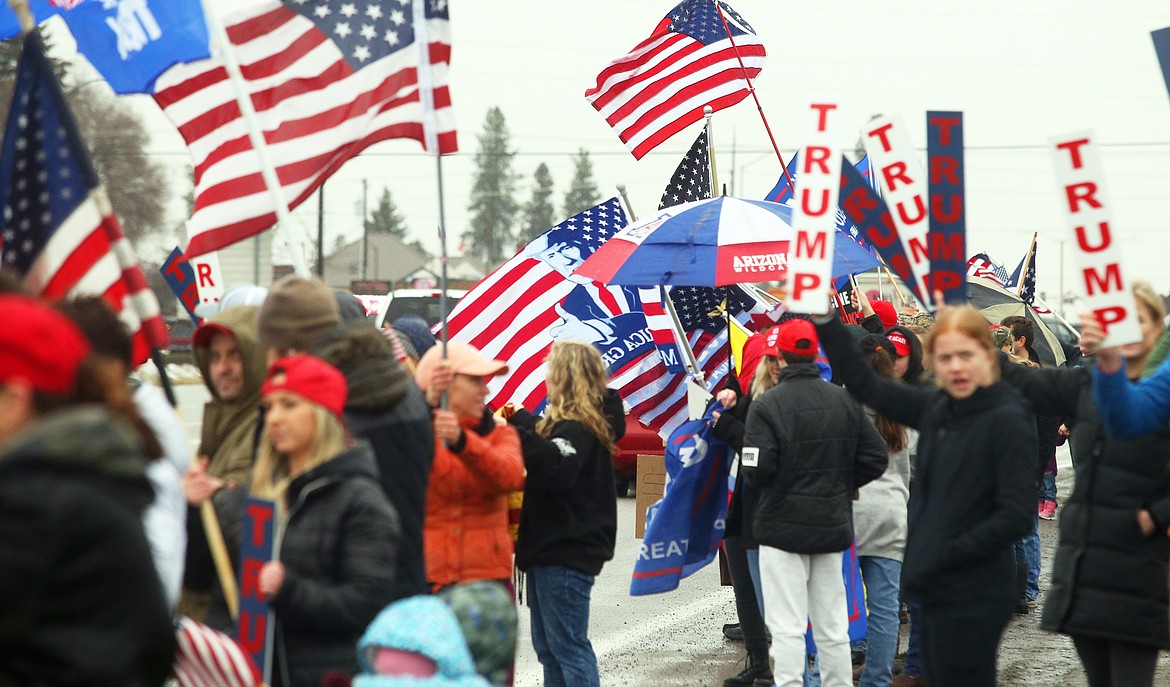 People line U.S. 95 during Wednesday's rally.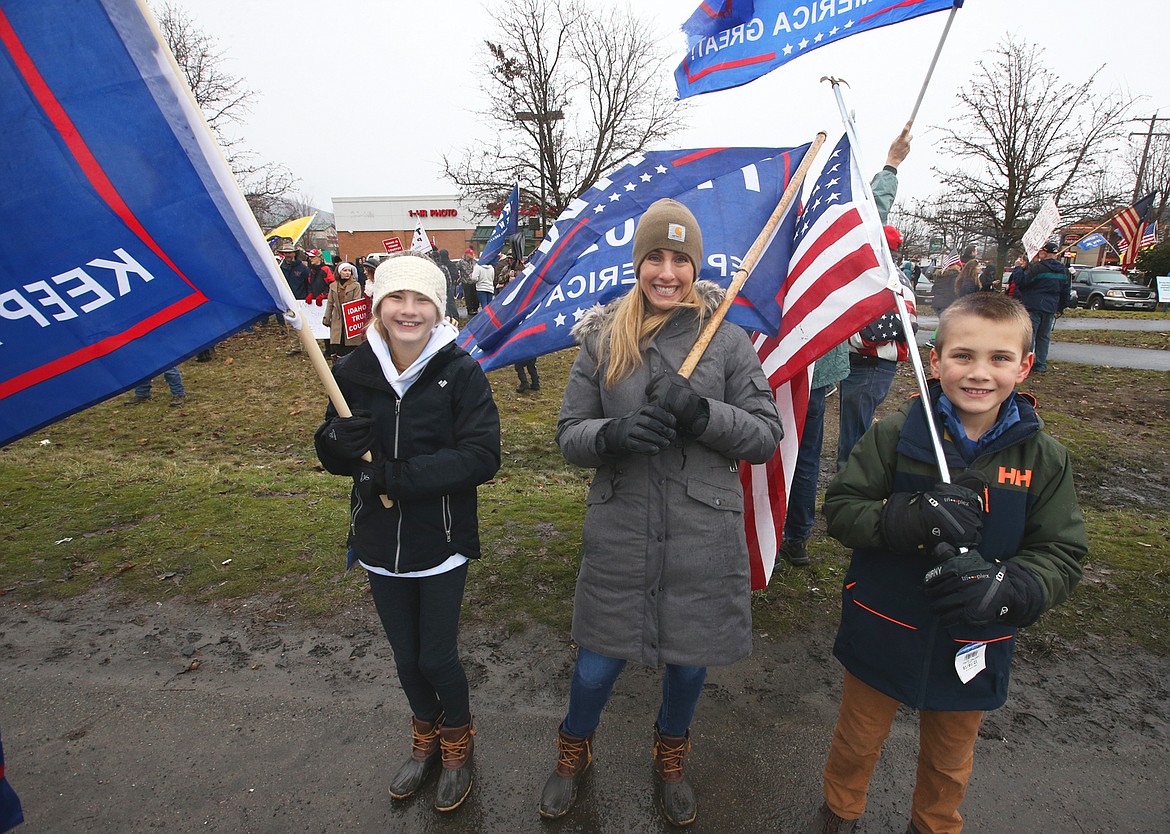 Elisa Schmalz brought children Tyson and Gracelyn to Wednesday's rally.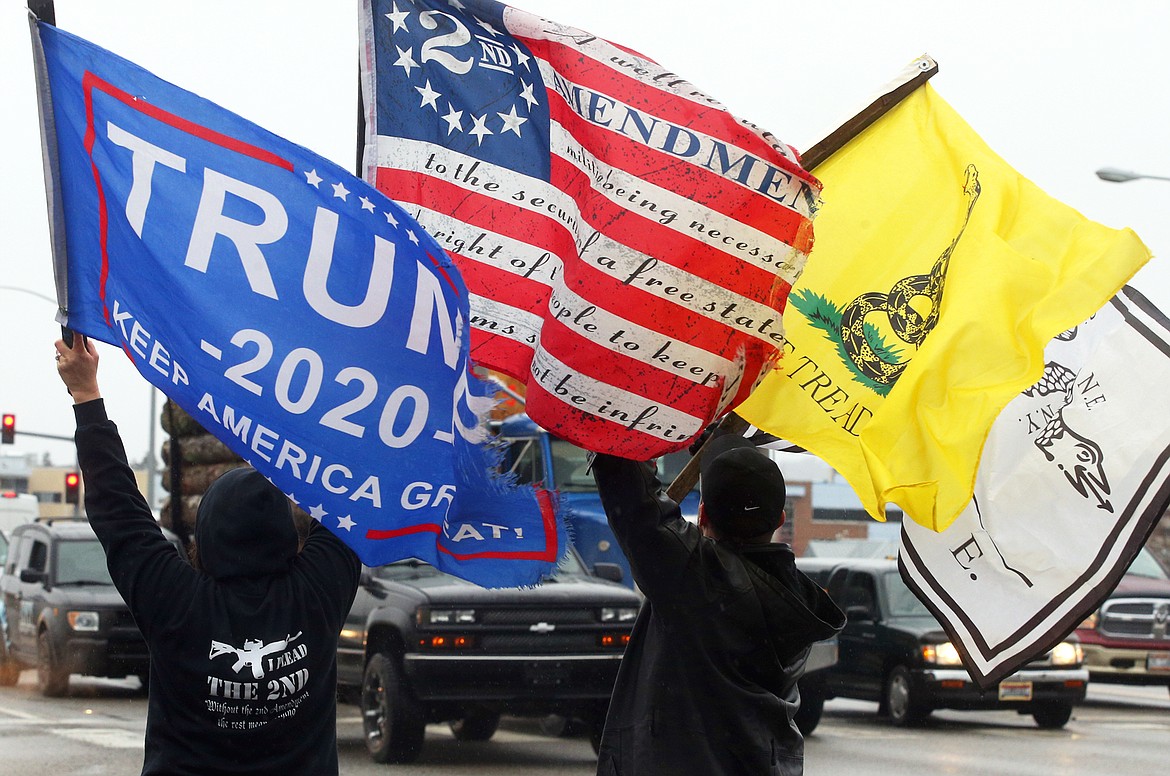 A few of the protesters at Wednesday's rally wave flag at the corner of U.S. 95 and Appleway Ave.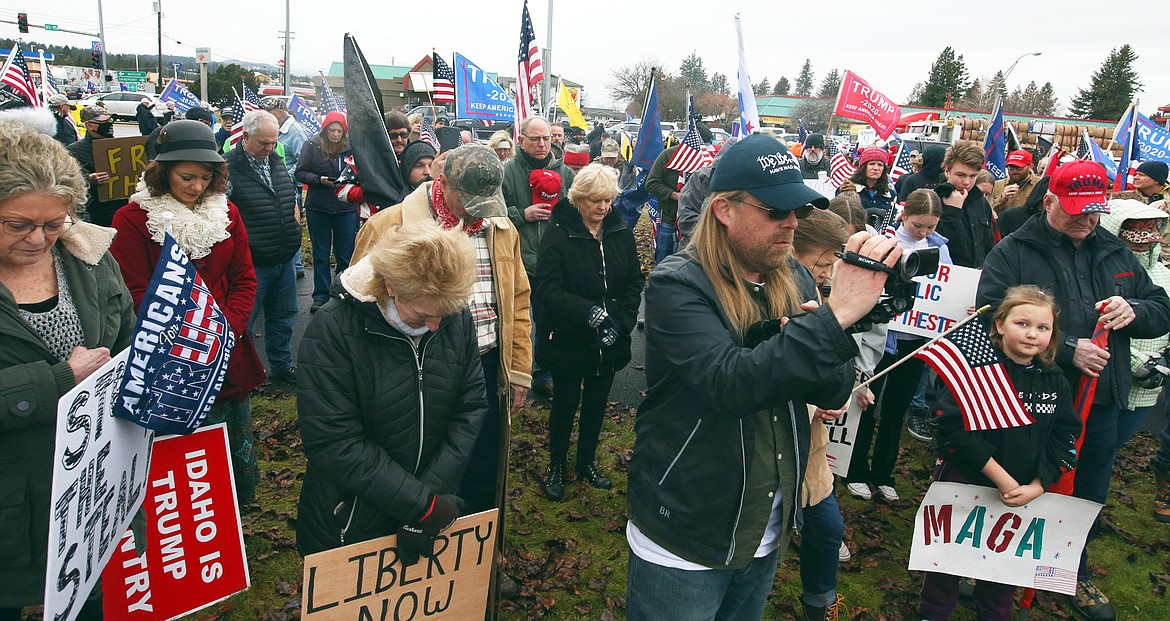 Some of the crowd at Wednesday's rally in Coeur d'Alene bows their heads in prayer.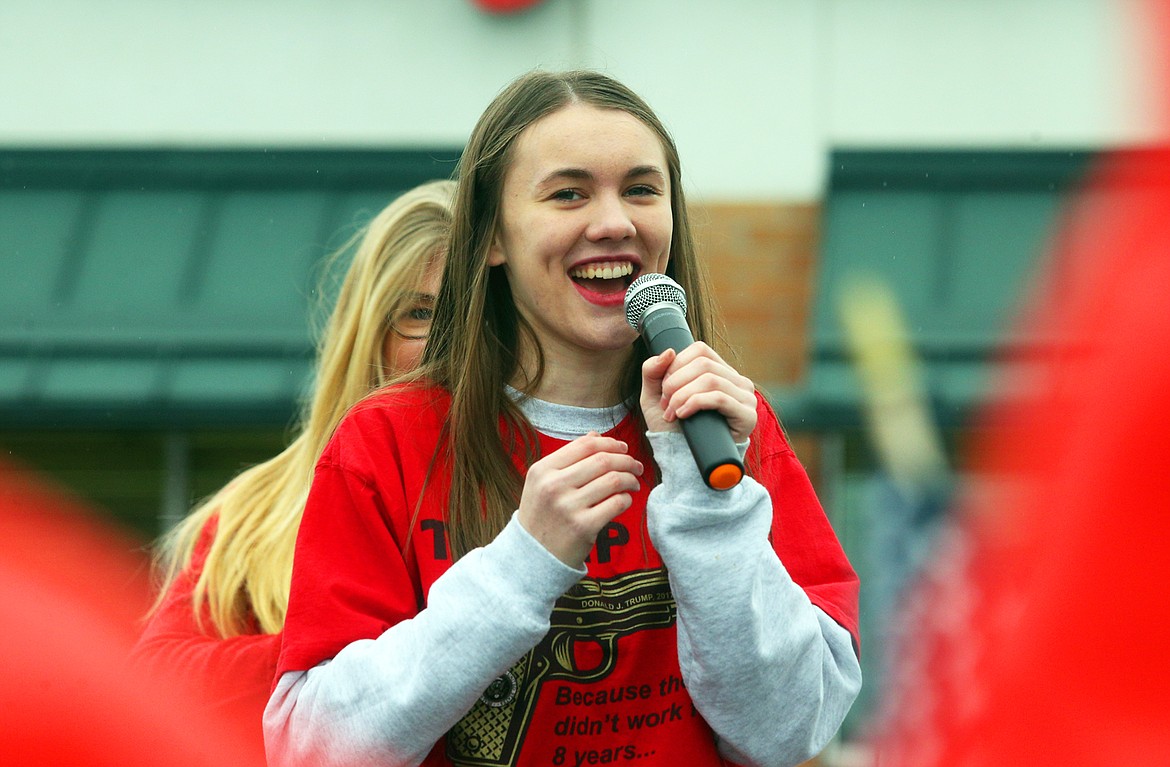 Ashlyn Murray talks to the crowd before singing the national anthem at Wednesday's pro-Trump rally in Coeur d'Alene.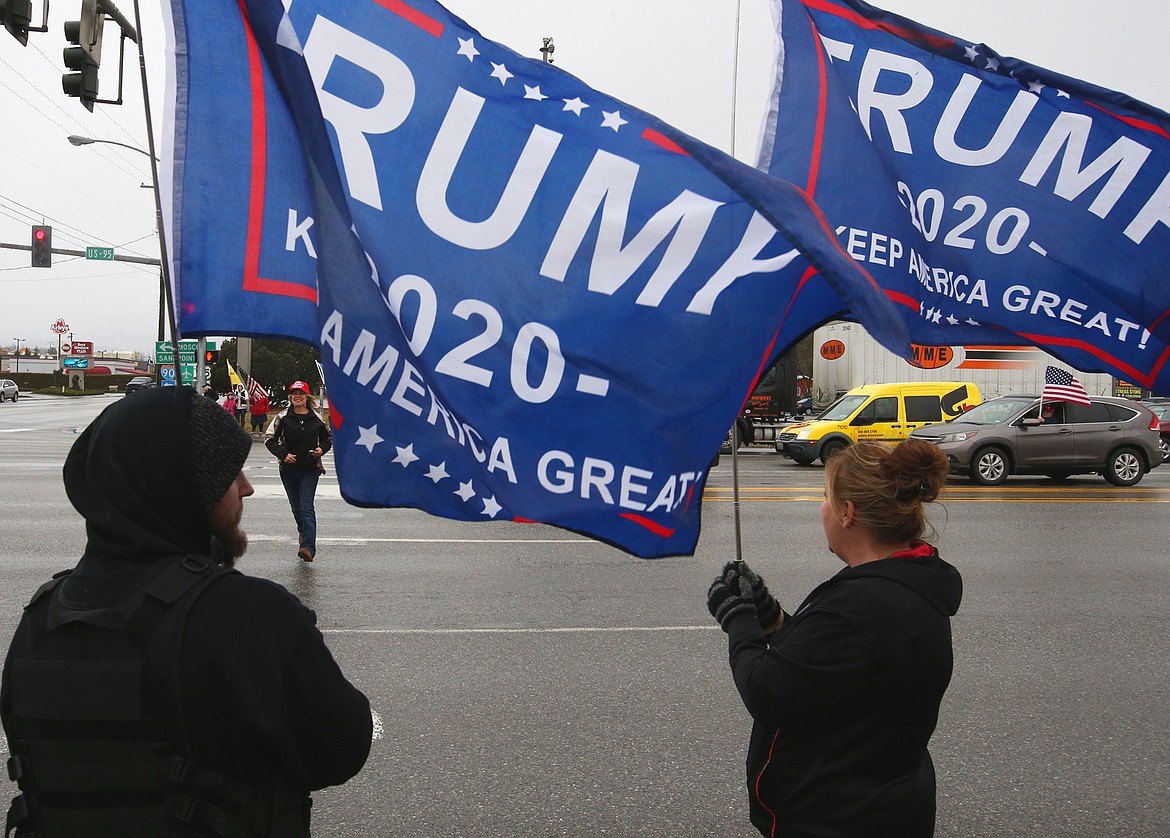 Austin Brady and Tammy Brady hold Trump banners on Wednesday.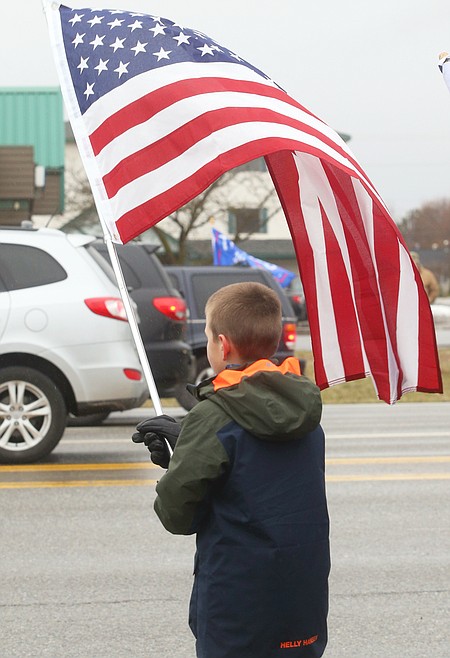 Tyson Schmalz waves a flag as he stands along U.S.95 Wednesday.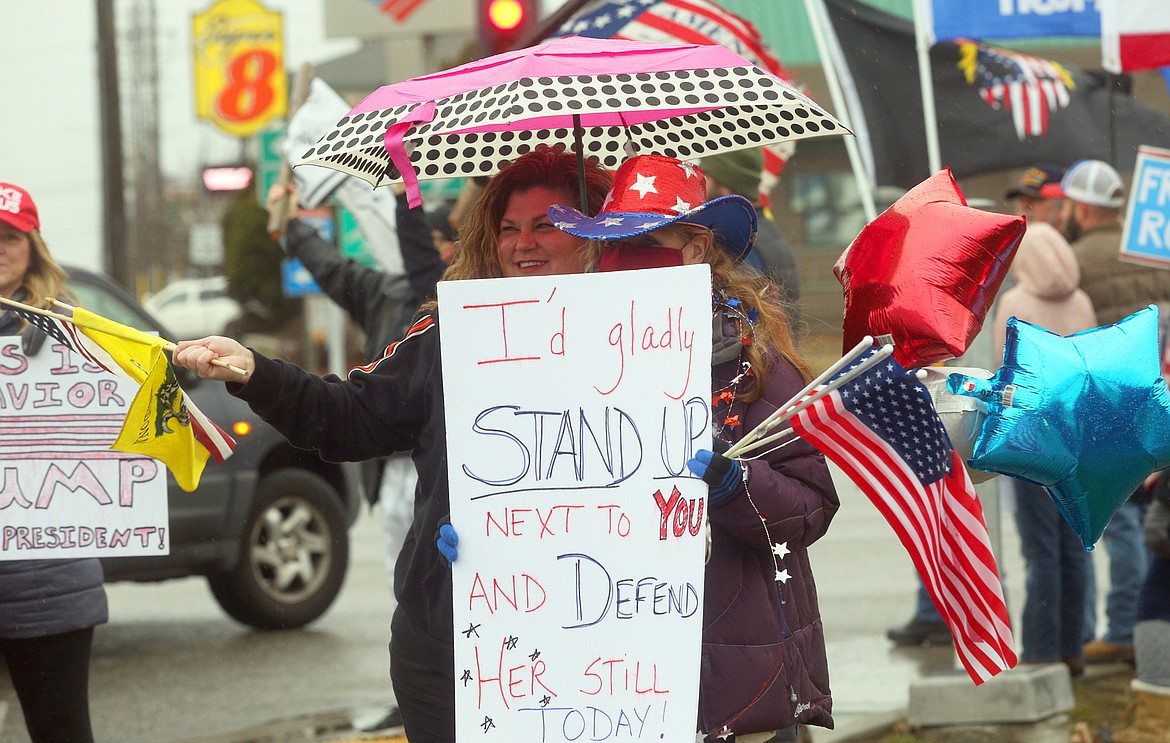 Lori Green, left, and Patty Stanfield, hold flags and balloons as they huddle under an umbrella and wave to passersby during Wednesday' pro-Trump rally in Coeur d'Alene.
Previous
Next
by
BILL BULEY
Hagadone News Network
|
January 7, 2021 1:09 AM
COEUR d'ALENE — After listening to speeches and joining hundreds in reciting the Pledge of Allegiance, Ashlyn Murray decided Wednesday's rally for President Donald Trump was missing something: the national anthem.
So the Lakeland High School junior offered to sing it herself in front of the crowd at U.S. 95 and Appleway Avenue on a cold, cloudy, drizzly day.
When she was done, she smiled proudly as people applauded.
"It's just an honor to be here today," Murray said. "All the people who care about our country and wanted to be here, and I could sing for everyone. That was amazing."
A crowd estimated at 500 waved flags, banners and signs at passersby to show their support for the president and their opposition to results of an election many there said was marred by fraud and was stolen from their candidate.
Annette Greb of Post Falls was among those on the shoulder of U.S. 95 with a Trump banner. She questioned the integrity of the balloting that gave Democrat Joe Biden the victory.
"I want our elections to be free and fair," she said.
Many drivers honked, some waved back, and one even stopped to give an American flag to a young boy.
Men, women and children, many in patriotic red, white and blue outfits, prayed and listened to speakers. A few men carried firearms.
"It stops today, it stops now," said Amy McCamly of North Idaho Freedom Fighters, rally organizer.
She lamented that many said they couldn't make it because of the cold weather or they had to work.
"You're not going to have a job to go to if you don't stand up, we start fighting and saying no," McCamly said.
Idaho is the land of the free because it upholds the Constitution, she said, but it might not always be that way if people stand idle.
"We are this close to Idaho losing our freedom," McCamly added, holding her fingers an inch apart.
David Reilly, a radio personality and author, gave a passionate speech marked by a few shouts that stirred up the crowd.
He told them that when the media attacks Trump and calls him a Nazi, a racist and white supremacist, "That's what they really are calling all of you. We aren't going to take that, are we?"
"No," came a loud, unified response.
Reilly said Trump received 74 million votes, more than any incumbent president in history, and somehow still lost.
"They stole it, right in front of us, right in front of our face," he said.
He said the country has been taken over by "liars, traitors" and others — Republicans and Democrats alike — who have undermined health care, education and law enforcement in America.
He spoke of a "tidal wave of corruption swiping across the nation" and said no one was safe from it, not even in Idaho.
"They will not simply let you leave. They won't let you alone," Reilly said. "There is nowhere on Earth that we can turn and run. That's why we're taking a stand here and now."
He urged people to seek seats on school boards, councils and commissions.
"If you want to fight for your faith and your family and your country, you need to get involved," Reilly said.
Austin Brady said he was all in.
"Literally everything is at stake that we've ever fought for for this country. I'm scared for my child," he said.
"We the people are the only ones who are going to make a stand and try to do something about it. It's our future that is at stake," Brady added.
His mom, Tammy Brady, said people need to realize their rights are being restricted more and more and liberty in the United States is at risk. Thousands of small businesses have been ordered to close and people told to stay home by the government because of the coronavirus, costing millions their jobs.
"It's our country and we need to take it back," she said.
Elisa Schmalz brought her children Tyson and Gracelyn to the rally. She wanted to teach them about standing up for what is right and knowing what is happening in their country.
"It's important for my kids to see fellow patriots banding together to fight for our freedom," she said.
Christine Kaufmann was joined by husband Steven Kaufmann as they left the rally.
"We want our freedom and we don't want to be robbed of it," she said.
Two Coeur d'Alene women, Lori Green and Patty Stanfield, held flags and balloons as they huddled under an umbrella and waved to the traffic.
"I believe the election was stolen. I believe there's fraud," Green said. "Those Electoral College votes need to be kicked out."
Likewise for Stanfield.
"I feel like there's too much corruption in the government. We've just taken this for too long. It's time we stand up."
---