Back to a little bit of (dare I say it) normal?
by
JOSH MCDONALD
Staff Reporter
|
January 21, 2021 3:19 PM
The Kellogg School District will be joining the Wallace and Mullan school districts in a few weeks when their students head back to school for full-time instruction.
During their monthly board meeting this week, the Kellogg School District Board of Trustees approved a plan for K through 12 students to return to a five-day school week.
This plan was submitted to the board by the KSD Leadership Team, who, based upon current data and community conditions, recognized the importance of continued, correct mask usage to keep staff and students from being exposed.
The plan also incorporates information provided by Gov. Brad Little and the Idaho State Board of Education about transmission in schools and amongst students and staff.
Masks will still be a requirement throughout the district, and students and parents should be aware that the situation remains as fluid as ever and can and will change if the situation calls for it.
"We will consistently monitor COVID related absences and if there should be a spike, we will again take action as we did with Canyon Elementary before Christmas," said KSD Superintendent Dr. Nancy Larsen. "A school closure for a short period of time is still possible."
Kellogg schools will begin full-time instruction on Monday, Feb. 1.
Wallace is at the end of their first full week of full-time school and according to district Superintendent Todd Howard, it's going quite well.
"So far it has been a breath of fresh air for the district," Howard said. "I spent some time at Wallace Jr./Sr. High on Tuesday morning and observed the students entering the school. Students were compliant with the expectations and protocol. For the first time this year, the volume in the halls was elevated and sounded like it should."
Howard also visited Silver Hills Elementary on the same day and was able to survey the adaptations the school had made to properly handle the increase in students while maintaining social distancing requirements.
"Because of the increase in the total number of students, precautions were made to spread out our lunch times so that cohort groups could be separated from other groups," Howard discussed. "We don't have the ability to spread out each individual student for lunch, but we can be more cautious with the classroom and grade level groups."
Howard's immediate reaction to the current climate of his district in light of the change in how they attend schools is one that is hopeful and excited, both by him and his staff as well as the students and their families.
"Overall I feel that students and staff were excited to get back to school full time," Howard said. "In speaking with a couple of our elementary students, they told me that it was like the first day of school and they had laid their clothes out the night before like they would have done in August."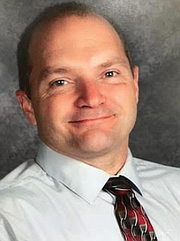 ---