SCSO wraps up human trafficking emphasis patrols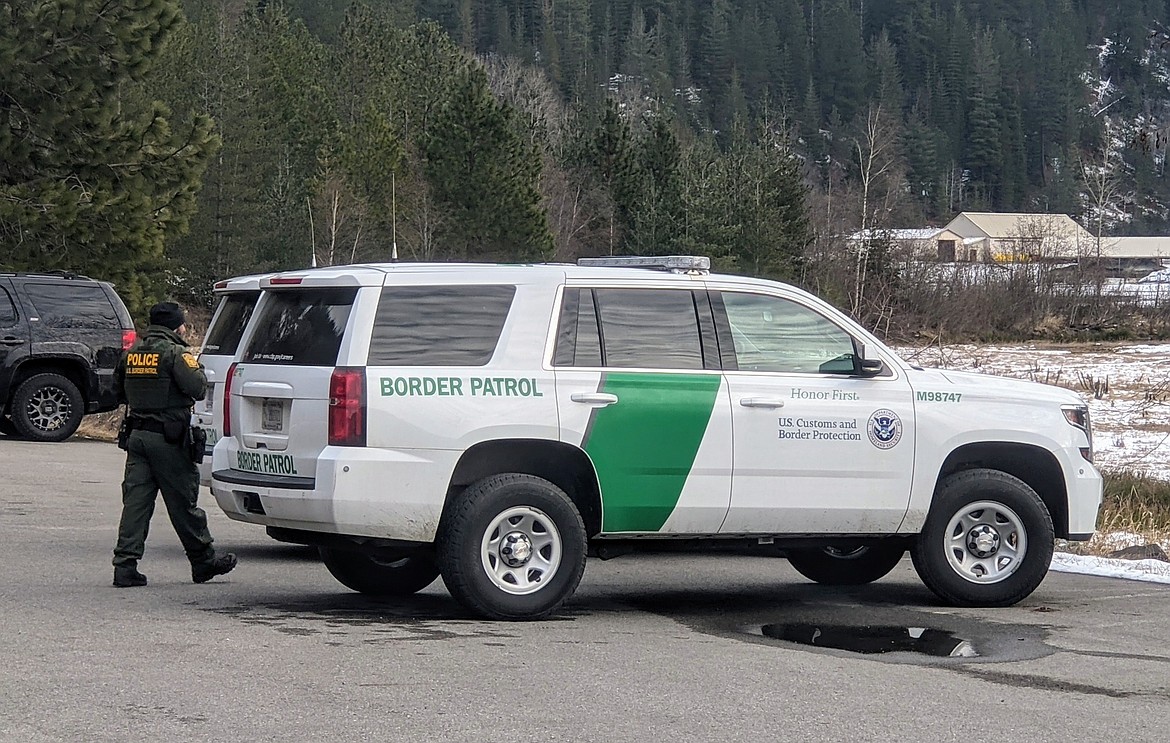 A U.S. Border Patrol agent walks to his vehicle near the Sunshine Mine Memorial in Big Creek on Wednesday. Multiple law enforcement agencies could be seen in this area that day.
Photo by CHANSE WATSON
by
CHANSE WATSON
Managing Editor
|
January 21, 2021 10:30 PM
Thanks to grant funds awarded to the Shoshone County Sheriff's Office, the agency has been able to conduct two separate patrol emphasis operations this month alone on Interstate 90.
SCSO Lt. Jeff Lee spoke to the News-Press after the second operation wrapped up on Wednesday and said that he was pleased with the results.
"Things went very well. There was extremely good teamwork with all the agencies involved."
In the most recent emphasis on Jan. 20, SCSO deputies made 38 traffic stops, wrote 11 citations — which led to three criminal cases. Among those criminal cases were two women out of Montana that were arrested by Idaho State Police Troopers for drug related crimes.
Jail bookings show that Cheyenne Danielle Axtell, 26, of Missoula, Mont., was arrested for drug trafficking in heroin and criminal possession of a financial transaction card. Olicia Dawn Kennedy, 26, of Bonner, Mont., was also arrested for use or possession of a schedule II controlled substance and use or possession of drug paraphernalia.
In the earlier operation on Jan. 9, SCSO conducted 43 traffic stops, issued four citations — which lead to one criminal case. There were also two immigration cases that were turned over to the Border Patrol.
The operations, which involved personnel with SCSO, Idaho State Police and the U.S. Border Patrol, were funded through a Border Patrol Stonegarden Grant that was awarded to SCSO in 2019 and 2020. The grant funds cover costs associated with these special operations such as equipment, extra personnel and fuel.
What makes these particular patrols so out of the ordinary is their specific focus on crime — in this case, human trafficking.
"Our main focus is the human trafficking/smuggling portion of it because I personally feel like it is something that not a lot of other agencies are able to put in a lot of time to focus on, other than larger cities where it's a huge and obvious problem," Lt. Lee said. "It isn't really for us locally, but they (human traffickers) come through here and it was confirmed that they are during stops that were recently made."
Of course, other crimes such as drug and weapons trafficking are on their radar as well when the Border Patrol is involved.
"We don't really work with Border Patrol too often," Lee said, "so this gives us that opportunity to work with an agency that brings a lot of experience and knowledge to operations such as these."
SCSO doesn't normally allocate too much time to patrolling I-90, as it isn't their primary jurisdiction. The grant funding the agency received though allows them to focus on certain areas like I-90 and on certain types of crime while not taking away from normal patrol work.
With the funding set to last through 2021 and possibly 2022, Lee states that operations such as these could become much more frequent in Shoshone County.
"SCSO will still be conducting other emphasis details in both the winter and summer within the county for DUI, party patrols, speed enforcement, and much more," Lee said.
---