Fire crews respond to early morning garage fire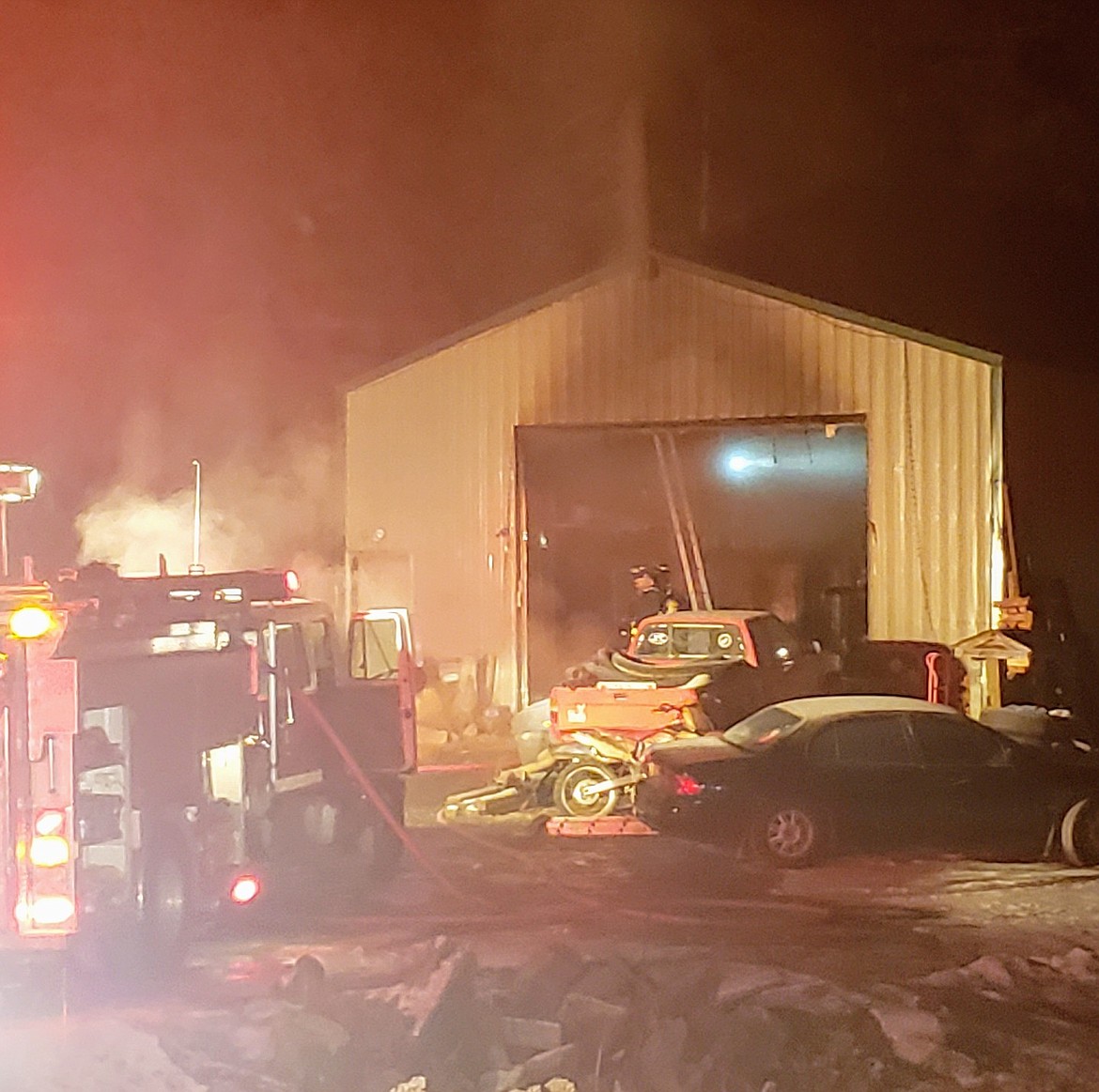 Fire crews with Shoshone County Fire District No. 2 responded to this structure fire early Sunday morning in Hunt Gulch, Kingston.
Photo courtesy of SHOSHONE COUNTY FIRE DISTRICT No. 2
by
CHANSE WATSON
Managing Editor
|
January 24, 2021 2:32 PM
KINGSTON — It appears that a wood stove has once again caused a structure fire in Shoshone County.
Shoshone County Fire District No. 2 Chief Mark Aamodt tells the News-Press that around 2 a.m. Sunday, fire crews were dispatched to the area of Hunt Gulch in Kingston for a report of a possible fire in a large garage.
When the engine from Pinehurst first arrived on scene, smoke could be seen emanating from the rear of the structure.
The garage itself was reportedly filled with large amounts of wood and woodworking equipment, in addition to a motorcycle and other miscellaneous items.
The first and only flames found were near a wood burning stove located at the rear of the shop and quickly extinguished. Due in part to the quick response, the structure itself was saved while its contents received major smoke/heat damage.
"The guys had a very quick knock down on this one," Chief Aamodt said.
Aamodt added that the cause of the fire was improper usage/installation of the garage's wood stove. A stack of firewood was even stacked next to the wood stove at the time of ignition.
No injuries were reported as a result of the incident.
With wood stoves and space heaters being a constant cause for winter season structure fires in Shoshone County, Aamodt stresses that residents should be vigilant in monitoring their heat sources.
"It is that time of year when the wood heating has been in heavy use for a while," he said. "Please be sure to take the time to check your chimneys and equipment to make sure everything is in safe operation condition."
---