Find a little bit of everything at McGinnis & Sons Craftworx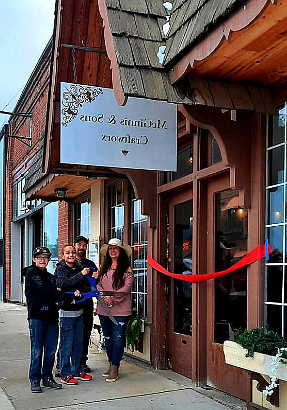 Layton, Avant, Shawn and Lacie McGinnis get ready to cut the ribbon at McGinnis & Sons Craftworx in Kellogg on Sunday.
Courtesy photo
|
January 26, 2021 12:23 AM
KELLOGG — A new consignment boutique has opened its doors in uptown Kellogg and co-owner Lacie McGinnis is "very excited for this journey and the community work we plan on putting forth the years to come."
McGinnis & Sons Craftworx, owned by Lacie and Shawn McGinnis (originally from Newport, Wash.), held its ribbon cutting ceremony on Sunday and are now offering products from local and national vendors.
From art, photography and jewelry to refinished and custom furniture; Craftworx offers a variety of unique items. Among these unique items, one can find a cornhole design lab where customers can design their own custom game set.
Lacie explains that she and her family ended up coming to the small North Idaho town after doing some research on it while staying in Bicknell, Utah — where they lived previously for a year and a half.
"We decided instead of moving back to Washington, as we missed the green trees and mountains, we weren't quite ready for city living," she said. "Bicknell is a small pioneer farming town and we loved it very much! Lots of charm and the folks waved every time you drove by. Kellogg gave us a similar feel after having come to visit a time or two with the resort and exploring."
The McGinnis' first got into this business by doing many things the hard way. Starting out in the 'backyard,' they would find themselves being disappointed when their final products (like cornhole boards) would come out warped and twisted at times. With a little research, the duo were able to track down lumber from professional league suppliers and embrace online sales.
"Now, regardless of what kind of set you're ordering from us, you can rest assured it will last for many years to come as we also seal it with seven sanded coats of sealant," Lacie said.
The couple decided to open up the storefront because, being "makers" themselves, they say that they know what makers go through in trying to earn a worthy paycheck from the products they're working very hard to produce.
With the COVID-19 pandemic disrupting normal business operations across the globe, Craftworx plans to eventually have freight shipping from Kellogg. Lacie said this will allow them to market and sell their makers products in a national market.
"We actually did really well with our cornhole business throughout the COVID shutdowns and are excited to share all we know with the Silver Valley!"
McGinnis & Sons Craftworx are open Sunday through Wednesday, 10 a.m. to 5:30 p.m. then the first Friday of every month and the second Saturday of every month.
---