VIDEO: One suspect shot in Wallace standoff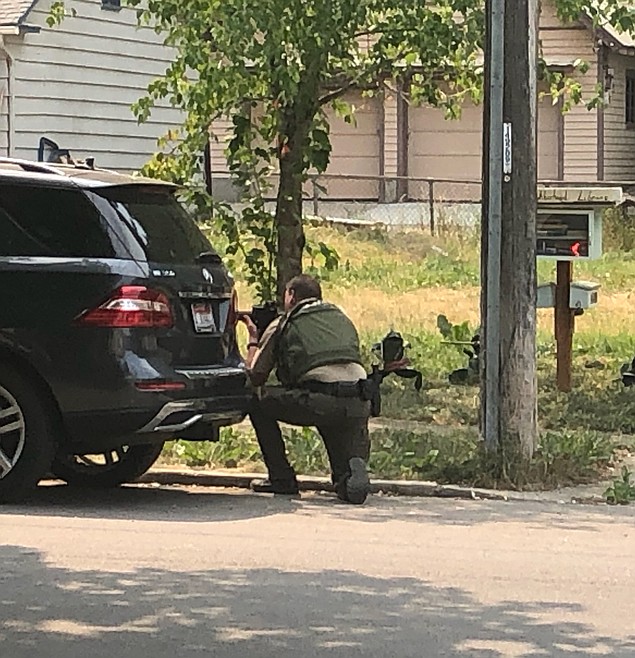 A Shoshone County Sheriff's Deputy takes cover behind a parked car while Sheriff Mike Gunderson attempts to talk with the suspect.
Courtesy photo
A Wallace man was shot by law enforcement Tuesday afternoon following a prolonged standoff with officials. Full story: https://shoshonenewspress.com/news/2021/jul/20/one-suspect-shot-wallace-standoff/
Courtesy
Previous
Next
by
CHANSE WATSON, Managing Editor and JOSH McDONALD, Staff Reporter
|
July 22, 2021 3:00 PM
Editor's note: Some of the photos and video accompanying this article may be considered graphic and not appropriate for all readers.
WALLACE — A Wallace man was shot by law enforcement Tuesday afternoon following a prolonged standoff with officials.
The Shoshone County Prosecuting Attorney's Office reports that on July 20 around 2 p.m., Shoshone County Sheriff's deputies responded to a shots fired call in the area of King Street in Wallace.
According to witnesses, the suspect, identified as Esten Smykal of Wallace, was acting erratically prior to law enforcement arriving and threatening people outside on the street.
The first shots fired by Smykal were into his parents' occupied residence, located on the neighboring Queen Street, and into their pickup truck. Witnesses then saw the suspect enter a nearby purple car that was parked on the road, reload his weapons, and proceed to fire at a passing Idaho Department of Lands truck that was traveling south toward Moon Pass.
Smykal then reportedly entered the vehicle and reloaded a second time. It was during this second reloading period that deputies with the Shoshone County Sheriff's Office, including Sheriff Mike Gunderson himself, arrived on-scene.
For approximately 15-20 minutes, Sheriff Gunderson attempted to negotiate with Smykal in the middle of the street while also keeping his distance — urging him to drop the two handguns that he was holding.
One witness stated that an exchange between the two had Smykal telling Gunderson that he "had him in his sights," and the Sheriff responded with, "I know, I just want to talk."
Sheriff's Office personnel continued to issue multiple commands for Smykal to relinquish his firearms.
After failing to do so multiple times, he then pointed his firearms at the Sheriff and moved forward in his direction. At that time, Smykal was shot by another deputy on scene.
"He's got some balls for sure. He just walked right up the road with that guy pointing a gun at him," a witness said of Gunderson. "He was very patient with the guy and gave him way more chances than I would have to put the gun down."
Once Smykal's aggression had ceased, medical crews with Shoshone County Fire District No. 1 arrived and transported him away for treatment. It is unknown how serious Smykal's injuries are or how many times he was shot, but he was transported out-of-county the same day via Life Flight helicopter.
Smykal had been staying at the home of Andie Bond — a friend of Smykal — who allowed him to stay with her after being kicked out of his parents' home.
According to Bond, Smykal had recently been sued by his parents for property damage and then proceeded to have him trespassed from their home — where he had been residing before moving in with Bond.
Bond believes that the consistent deterioration of the relationship between him and his parents, plus his heavy intoxication at the time of the incident, were motivating factors for Smykal's behavior.
Court records indicate that Smykal had been charged with disturbing the peace in April 2020 — stemming from a disagreement with his parents which resulted in a no-contact order being placed between them.
As of July 22, court records and Shoshone County jail booking reports do not show that any charges have been brought against him yet in regard to the events that occurred on Tuesday.
Shoshone County Prosecutor Keisha Oxendine stated in a press release that the North Idaho Critical Incident Task Force, consisting of members from the Idaho State Police, Kootenai County Sheriff's Office and the Coeur d'Alene Police Department, are conducting the investigation of the shooting.
"We would also like to extend our appreciation to the Osburn Police Department and Idaho Department of Lands for their assistance as well," she said.
At this time, the names of the officers involved are not being released, but the Prosecuting Attorney's Office will update the public when more information can be released and the investigation develops.
---