Frank J. Breidt, 84
Frank was born on March 19, 1937, to Frank and Mary Breidt in Elizabeth, N.J.
After graduating from high school, he enlisted in the U.S. Navy, serving as a radio operator throughout the Pacific. While stationed in California, Frank met the love of his life, Cheri Bondurant. Together, they had three children, K'Cee, Jay and Tricia. Along the way, they also raised a foster daughter, Annie.
In 1965, Frank moved to the Silver Valley to work at the Bunker Hill Company, beginning as a junior accountant and culminating his career as its Chief Financial Officer. Frank was an active member of Our Savior Lutheran Church in Pinehurst, where he taught Sunday School, served in several leadership roles and loved sharing the Gospel.
Frank had many interests and passions. From his love of lilies to growing vegetables, he loved to garden. He would spend months pouring over plant catalogs looking for new varieties to add to his flower beds. In his later years, Frank rekindled his love of Morse code becoming an amateur radio operator (KB7RNV), converting a shed on his property to a "radio shack," and talking to fellow radio operators throughout the world. Frank's greatest love was the love of reading and learning. He would always have two (or 12) books he would be reading. Whenever any of his grandchildren would visit, they would discuss "great literature," and the grandchild would leave with a stack of "assigned" readings from their grandpa.
Frank is survived by his wife, Cheri of Pinehurst; his children, K'Cee Colestock (Spokane, Wash.), Jay Breidt (Fort Collins, Colo.), Tricia Breidt (Spokane) and Annie Garner (Pinehurst); and his grandchildren, Connor, Julien, Emily, Anna, Mathew, Pete and Shelly. Additionally, Uncle Frank will be sadly missed by his many nieces and nephews.
A private family celebration of Frank's life is planned later this summer.
Frank will be forever remembered for his beautiful smile, gentle eyes, caring heart and unconditional love. Although our hearts are heavy, we will celebrate his life and find comfort that he is in heaven watching over us.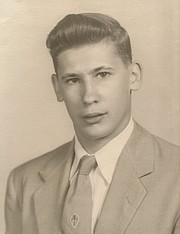 ---