BOCC: Respect the dumpsters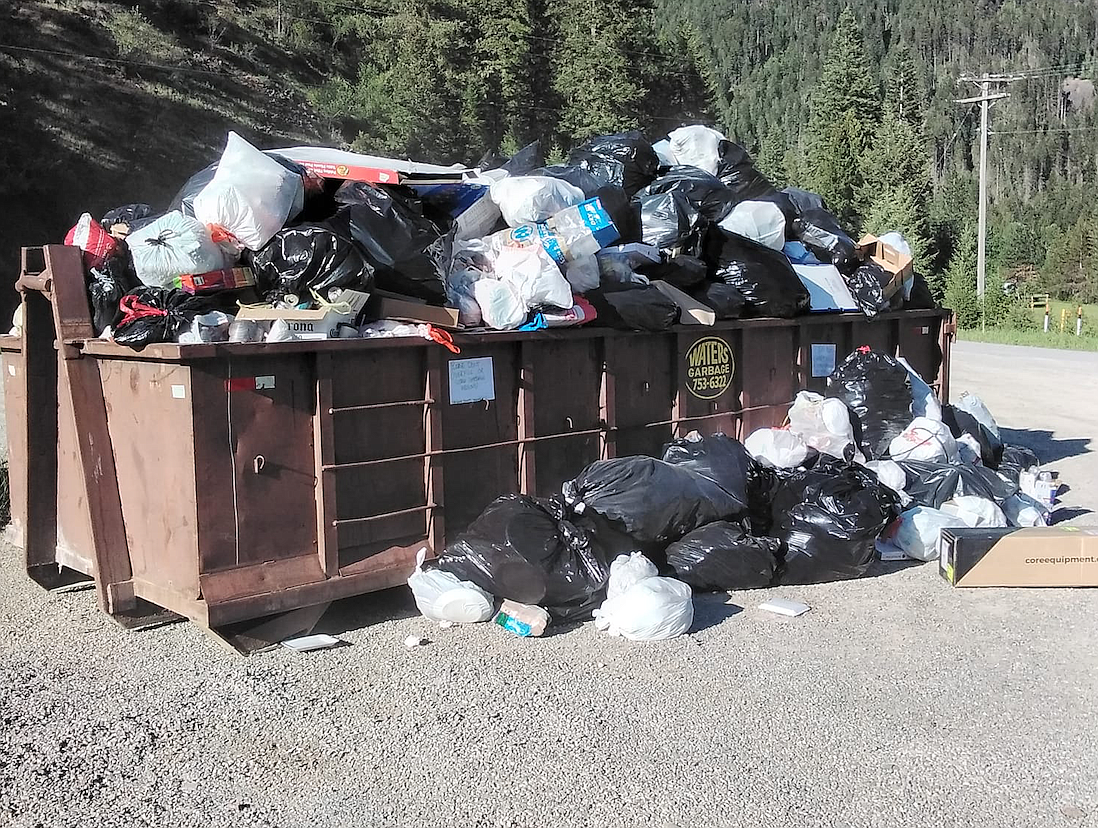 This was one of the dumpsters that was placed along the North Fork of the Coeur d'Alene River during Memorial Day Weekend. More than 5,000 people made the North Fork home over the long weekend which resulted in several dumpsters looking like this one.
Courtesy photo
by
JOSH MCDONALD
Staff Reporter
|
June 4, 2021 7:42 AM
NORTH FORK — You know summer in Shoshone County has officially kicked off when suddenly your social media feeds are packed full of photos of overflowing dumpsters along the North Fork.
This year, the dumpsters have been placed near Bumblebee and G & G Riverstop, and one may be placed near the old checkstation below the Snake Pit for particularly busy weekends.
After a busy Memorial Day Weekend that saw Shoshone County's grow by roughly 5,000 people — multiple trips were made by the county's waste management services to empty the dumpsters.
"No matter how many we have out there, we'll always need one more it seems," said Shoshone County Commissioner Jay Huber.
Some residents reported that when the dumpsters were being picked, trash was being left behind due to crews not wanting to pick it up, but Huber confirmed that that simply wasn't true.
"They do clean up all of the mess, even though that isn't what we're paying them to do," Huber said further.
The dumpsters are funded through United States Forest Service Resource Advisory Committee (RAC) Grants, not county tax dollars — a common misconception among locals.
These grants have helped fund the dumpsters, the restrooms, the police and road striping.
The funding misconception has fueled many people to use the dumpsters to dump things like household trash, appliances and other non-camping, non-recreation type garbage despite pleas from the county and the trash service to refrain from doing so.
"People throughout the county don't seem to understand that they are put up there for locals to dump their old furniture and broken appliances," Huber said. "It's paid for by the RAC Grants for the campers. If you're a camper and you're local it's fine to dump your camping trash, but that's it. It's not a place to save them a trip to the transfer station."
According to Huber, Shoshone County does have an ordinance in place prohibiting the dumping of such items like furniture and appliances and if caught the offender could receive misdemeanor charges.
---