Competitors hang ten at Silver Mountain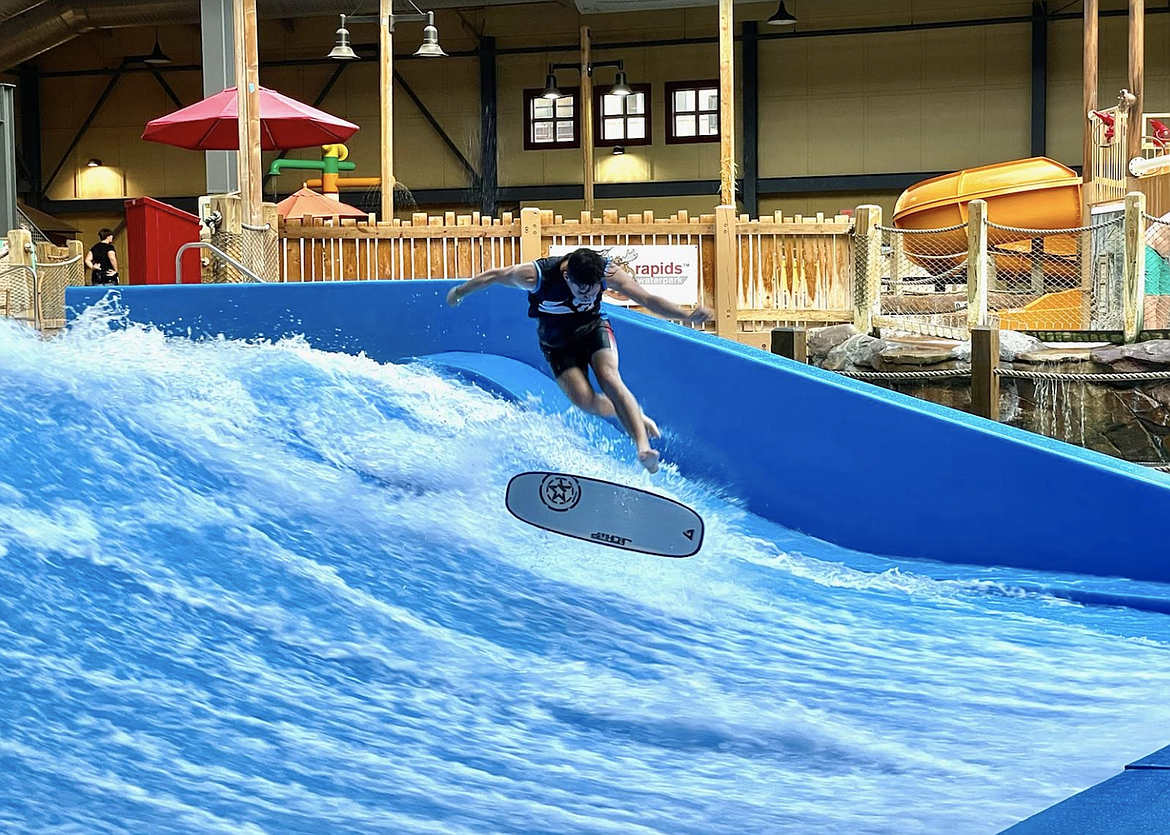 A competitor attempts a varial heelflip during the Flow Tour at Silver Rapids Indoor Water Park.
Photo by GUS COLBURN
by
JOSH MCDONALD
Staff Reporter
|
June 8, 2021 7:00 AM
KELLOGG — Odds are that many folks don't realize that some of the best surfing in North Idaho happens indoors at Silver Mountain Resort.
This past weekend, Silver Mountain Resort's Silver Rapids Indoor Waterpark utilized their FlowRider attraction and hosted the Flow Tour.
The Flow Tour is an annual FlowRider surfing competition, but 2021 was the first time it included Silver Rapids in the tour circuit.
The event attracts riders from all across the country, many of whom were eager to get back to the waves after the 2020 event was canceled.
"We saw a big turnout with our furthest competitor traveling all the way from Florida," said Sean Cody Jones, the manager of Silver Rapids. "The Flow Tour has grown so much, and we expect it to continue growing as riders and water parks encourage younger generations to learn and master the FlowRider."
Jones was thrilled to see people really taking advantage of something that has been kind of an unheralded attraction in the Silver Valley.
For those who haven't seen or experienced a FlowRider before, it is a structure equipped with submersible propeller pumps that inject a thick sheet of water over a smooth, membrane riding surface.
As a result, it produces a stationary wave that allows riders to surf its continuously flowing face.
Competitors can either stand-up surf or bodyboard on the FlowRider, which moves 60,000 gallons of water per minute at a speed of 35 miles per hour to create the sensation of surfing on a real wave.
Silver Mountain Resort first opened the FlowRider to the public in 2008, and it really lives up to its billing as a high intensity attraction — which can sometimes lead to guests being a bit trepidatious when it comes to riding it.
Jones said that is part of the reason why being a stop on the Flow Tour is important.
"The competition shows everyone what tricks are possible and how much fun flowboarding can be," Jones said. "Our FlowRider instructors focus on guest experience, making sure they gain confidence and skills to keep coming back."
The Flow Tour has stops in Utah, North Carolina, Florida and Texas. A prize purse of $5,000 was up for grabs in the pro surfing and bodyboarding divisions.
The Flow Tour is an annual event at Silver Rapids Water Park. For a complete list of upcoming events, visit silvermt.com.
---