Idaho expected to see more drought, but Panhandle fares better than most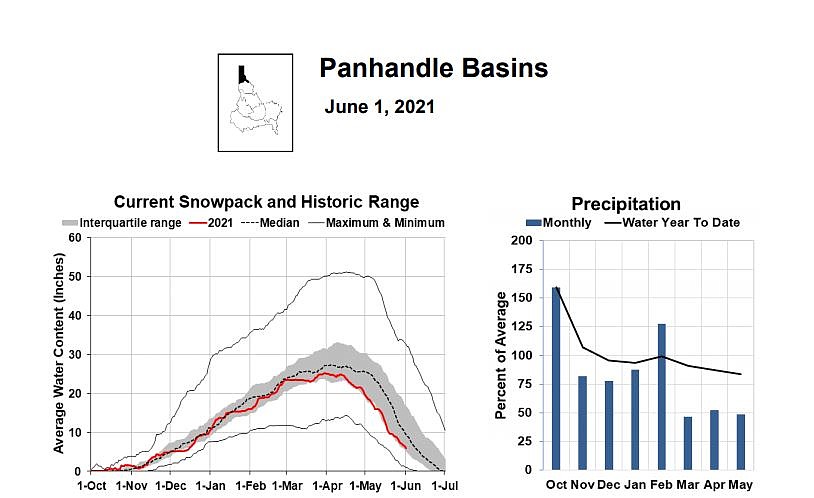 Courtesy USDA/NATURAL RESOURCES CONSERVATION SERVICES
by
RACHEL SUN
Hagadone News Network
|
June 8, 2021 1:00 AM
Experts are predicting intense and persistent drought conditions in Idaho this summer, according to reports by the United States Department of Agriculture's Natural Resources Conservation Service.
This spring was one of the driest on record, with NRCS data showing snow remaining at only the highest elevations in the state, according to a press release.
While water supply across the state varies depending on the local drought intensity, duration and carryover storage, NRCA expects reservoirs to reach minimal levels and have minimal carryover into the 2022 water year.
"Without additional late spring or early summer precipitation, unregulated rivers will be at minimum or near-record low flow levels by mid-to-late summer," said Erin Whorton, hydrologist-water supply specialist for NRCS Snow Survey in Idaho.
In the Panhandle basins, May continued an abnormally warm and dry spring. Last month's precipitation was 40-70% of normal across the Panhandle sub-basins, with the exception of Moyie at 113% of normal, according to a report by NRCS.
As of June 1, total water year precipitation was 75-90% of its normal, and snowpack was 25-50% of its normal across the basins. Snowpack at almost all locations below 6,000 feet elevation were melted. This trend was consistent with other locations across Idaho, with only the highest locations retaining snowpack.
According to the U.S. Drought Monitor report, the Panhandle is categorized as being in abnormally dry or moderate drought conditions. Those drought conditions are expected to persist, and will likely develop in the areas it has not already.
As a whole, approximately 61% of Idaho land is in drought status, compared to 20% a year ago, according to the report.
Lake Pend Oreille is at 103% of its normal storage, and 89% capacity. Priest Lake is at 94% storage and 108% capacity.
Most major streams and rivers in the Panhandle have already hit peak flow, according to the NRCA report.
The National Oceanic and Atmospheric Association's 30-day forecast also predicts above-average temperatures and below-average precipitation in Idaho.
In regards to water supply, lower basins have already hit their peak, according to the report. In higher-elevation basins, streamflow is expected to peak mid-June, and streamflow overall will likely be lower than the April and May forecasts predicted.
---