Rowe gets prison time at Law Day
by
JOSH McDONALD and CHANSE WATSON
|
June 11, 2021 7:00 AM
WALLACE — Wednesday was Law Day in Shoshone County and District Judge Scott Wayman once again heard numerous cases throughout the busy day.
Two of the more notable cases on the day's docket were the sentencing of repeat offender Jamie Rowe and a request for a reduction in sentence by the counsel of Zachariey Weaser.
Rowe, who had never been convicted of a felony crime previously despite multiple drug related arrests in the past, was handed a seven-year unified prison sentence — consisting of two years fixed and five years indeterminate — for several recent drug related charges.
Rowe previously had a pre-trial conference in mid-March for charges of trafficking heroin, possession of drug paraphernalia, and bond revocation which stemmed from an incident in May 2020 where he was arrested for being under the influence of drugs in his vehicle while being in possession of trafficking levels of heroin.
He was granted extra time by Judge Wayman to review a plea deal during that Law Day on March 17, but was once again taken into custody later that same evening by the Shoshone County Sheriff's Office when a deputy performed a traffic stop on his vehicle in the Bunker Avenue area of Kellogg near the base of Silver Mountain.
According to SCSO Undersheriff Holly Lindsey, Rowe attempted to put some distance between himself and the deputy that day after the stop was initiated. He then pulled into the parking lot of the FairBridge Inn and Suites Hotel and quickly got out of his vehicle before the deputy asked him to return, which he did after a bit of arguing.
During the stop, a young couple who were jogging nearby with their infant son in a stroller, approached the deputy and reported seeing Rowe "fling" something out of his window before they all parked at the hotel. The substance discovered later tested positive for methamphetamine.
After originally pleading not guilty to the trafficking heroin, possession of drug paraphernalia and bond revocation charges — Rowe changed his plea and was sentenced under a Rule 11(f) agreement once some of the charges were dropped.
What makes the agreement unique is that it ties the court to the plea agreement, unlike other sentences involving plea agreements where the judge is not required to follow the state's recommendation or any agreements made. The Rule 11(f) stipulates that the court, the state and the defense are all in agreement on what the sentence will be prior to the change of plea.
Rowe also had a request for a furlough prior to his incarceration, but it was denied by the court.
Shoshone County Sheriff Mike Gunderson and Pinehurst Police Chief Tami Holdahl, both of whom have had prior experiences with Rowe, were pleased to see that justice has finally been served.
"It's unfortunate that Mr. Rowe has continued to break the law and use/distribute drugs," Sheriff Gunderson said. "Our office and other agencies have arrested him numerous times for drug related crimes, only to have him bail out and plead down to lesser charges. We can only hope that some time in prison will change his behavior for the better and he comes out a new person."
Chief Holdahl added, "his case has taken a lot of hard work and effort from all the area police agencies and prosecutors. I am thankful to them and that justice has prevailed."
In the case of Zachariey Weaser, defense counselor Amanda Findlay appeared on behalf of Weaser to request a Rule 35 Motion — a reduction in sentence.
Weaser was sentenced to 30 years in prison in April of this year after pleading guilty to two counts of lewd conduct with a minor, stemming from an incident in August 2020.
That incident involved Weaser breaking into the home of a 14-year-old female and assaulting her. Following the initial assault, Weaser begged his victim not to tell anyone, but when she refused, he attempted to strangle her. The victim managed to feign death in order to get Weaser to end the assault and then he attempted to dispose of evidence — including the victim's cellphone.
Findlay requested the lowering of the sentence from the original 30 years (15 fixed) to retained jurisdiction (otherwise known as a "rider"), citing that it was "in the best interest of justice."
Arguing Weaser's age (21) and mental/intellectual disabilities as reasons to ease the sentence, Findlay also quoted The Human Rights Watch article entitled "Prisons no place for the mentally ill."
"Prisons were never designed for and are not now run to accommodate the unique needs of the mentally ill who find it difficult to abide by the formal and informal rules that govern prison life. Prison staff neglect them, accuse them of malingering and treat them as disciplinary problems. Other prisoners exploit and victimize them. Some correctional staff mock them, ignore their suffering or even use excessive force against them."
Chief Deputy Prosecuting Attorney Benjamin Allen, representing the state, disagreed and brought up the goals of sentencing, more specifically — the protection of society.
"When we look specifically at a case such as Mr. Weaser's, we see that protection of society is not only the most important goal at sentencing, but is paramount in ensuring that an individual like this, a predator and an individual who (has) inflicted significant harm on individuals in our community is not only held accountable but is kept in a secure location where they cannot continue to harm other in more individuals," Allen said.
Allen believed that leniency in this case was not appropriate, but did also say that he believed that rehabilitation was possible — as long as it happens in an environment where there is no possible way for Weaser to inflict further harm on society.
He also mentioned that while Weaser was only sentenced for crimes in this single case, there were other alleged victims that had been reported.
Judge Wayman sided with the state on the matter and denied the motion and elaborated on his decision.
"This was a terrible crime," Wayman said. "Mr. Weaser was classified as a high risk offender. Mr. Weaser does have mental health issues and substance abuse issues that, left unattended, led to this violent offense and in order to protect society the court believes that those issues can more properly be addressed in a secure environment."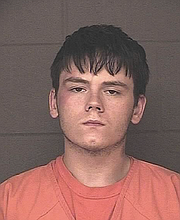 ---