Enduro Cup continues to grow at Silver Mountain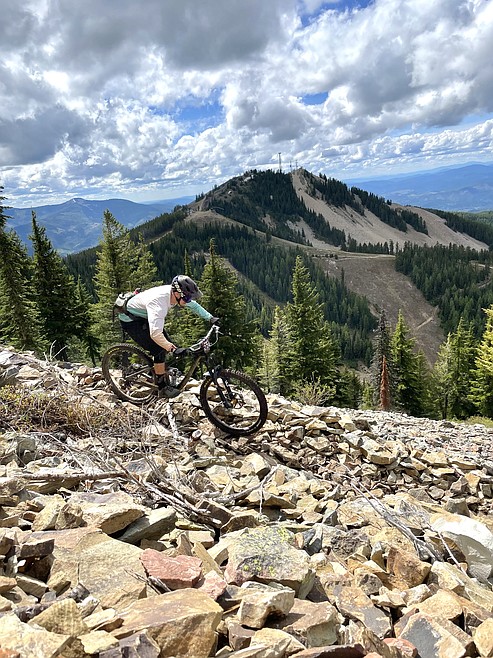 Wardner Peak looms in the background as an Enduro Cup racer makes his way along some particularly rocky terrain.
Photo by GUS COLBURN
by
JOSH MCDONALD
Staff Reporter
|
June 15, 2021 7:00 AM
KELLOGG — For the second weekend in a row the fastest action in the Silver Valley was at Silver Mountain — but this week they ditched the surfing and the mountain bikes took center stage.
The fifth annual North American Enduro Cup made its grand return to Silver Mountain after being canceled in 2020 and you could tell that the riders were eager to get back onto Silver's fantastic trail system.
This year Silver Mountain capped the amount of registrations at 400, which promptly sold out roughly two months ago.
Racers from 25 different states made the trek into North Idaho, where the Silver Mountain used the event as a reason to unveil two new trails that had never been ridden before.
"Our two new trails are both very raw," said Silver Mountain Marketing Director Gus Colburn. "They had a lot of roots, rocks and mud for the racers to navigate. We had some top-level pro riders this weekend and all of them raved about the trails. Our trail crew did a really good job getting them ready for the races."
Riders in either the pro or sport level classifications made their way up and down the many miles of trails over the course of the two-day race, with the pro-level racers putting 30 miles on their bikes and the sport-level racers running around 20 total miles.
Unlike other events where the riders hitch their bikes to the gondola for the 3.1 mile ride up to the top of Silver Mountain, the enduro-style event requires them to ride up the hill and then back down, with some riders hitting top speeds of 40 miles per hour on the way down.
Max Sedlak and Kate Lawrence won the mens and womens pro-level races with times of 40:21.71, and 48:43.57 respectively and secured the $12,000 purse.
"Most races we host are strictly downhill bike races but this is an enduro format so they do a lot of climbing throughout the day and people are on course for about eight hours," Colburn said.
As Silver Mountain continues to expand their Mountain Bike brand, the event gets more popular and more competitive, Colburn equates this to two things: constantly having a new course and vertical drop.
"We are continually building new trails so each year contestants are riding a different course. This keeps it fresh and interesting for people to return year after year," Colburn said.
The North American Enduro Cup is a qualifier race in the Enduro World Series (EWS), and represents the ultimate combination of racing and adventure.
Taking place over eight rounds spanning from the high Andes to the Ligurian coastline, from the fern forests of New Zealand to the lush cedar and loam of British Columbia, the EWS represents mountain biking at its best and its most diverse.
Riders must accumulate points at the qualifying races like the one this past weekend to become eligible for the EWS.
---