Hundreds of riders show up for Stix & Stones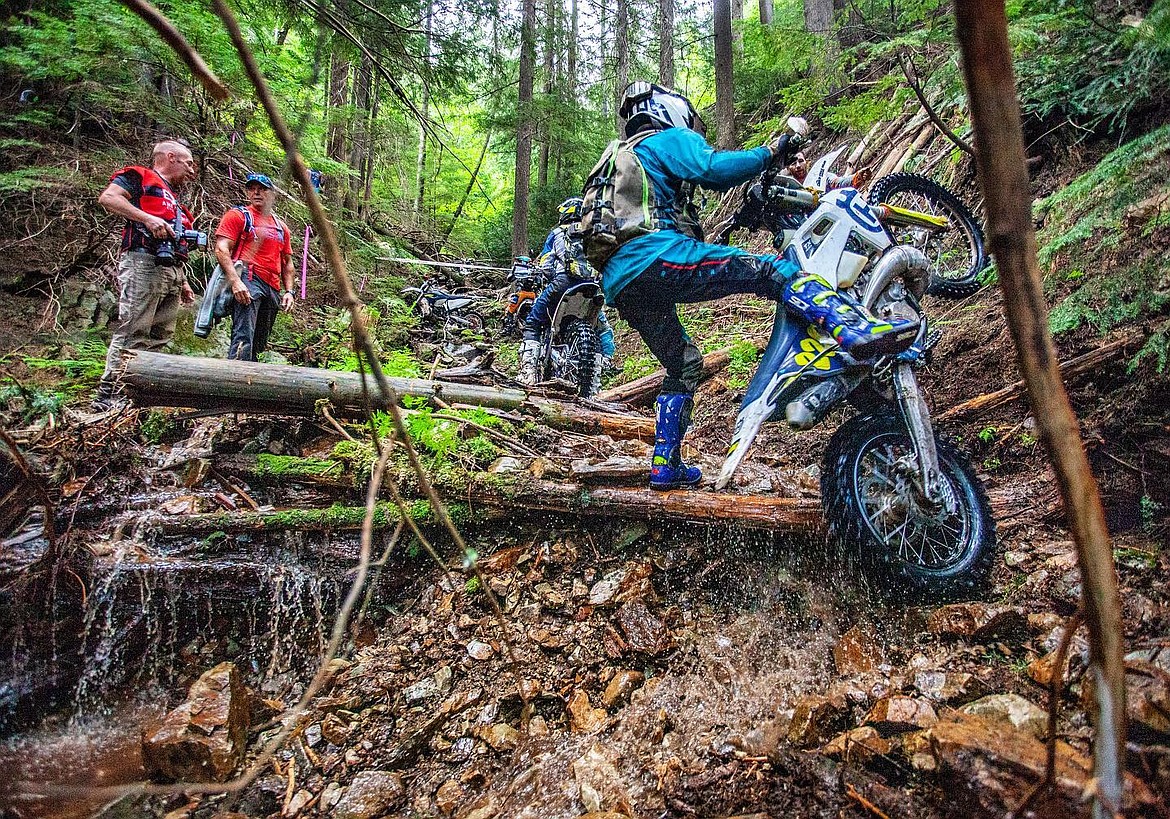 KELLOGG — Trystan Hart and Kylee Sweeten took first place in the Pro Men's and Pro Women's categories in what was an action-packed hard enduro dirt bike race at the Stix & Stones Silver Mountain Xtreme Challenge this last weekend.
Five hundred and twenty-five racers from as far away as Brazil converged at Silver Mountain Resort for two days of enduro riding across Kellogg and Wardner peaks June 19-20. The race started with a parade through town on Saturday morning as riders made their way up to the starting line at 5,500 feet.
"Greg Ragsdale and his whole Stix & Stones team have done a fantastic job building this event up to where it is now," said Silver Mountain Marketing Manager Gus Colburn. "There were riders from all over the country and world, as well as some nationally-known professional riders."
The first class to race was the amateur class on Saturday morning of which the top 20 percent of times qualified for an afternoon hot lap with the pro class. The best 194 finishers were welcomed back on Sunday morning to race the pro level course that featured creek crossings, shale fields, and an endurocross skills section where spectators cheered on competitors as they navigated logs, tires and mud. Out of the 194 who started the race on Saturday, only 142 finished.
Mario Roman (Spain), Cody Webb (California), Colton Haaker (Coeur d'Alene) and Teodor Kabakchiev (Bulgaria) rounded out the top five in a competitive men's pro class. Louise Forsley (Massachusetts) and Dayne Toney (Idaho) were part of the only three women riders to finish the pro course on Sunday.
A mere 10 seconds separated Trystan Hart and Mario Roman with final times of 105 minutes 30 seconds and 105 minutes 40 seconds, respectively.
"The Gondola Village was certainly buzzing with excitement," Colburn said. "We love being part of this unique event and share our mountain with a group of people who might never have visited Kellogg if there wasn't a professionally-run hard enduro here."
The Stix & Stones Silver Mountain Xtreme Challenge is the largest hard enduro race in North America and is now featured on the American Motorcyclist Association's West Extreme Championship Series schedule as a qualifier for the Grand Championship at the Tennessee Knockout Extreme Enduro in Sequatchie, Tenn.
Hard enduro is considered one of the most challenging forms of motorcycle racing. It features an off-road format with extreme terrain and obstacles designed to push the world's most elite riders out of their comfort zones.
Stix & Stones Silver Mountain Xtreme Challenge first started in 2016, making this the fifth installment of the race after being canceled in 2020 due to COVID-19.
---