One dead in vehicle vs. sign collision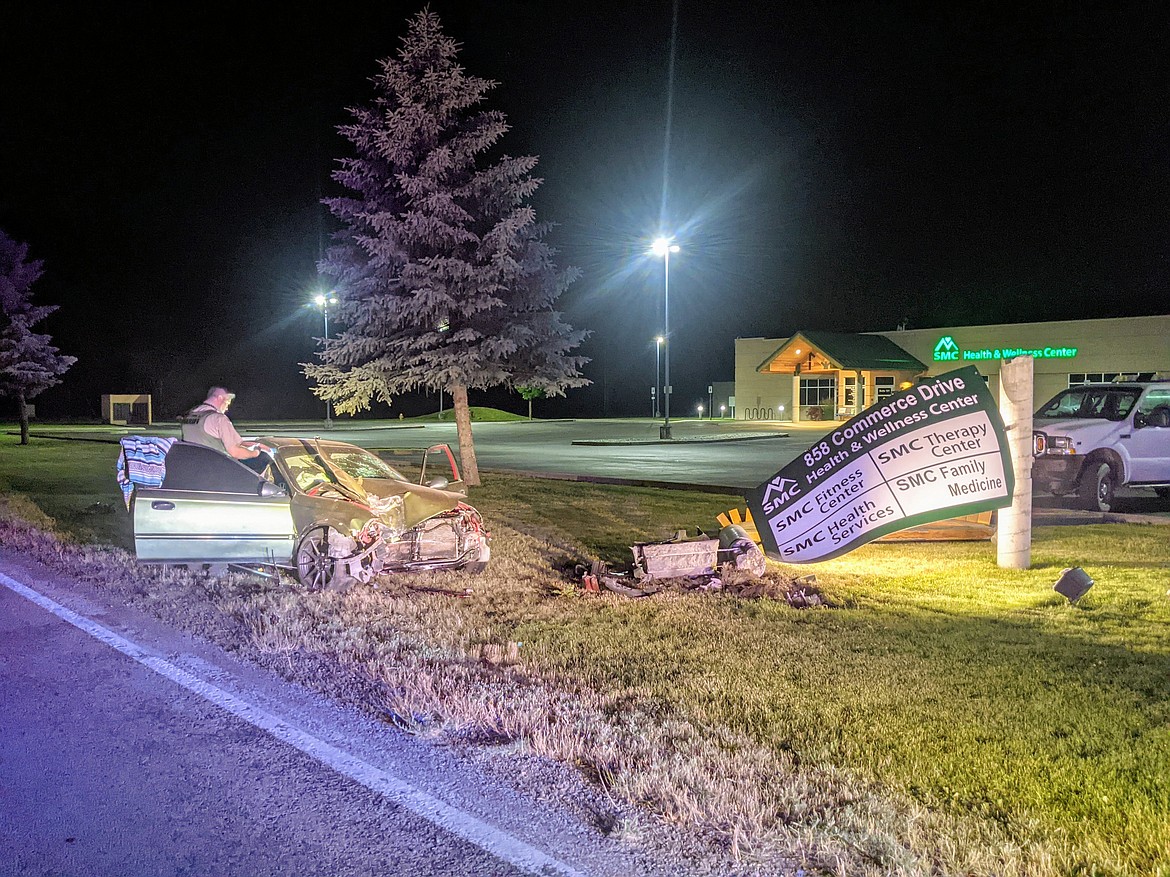 Shoshone County Sheriff's Office Deputy John Richter inspects the interior of the vehicle following its collision with the Shoshone Medical Center Wellness Center sign Friday night.
Photo by CHANSE WATSON
by
CHANSE WATSON
Managing Editor
|
June 28, 2021 2:48 PM
SMELTERVILLE — A Smelterville resident died late Friday night after her vehicle collided with a sturdy roadside sign column.
Shoshone County Sheriff's Office Cpt. Jeff Lee reports that the first 911 call came in around 9:45 p.m. from a motorist who had been following behind the involved vehicle since they both pulled out onto westbound Commerce Drive from the Smelterville Walmart parking lot.
The reporting party stated on-scene that he observed the heavily-customized, two-door Honda Civic swerve off and swerve back onto the road numerous times before going down a gravel path that begins at the western bend of Commerce Drive. The vehicle then came back onto the main roadway heading south, going roughly 35-45 mph, and proceeded to jump a curb in the Shoshone Medical Center Wellness Center parking lot entrance and strike a column of the building's welcome sign.
Upon contact with the concrete and rebar column that was buried roughly one-two feet into the ground, the Civic swung 180 degrees and came to a rest next to the sign. As a result, the sturdy column had been completely broken in two and the Civic's front end was severely crumpled.
The driver and only occupant, identified as Aimee Milton, 25, was not wearing a seatbelt at the time of the incident.
Witnesses to the crash, including the original reporting party and residents of the nearby Silver Leaf Apartment complex, were first on-scene and were quickly followed by an SCSO deputy and EMS personnel from Shoshone County Fire District No. 2.
After initiating CPR on-scene, EMT's took Milton by ambulance to Shoshone Medical Center in Kellogg where she would succumb to her injuries.
While the investigation is ongoing, Cpt. Lee states that alcohol is believed to have been a factor in the crash.
Both Lee and SCFD No. 2 Firefighter Nick Waites later stressed the importance of wearing a seatbelt when behind the wheel — as one could have saved a life Friday night.
"Be sober when you drive and mainly, properly wear your seatbelt," Lee said.
Next of kin has been notified.
Recent Headlines
---