KHS Cheer Squad brings home regional hardware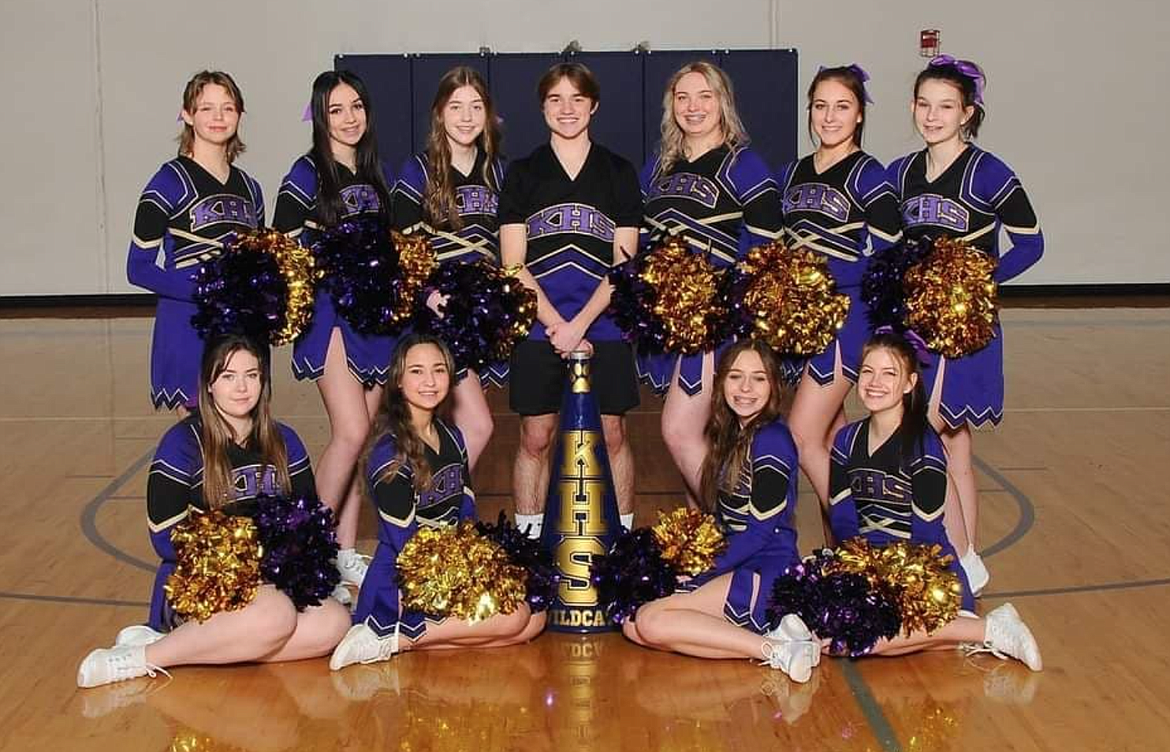 The Kellogg High School cheerleading team took third place at the Timberlake Tiger Tournament. Pictured are team members (back row, from left): Tiereny Perkins, Lilly Sawyer, Rebecca Schreier, Nate Turner, Halle Lusk, Aianna Taylor and Ella Pooler. Pictured in front are Kay Lannen, Kaitlyn Sansi, Katie Meier and Julia Palmer.
Courtesy photo
by
JOSH MCDONALD
Staff Reporter
|
March 8, 2021 5:18 PM
SPIRIT LAKE — The Kellogg High School cheerleading team took third place at the recent Timberlake Tiger Tournament at Timberlake High School.
Getting to the finale of a season in doubt was a big deal for the peppy group of Wildcats, but head coach Lori Sawyer was simply happy to see them compete.
Everything that they worked on built up to a single 60-second routine, one that was well-attended and well-supported.
"We didn't know if we were going to have a season," Sawyer said. "But when it came time for competition, we were ready to go and every single one of my kids had parents who made the trip to watch them compete. We had such a good group this year."
With sports being put through the restriction ringer, cheerleading became a bit of an afterthought as schools were putting their collective efforts into more traditional sports, while restricting the "extras" like pep bands and cheerleading.
Cheerleaders were permitted at fall sports, but when winter sports rolled around everything got a lot tighter and the season began with no one permitted at the games outside from the players, coaches and referees.
Sawyer began looking for ways to make sure that the 2020/21 season wouldn't be a bust for Julia Palmer, her lone senior, so she asked KHS's athletic director Mike LaFountaine if they could get involved in a competition.
The competition was a big way for the squad to end their season on a high note, with neither basketball team making the trip to Boise for the state tournaments, it was this competition and the district basketball games for them and they made the most of it.
"I'm really proud of them," Sawyer said. "It was a starting point for getting the kids back into competing again. Last year, we took some of the kids to a competition in Post Falls and I was like, 'OK we could do this,' so this year we decided to give it a try and they definitely made the most of it."
Sawyer is already looking to next year and will be holding cheerleading and mascot tryouts on April 5-8, from 3-5 p.m. at Kellogg High School.
---