Close call with a big cat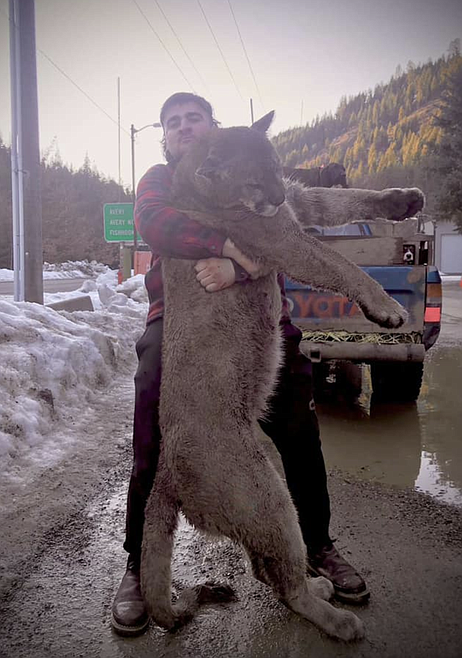 Hunter Newell holds up the cougar that caused his brother's fall and subsequent injuries last Thursday afternoon near Avery.
Photo courtesy of TODD ERWIN NEWELL JR.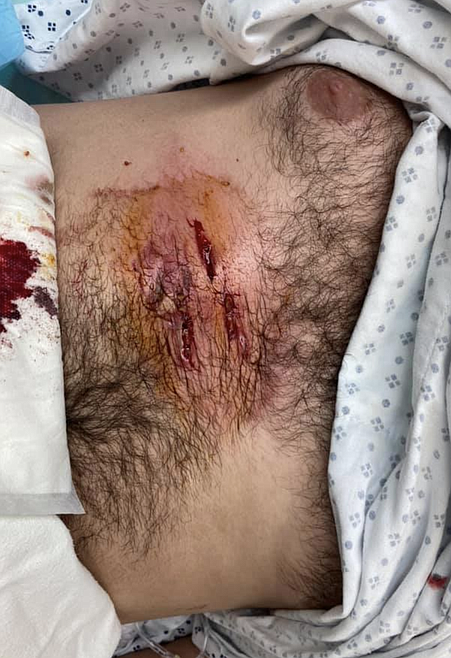 The bite marks Todd Newell Jr. received after the injured cougar latched onto his chest. These injuries and the others he received were all non-life threatening.
Previous
Next
by
CHANSE WATSON
Managing Editor
|
March 16, 2021 2:43 PM
Editor's note: The story had been edited reflect that bait was not used in hunting the cougar involved.
AVERY — "It was a crazy moment. I thought, 'holy shit, this is really happening."
That is what went through the mind of Todd Newell Jr. last Thursday afternoon when a quick and simple cougar hunt turned into anything but.
Newell Jr. explained in an interview with the News-Press that he and some of his family/friends went up Moon Pass, approximately 2 miles north of Avery, on March 11 around 3 p.m. when a friend approached them with an offer to check on some cougar tracks he had found earlier.
Accompanied with dogs, the seven-person group started to make their way north when all of a sudden they heard a commotion not far away.
"We were wondering why the dogs were barking and we were on the edge of the Moon Pass road looking up there and we saw a cat swiping at the dogs. So we started running up to where it was on a steep rock ledge."
Newell Jr., his little brother, and his friend then proceeded to climb up some steep rocks that separated them from the ledge. Once they got close, the cougar noticed the friend's presence and began to run toward Newell Jr. and his brother.
"I heard my mom and dad yell, 'he's moving! He's coming at you guys!' so I started looking around for him and pulled my pistol out."
Newell Jr. never had a chance to fire a shot off himself though, as the cougar darted within 5 feet of his brother, then started heading for him.
At that moment, Newell Jr.'s friend fired a single shot from his .30-30 rifle and hit the animal in the back.
"Then he (the cougar) kinda flipped up over this fallen tree and he started tumbling like he was dead," he recalled.
As the big cat tumbled, Newell Jr. attempted to move out of the way for it to continue tumbling, but the cougar had other plans.
"Then he just flopped up, bit me in my chest, and we came tumbling down a 40-50 foot embankment with rocks."
The sheer force of the encounter made him lose his gun and everything in his pockets.
"I just remember him latching onto me," he said. "I was screaming, 'He's got me! He's got me!' then I just started punching him in the head as hard as I could."
When the two finally hit the ground, the cougar then began to attack the hunting party's dogs without the use of its hind legs. The situation finally came to a close when Newell Jr.'s father arrived with a 9mm pistol and put the animal down for good.
Newell Jr. described the bite as an instant sharp pain that immediately sent him into shock.
"Once we hit the ground, I realized, 'oh my god, this just happened!' and I thought my chest had been torn open…It mostly scared me that it was that close. If he would have been like a foot or more higher, he would have gotten my throat. If he wasn't wounded, he probably would have just sat there when we hit the ground and chewed on me."
Following the incident, Newell Jr. was taken to Benewah Community Hospital in St. Maries, where he was treated for 5-6 chest bites (each went about 2 1/2-3 inches deep) and injuries to his leg that he sustained from the fall — which required 15 stitches.
The Idaho Department of Fish and Game, who has handled the investigation along with the Shoshone County Sheriff's Office, ensured that all the proper licenses/tags were in-hand and also took DNA samples to confirm that the cougar killed was also the one that injured Newell Jr.
As for the adult male cougar (referred to as a "Tom"), the animal's meat was harvested and Newell Jr. plans to make a full-size mount out of him.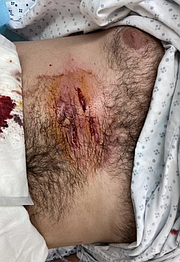 ---