THE CHAMPS ARE HERE!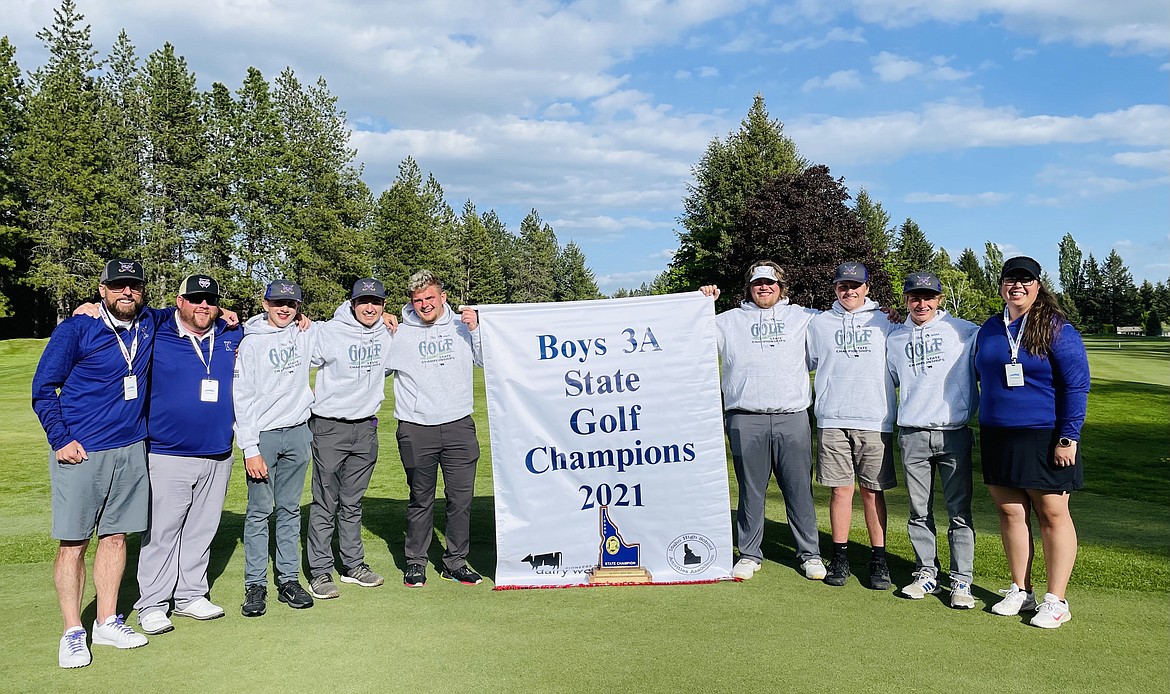 The Kellogg High School Boy's Golf Team won the 3A State Championship on Tuesday afternoon at Twin Lakes Village. Pictured (from left) are Head Coach Simon Miller, assistant coach Danny Kenyon, Stephen Paul, Archie Rauenhorst, Robby Bublitz, Griffey Doerschel, Ben Bristow, Jaeger Hall and assistant coach Kayla Monroe. The championship was the Wildcats' third in the last five years.
Photo by JOSH McDONALD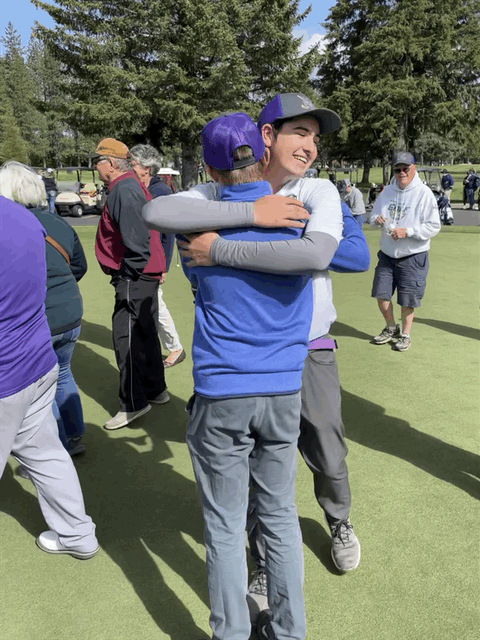 Archie Rauenhorst and Stephen Paul embrace after Kellogg found out that they had won the 3A State Golf Championship.
Previous
Next
by
JOSH MCDONALD
Staff Reporter
|
May 21, 2021 12:13 PM
TWIN LAKES — Every single member of the Wildcat golf team knew it was going to be a tight finish, but no one knew just how tight it was going to be.
"I was mentally getting myself ready for a playoff," said Kellogg Head Coach Simon Miller.
But as the numbers came in, and the math began to trend in favor of Kellogg, the scene at Twin Lakes Village Golf Course was almost the purest form of relief and joy.
Perhaps nothing embodied this more than junior Griffey Doerschel, Kellogg's three-man who had struggled down the stretch and was likely steeling himself to shoulder the blame if the numbers didn't go Kellogg's way.
But that concern melted away in an emotional embrace with Miller that almost perfectly summed up how close the Wildcat golf family is and how deep the connection between the players and coaches really is.
"He told me that he thought he'd lost it for us," said senior Robby Bublitz.
"You could tell that he was upset with himself by his body language," junior Archie Rauenhorst said. "That emotional moment between him and Simon was cool."
Powered by freshman phenom Stephen Paul and the steady leadership from Rauenhorst, the Wildcats won their third 3A State Golf Championship in the last five years, narrowly edging out the tournament favorites from Kimberly by just two strokes.
After back-to-back titles in '17 and '18, a disappointing third place finish in '19, and then losing the entire season in '20 (with their entire squad returning from the year before), Miller knew that competitively his team was ready to compete and not squander their opportunity to hang another big white banner.
"I knew going in that Kimberly was the favorite," Miller said. "Knowing that they had guys who could all shoot in the high 70s, we knew it would be tough and it was a little nerve-wracking. That's why our first day was big for us, especially Griffey's 84 – that was clutch."
Paul shot a field-leading 73 to lead all golfers after day one, but Kellogg was still trailing Kimberly by a stroke as the first 18 holes came to a close.
Day two got a little sketchy for the Wildcats, as their three, four and five guys all found themselves struggling compared to their first day scores, but Paul and Rauenhorst turned on the heat.
Both of them were more than aware of what they would need to beat their respective Kimberly counterparts in order to give their team a chance - and while things got a little dicey toward the finish, they still managed to pull it off.
"I knew Archie could play that course and that all he needed to do was settle his nerves down and boy did he," Miller said.
Paul had been the personification of dominance for the 'Cats for the last six weeks of the season and it was no different on Tuesday when he managed to beat his main opposition by seven strokes en route to being the Individual 3A State Champion.
The two-day tournament was a seesaw of emotions for both Miller and assistant coach Danny Kenyon, who traded places at various times when it came to things like optimism and pessimism.
"One of us would be the Debbie-Downer and then 10 minutes later it was the other one," Miller said with a laugh. "This game can just rip you up, but that's part of the symbiotic relationship you have with it and with each other."
Miller also took time to praise Rauenhorst for his leadership this season, which might be the definition of grace when you consider how he handled going from being the No. 1 guy on the team to being behind Paul.
"I can't say enough about Arch, but first and foremost is he's a player," Miller said. "Since returning from state his freshman year, he's been all about making his team better. He leads by example and he's always checking on his guys.
"If you're the No. 1 man for your team and you see a freshman come in like Stephen, you'd see almost any other kid struggle to give that up. But Archie, he's different. He embraced his new teammate and it almost seemed like they were best friends. They were inseparable. Archie was a lead by example leader, but also our team chemistry guy."
Rauenhorst, Bublitz and Miller all spoke highly of the team chemistry shared by the six boys that was a major catalyst for this championship – which can often be the difference between good, great and special teams.
"This was a special group," Rauenhorst said.
"This was the best connection with a team that I have had in a while," Bublitz said.
The golf program at KHS is seemingly in the hunt for state trophies every year, which largely has to do with the surrounding golf community.
"The golf community that we have is second to none," Kenyon said. "I don't think we can say enough about how well the Pinehurst Golf Club takes care of us."
Now the goal will be to keep the squad together for another run, Bublitz's graduation opens a spot on the team and there will definitely be some competition for it, but if Paul returns as a sophomore and Rauenhorst capitalizes on his senior year of eligibility, it could be another back-to-back for the Wildcats.
Bublitz probably summarized it best, but if you see any of the Wildcat golfers in the coming days, ask them how they feel — I'm sure they'll all answer the same way.
"We're the champs, how do you think we feel?"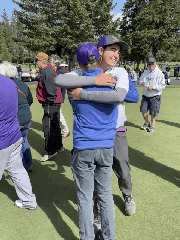 Recent Headlines
---