Meet the champ champ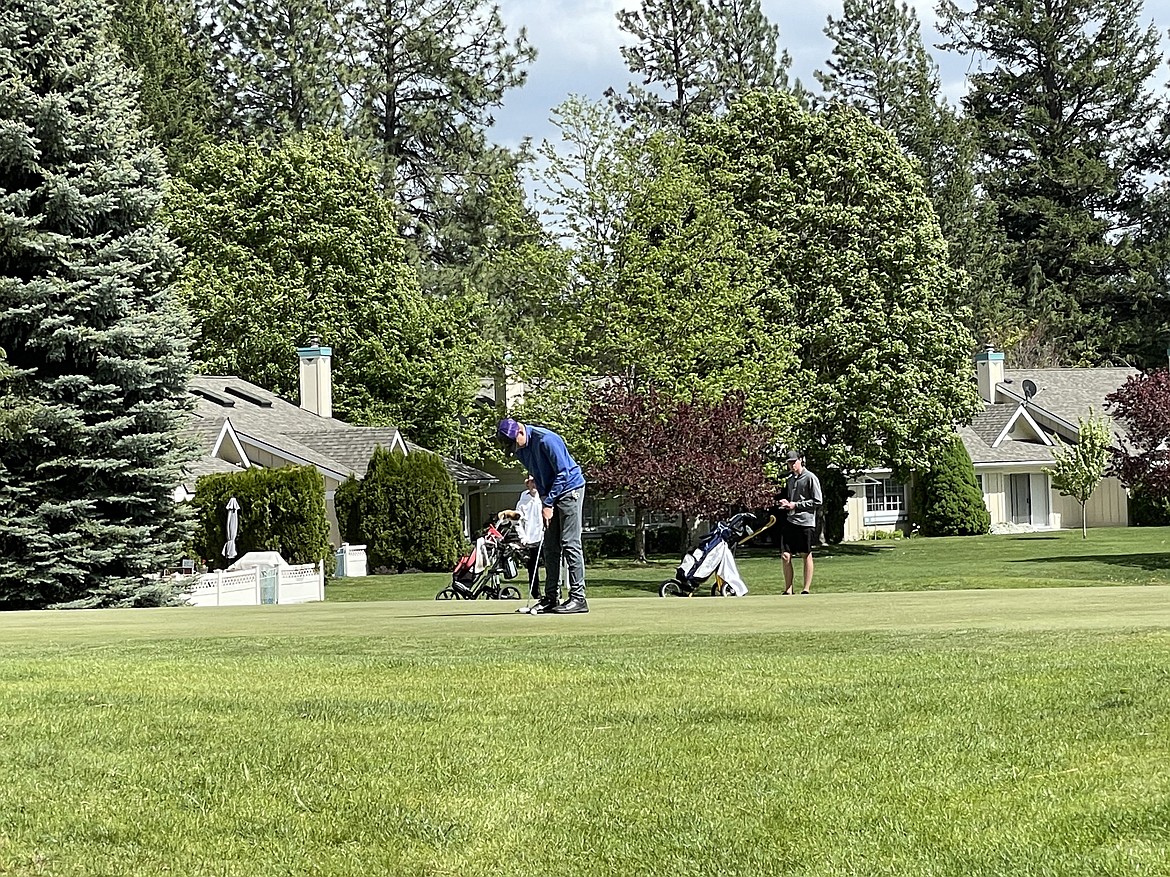 Stephen Paul putts on hole 15 at Twin Lakes Village. Paul was the overall 3A Individual State Champion this year, shooting a red hot 147 over the course of two days and 36 holes.
Photo by JOSH McDONALD
by
JOSH MCDONALD
Staff Reporter
|
May 21, 2021 12:11 PM
More often than not Stephen Paul is the best golfer in any room that he is standing in.
He can now say that he's the best golfer in Idaho's 3A classification and a double champ.
Paul, 15, is a freshman member of the Kellogg High School Boy's Golf Team and capped off a magical freshman season with a team 3A State Golf Championship and the 3A Individual Championship.
Shooting a scintillating 147 over the course of the two-day championship match at Twin Lakes, Paul had one of the greatest first-year runs in KHS athletics history.
"It's amazing to watch him," teammate Archie Rauenhorst said. "All that kid does is golf — he's probably at the course right now. I know that I have to make time for myself to do other things and for Stephen there just aren't other things. I'm excited to see where he goes from here."
Paul is ultra-competitive, which plays to his strength as a cerebral and aggressive golfer.
As for the state championship win, it started out as just another day at the office for young Mr. Paul.
"The first day I didn't feel much pressure at all, it was really a steady round," Paul said. "At the end of day one we were one stroke back and that was pretty much what happened to the team in 2018 and we thought we had luck on our side. It ended up being a pretty scary finish."
Paul's 74 on day two was significantly better than the 81 that was shot by his primary competitor from Kimberly and enough to give Kellogg the two-stroke championship win.
Coming into the season it was assumed that he would be playing a major role on the Wildcats' team, but what that role would look like was unknown as Kellogg already boasted one of the area's best golfers in Rauenhorst.
"I wasn't sure what Archie's game was like and I'll admit that I was anxious to beat him at first, but I didn't play well," Paul said. "After that though it quickly settled in that we're a team and I don't have to try and beat him every round and it was then that I found my stride. Playing with him was really nice because he's so good and so consistent."
Paul recalled Rauenhorst telling him to not focus on the score as he came into the final three holes on Tuesday, and to "not overthink it and just play his game."
Having a guy constantly pushing him, made Paul a better player, but also formed a pretty solid bond that made the two seemingly inseparable by the time state competition rolled around.
Paul has been hitting (literally) buckets of balls almost daily for the last five years and it shows in his game.
"Stephen may have mis-hit five balls all season long," said KHS Head Coach Simon Miller. "It's uncanny how good he is, how advanced his golf knowledge is. It's just incredible."
Miller has coached five state champion teams, as well as other individual champions, but Paul's talent and coachability put him right at the top of the list of his all-time players.
"You can take a kid with Stephen's talent and you can't tell him anything – because they already know it all," Miller said. "Stephen has plenty of lessons, but you can tell him something and even if he doesn't think it will help him, he will think on it and roll it around in his head instead of just ignoring it. Stephen is one of, if not the best golfer I have ever coached."
Paul — who has very real PGA dreams — is considering a potential move to South Carolina to attend a golf academy that would allow him to solely focus on school and golf.
Should he choose to return to Kellogg, the Wildcats would almost instantly be the favorites to win another title in 2022, but either way the future is bright for one of North Idaho's best golfers.
---