Shoshone County Election 2021 recap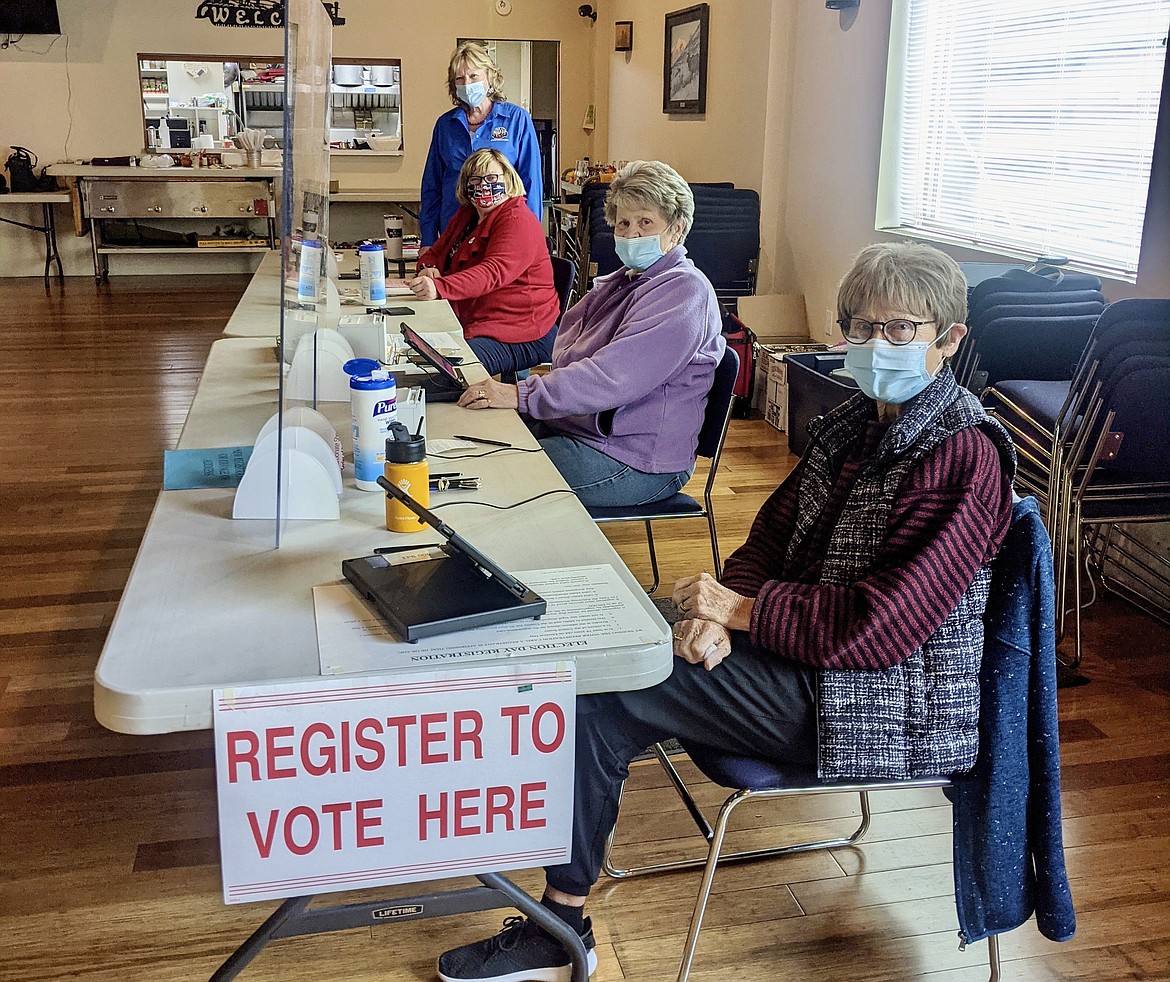 (Front) Kellogg poll workers Bev Danielson, Beth Milot, Christy Woolum and Clerk Tamie Eberhard await voters on election day.
Photo by CHANSE WATSON
by
CHANSE WATSON
Managing Editor
|
November 4, 2021 5:00 PM
WALLACE — With no federal or state races on the ballot, Shoshone County voter turnout suffered on Tuesday, with just over 1/4 of registered voters making it out to the polls.
Based on data compiled by the Shoshone County Clerks Office, total turnout between the four participating cities was 29.93%, or 867 of the available 2,896 registered voters.
Shoshone Clerk Tamie Eberhard explained that low turnout can occur in city-only races, but stressed that it's up to voters to stay informed on election procedure and what the candidates stand for.
"It's up to each voter to research what is going on," she said. "We can't provide information at the polls regarding candidates. We aren't allowed to do that by statute."
With uncontested races not being shown on the ballot, residents of Mullan, Wallace, Osburn and Kellogg were the only ones who had choices to make on election day.
In an open three-way race for two city council positions in Mullan, Kjell Truesdell and Anali Spooner came out on top with 112 (45.90%) and 105 (43.03%) votes, respectively.
"I'm very excited to serve for the city of Mullan," Spooner said after the election. "I look forward to working with great people who all have the best interests of Mullan in mind."
Trusedell was also thankful for the support he received.
"Thank you to the Mullan voters for your support and for taking the time to participate in the process!" he said. "I look forward to working with the existing board members, the new mayor, and congratulations to Anali Spooner!"
The two beat out the third candidate, Joe Wolford, who received 27 votes (11.07%).
As far as Mullan turnout, 132 of the 369 registered voters in the city (35.77%) came out to the polls.
In Wallace, where arguably the most high-profile race in the Silver Valley was held, incumbent Mayor Lynn Mogensen handily held off challenger Heather Branstetter by a hefty 234 (73.58%) to 84 (26.42%) vote margin.
"I'm very honored to have been elected as mayor of Wallace again," Mogensen said. "(I'm) looking forward to working for all of the citizens of Wallace and with our city council to work on the issues that were brought up during the election."
Also in Wallace was a contentious race for City Council Position No. 6, which ended with incumbent Councilman Dean Cooper holding onto his position with 228 votes (72.38%) versus 87 votes (27.62%) for challenger Owen Cotter.
"(I'm) looking forward to continuing our projects and working on numerous new ones," Cooper said. "I'd also like to thank everyone for their support, especially those who were able to help me with the campaign."
With two popular races on the ballot, Wallace boasted the best voter turnout of any local city on Nov. 2 with 324 of 509 registered voters (63.65%) coming out to the polls.
In the Silver Valley's second biggest city of Osburn, a four-person race for two city council positions ended with some familiar names on top. Incumbent Councilman Spike Angle held onto his position by garnering 110 votes (30.30%) and newcomer Kevin Kessler took the second spot with 101 votes (27.82%) — narrowly beating out incumbent Councilman John Specht (82 votes, 22.59%) and fellow challenger Brain Kolczak (70, 19.28%).
"To the voters of Osburn, I thank you for your vote," Angle said. "I will continue to do what's in the best interest for the city of Osburn and our wonderful residents. I am humbled and grateful for another four years to serve you."
Kessler was also humbled by the process and the support he was given.
"Thank you! I'm excited for this new way to serve the community and I will do my best to be a responsible and caring council member and advocate for the folks in Osburn."
Osburn's overall voter turnout was low, coming in at 21.26%, or 185 of the 870 registered voters in town.
Lastly, in the city of Kellogg, Monica Miller came out on top in a two-person race for City Council Position No. 2 against Robin Ray. Miller received 150 votes (67.57%) compared to Ray's 72 (32.43%).
"Thank you, Kelloggians, for bestowing upon me the distinguished honor of serving as a Kellogg City Council member for the next four years," Miller said. "I am thrilled to represent our treasured town in this fashion and look forward to being guided by the council and contributing to Kellogg's magnificence #kelloggisoutofthisuniverse."
The county's largest city ironically had the lowest turnout of the four cities with races, coming in at 19.68%, or 226 of the 1148 registered voters.
Recent Headlines
---