Fall productions kicks off at Sixth Street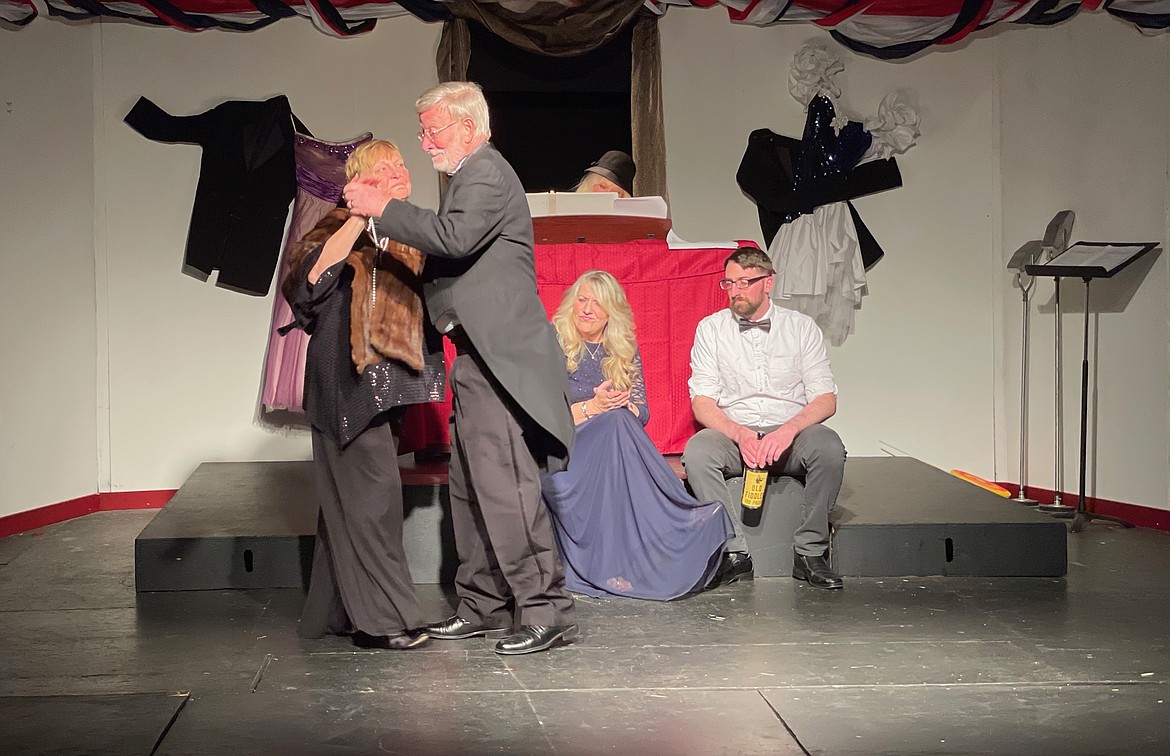 Ken and Cherri Bartle dance around the stage while Terri Robinson and Brady Bourgard look on during a performance of "The Fall Follies." The show begins its limited run this weekend.
Photo by JOSH McDONALD
by
JOSH MCDONALD
Staff Reporter
|
November 5, 2021 7:00 AM
WALLACE — Come one! Come all! To see the Sixth Street Melodrama and Theater's newest production — "The Fall Follies."
Directed by Sixth Street veteran Paul Roberts, "The Fall Follies" is a throwback to a bygone era in theater, somewhere between Vaudeville and the golden age of Broadway, where quick changing performances were king, instead of the more drawn out story telling of the plays that we are accustomed to today.
Roberts breaks the fourth wall with regularity as he and his cast "Go with Flo" — a callback to the Ziegfeld Follies, a series of elaborate theatrical revue productions in New York City from 1907 to 1931 that were conceived and mounted by Florenz (Flo for short) Ziegfeld Jr.
The Ziegfeld Follies were no strangers to star power and during their run at the top of Broadway stars including W. C. Fields, Eddie Cantor, Josephine Baker, Fanny Brice, Ann Pennington, Bert Williams, Eva Tanguay, Bob Hope, Will Rogers, Ruth Etting, Ray Bolger, Helen Morgan, Louise Brooks, Marilyn Miller, Ed Wynn, Gilda Gray, Nora Bayes and Sophie Tucker appeared in the shows.
In fact, Will Rogers makes several appearances during "The Fall Follies," where you'll get to know the style of humor that made the American stage and film actor, vaudeville performer, cowboy, humorist, newspaper columnist and social commentator from Oklahoma a household name.
Cast members Paul and Carol Roberts, Ken and Cherri Bartle, Joy Persoon, Charlie Briante, Carl Rowe, Tiffany Schmidt, Brady Bourgard and Terri Robinson are absolute joys on the stage as the veteran cast performs several numbers from the stars of the Ziegfeld Follies all in the name of tribute to one of their own.
"Sherrill Grounds was one of the original founders of the theater," Roberts said. "He was the last one of them to pass away, and he was the only one of the founders that I knew. He helped me get my start in the productions here. We've tried for a while to do a Sherrill remembrance show, but COVID kept us from doing that, but now that time has come."
"The Fall Follies" is a fun step back in time for the whole family.
Performances of "The Fall Follies" begin tonight (Friday) and will run on the following schedule through Nov. 21.
Friday and Saturday shows are at 7 p.m., with Sunday matinee shows beginning at 2 p.m.
Tickets can be purchased online at www.sixthstreetmelodrama.com.
Recent Headlines
---