THE FRONT ROW WITH JASON ELLIOTT: Rounds: One who won't be forgotten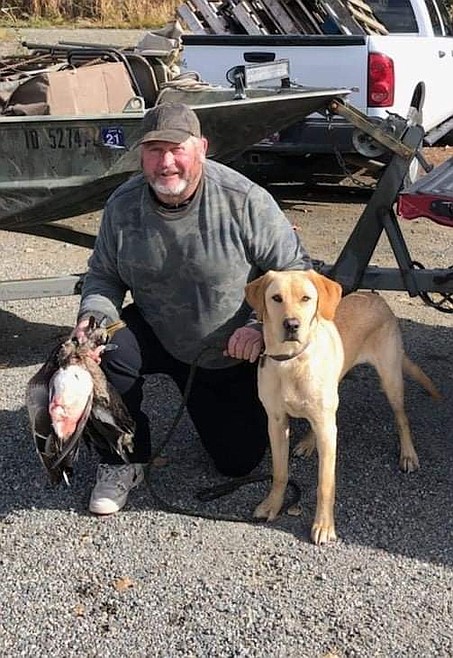 Courtesy photo Rounds, along with dog Coach.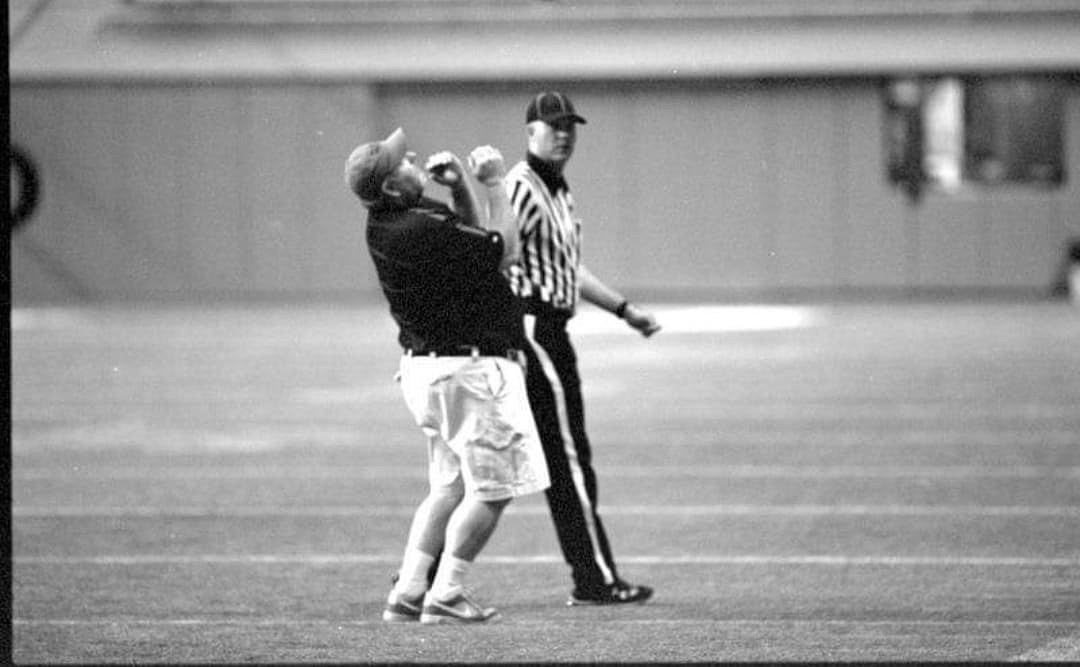 LESLIE MCPHAIL/Special to the Press Wallace High football coach Dave Rounds expresses his displeasure with a call during a game at the Kibbie Dome in Moscow.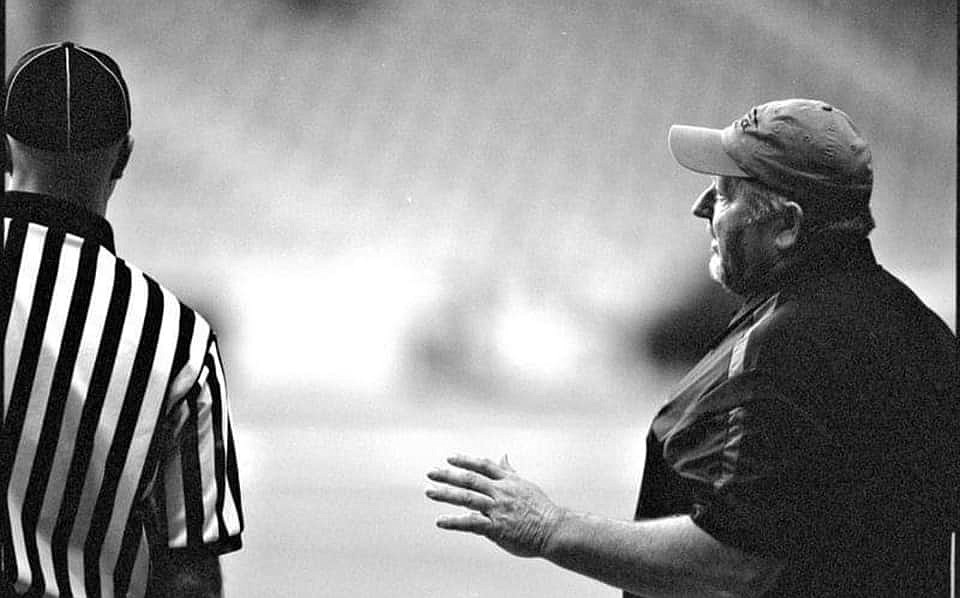 LESLIE MCPHAIL/Special to the Press Wallace football coach Dave Rounds talks with an official during a game at the Kibbie Dome in Moscow. Rounds, 64, passed away suddenly on Oct. 29 while duck hunting.
Previous
Next
|
November 6, 2021 1:20 AM
Make no mistake, Dave Rounds cared about the kids of Wallace.
From his time as a health teacher, to football coach, a track coach and much later, the president of the Wallace School Board, his blood definitely ran Wallace Red.
"I knew that he was super intense," said Dave Herndon, a 1984 Wallace High graduate and current math teacher at Post Falls High. "His first year as a coach was my last year (as a student) and he was definitely intense when it was time to practice and play. You had to be 100 percent in, but when it was the down time, he was hanging around like he was your buddy. But being young, he was intense when he needed to be."
Rounds, 64, passed away on Oct. 29 after suffering a heart attack while duck hunting. Rounds, a 1976 graduate of Wallace, was the president of the Wallace School Board at the time of his passing.
Rounds, who started as an assistant football coach under Norm Walker in 1983, took over the head coaching role in 1991, when Walker retired.
HERNDON LEARNED a different kind of intensity from Rounds a little later in life.
"I didn't see him again until I started teaching at Wallace," Herndon said. "I student-taught in 1992, and didn't get officially hired until 1993."
Herndon almost ended up at that other school 10 miles away, Kellogg.
"Dave is the one that got me to Wallace," Herndon said. "I was going to do my student teaching in Kellogg, and he'd heard about it and said 'Are you freaking kidding me? There's no way I'm going to let you teach and coach at Kellogg. He called the director of the program that places those people at the University of Idaho and got them to change it to Wallace. He's the reason I got my first job through them. It had been a long time since I'd been back to Wallace after I'd graduated. But he took care of it for me and I'm glad he did that. If it wasn't for him, who knows what I'd be doing."
Herndon coached and taught with Rounds at Wallace until accepting a job at Post Falls High in 1998.
"When it came to Wallace High, the kids and the community, you couldn't find anyone more into it," Herndon said. "You knew that what he was doing was what was best for the kids and the school."
More recently, Herndon, Rounds, and a few others from Wallace went on fishing trips together.
"One year, we went fishing at Cascade Lake," Herndon said. "Sam Gibbons, who is now on the school board at Kellogg, put a Kellogg Wildcats plate holder on Dave's truck. He didn't find out until a week later. When he saw that, he was calling everyone he knew to find out who'd done that to him."
ON THE football field, Rounds could always be counted on to have his run-ins with the officials from time to time.
"Dave was always a very colorful character," said Roger Stewart, the District 1 football commissioner. "He started coaching about the same time as I started officiating. He coached with Norm Walker and John Drager before becoming a head football coach. What I remember is that when he started, he was always quoting rules based on what he saw on Saturday or Sunday, but not the high school rules."
Then, Rounds really went to work.
"After being called out for that a few times, he immersed himself in the rule book," Stewart said. "Memorizing each section. Then, armed with that power, he would terrorize young officials by quoting a rule incorrectly, then ripping them to shreds when they agreed with his intentionally incorrect interpretation. Dave Rounds single-handedly forced the high school officials in District 1 to get into the rule book and know their business when they worked his games. He would hold all of us accountable to be better officials. Following Dave's lead, other coaches became much more proficient with the rules as well."
TROY ANDERSON started his coaching/teacher career at Wallace from 2008-10.
"From the moment I met him, I knew I had never been around a character like him before," said Anderson, who is now the social studies teacher at Lake City High. "He would refer to me as the 'big city boy' because I was from Coeur d'Alene. The first day after I got the teaching job in Wallace, I told him that I was interested in coaching football, and he said 'perfect,' while handing me a clipboard and telling me 'the offense is all yours' and walking down to the defensive end."
Rounds, who began coaching in 1983, retired from coaching in 2015.
"Just like with his players, he was pretty demanding of assistant coaches, but always with the sense that he is feeling people out and testing them a little bit," Anderson said. "He would always tell people how things were or speak his mind more than anyone I was around. Once I got over the shock of that as a young coach, I found his coaching style very refreshing. When it really came down to it though, Dave came off tough at times, but he would do absolutely anything for both his players and assistants to succeed in life."
In 2009, Wallace beat Potlatch in the first round of the state 1A Division I playoffs, and advanced to the quarterfinals at the Kibbie Dome in Moscow.
"We had a lot of success in my second year," Anderson said. "But I remember most is his up-and-down interactions with officials on the sidelines. I can remember three or four different situations where the refs came to me in an attempt to 'go calm down your coach,' which many know that the success of that would range at times."
CHASE BENNETT, a 2001 graduate of Wallace High and current Coeur d'Alene High boys golf coach, remembered Rounds' light-hearted side.
"Coach was the master of one-liners and there was no one that would laugh harder than Coach at his own punchlines," Bennett said. "He had a very distinctive laugh that most can hear while reading this. He was a family friend, health teacher, weights teacher, substitute driver's ed instructor and football coach."
Now about that drivers' education lesson …
"After he and I crossed paths recently, he was sure to remind me and others of his near death-experience he had with me when we were driving down Burke Canyon in the driver's ed van," Bennett said. "I don't recall it being a close call, but each time Coach told his version with his laugh, it got a little more dramatic."
A celebration of Rounds' life is scheduled for next Saturday, Nov. 13 at Wallace High starting at 1 p.m. A reception and gathering of family and friends will be held at the Wallace Elks following services.
"It's a big loss for the community," Herndon said. "He was so involved in the schools and everyone knew who he was. He was so important to the school and we lost a big part of the valley. He's definitely someone you'll never replace."
"Dave taught me many lessons from Day 1," Anderson said. "In our conversations in the coaches office, hallways, gym and classroom, he taught me what it meant to be a demanding coach or teacher, while still establishing positive relationships with kids. He had a way of bringing humor to difficult situations in the school or classroom that also brought him respect from everyone in the building. He was a legendary figure in Wallace that taught me a true sense of loyalty to a school or community. I honestly don't know where I would be without the help starting out, mentoring and friendship of Dave Rounds. When our paths crossed after I came to work at Lake City, he always treated you as if nothing had changed and that you were one of his best friends in the world. I owe a lot to him and will always be thankful for what he gave me in my life."
As someone that cut his teeth in this business covering his teams, you better believe I'm thankful as well.
From the night when a Wallace player had a game-winning interception and listening to Rounds yell his name running down the sidelines, to the many times I missed something in a story and heard that same yell across the field, I'm thankful.
Thankful that I was lucky enough to know and learn from Dave Rounds.
Jason Elliott is a sports writer for The Press. He can be reached by telephone at 208-664-8176, Ext. 2020 or via email at jelliott@cdapress.com. Follow him on Twitter @JECdAPress.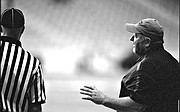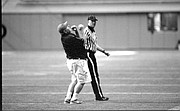 Recent Headlines
---