Silver Valley Sports Recap: Nov. 1-7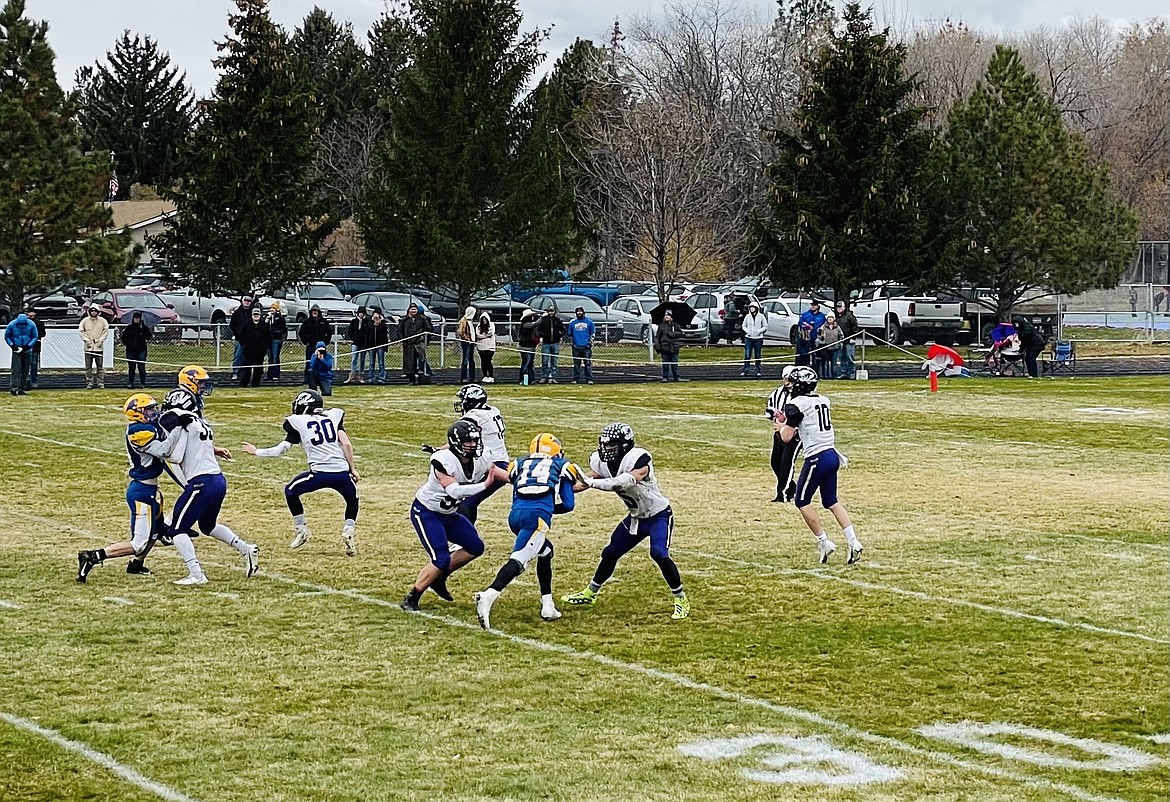 Mullan quarterback Caleb Ball drops back to pass during the Tigers playoff loss to Carey.
Photo by JOSH McDONALD
|
November 8, 2021 10:38 AM
MULLAN FOOTBALL
Mullan/St. Regis 14, Carey 60
CAREY — "We shut down the two best backs in the state and that was the game."
Carey Head Coach Lane Kirkland's postgame comments rang true as his Panthers celebrated their eighth straight trip to the 1A D2 Idaho Semifinals.
The two backs they shut down?
Presumptive all-state selections Luke Trogden and Adam Ball.
The Panthers led 22-8 at halftime in what had been a very competitive matchup to that point.
Mullan got as close as one score before things got out of hand.
Playing in freezing rain, windy deluge, the Tigers struggled to complete drives, even when they had momentum — a few times due to the weather, a few times due to the defense, and a few times due to their own mistakes.
"We preached all week to be more physical, to be tougher, block better and hit harder," Kirkland said. "And it showed up in this game like it hasn't all season."
Defensively, Mullan routinely had Carey moving in the wrong direction, but then the Panthers would snap off a big play and get a fresh set of downs.
"We were outmatched in the trenches and anyone with eyeballs could see that was the deciding factor," said Mullan Head Coach Stetson Spooner. "The early stalemate was what we wished we could sustain for the duration of the game but the depth that they and those top tier southern squads seem to have allowed them to do so much more scheme wise I think. They rotated probably 8-10 defensive lineman and offensive lineman in the first half trying to figure out better wrinkles and for us we just don't have that luxury at this time. Outside of our starting eight our depth becomes radically young and lacks size so in a game vs a team like that we just couldn't make as many adjustments and sustain. Carey is a very physical and talented team and we wish them the best."
Carey halfback Conner Simpson rushed 26 times for 305 yards, two touchdowns, and was the primary offensive thorn that the Tigers couldn't get away from.
The Panthers amassed over 500 yards on the ground and only 36 yards passing — while Mullan only mustered a paltry 242 yards total — 134 through the air and only 108 on the ground.
"For coach Kirkland to call Adam and Luke the best two backs in the state while he gets Connor Simpson to coach means a lot," Spooner said. "To the entire valley and especially our two communities Mullan and St. Regis nothing gets as far or is as much fun without the support shown for the boys and us as coaches. There is a lot of pride floating around in the air surrounding this team and it is a blast to be a part of."
Mullan finishes their season 7-2, Carey advances to the state semifinals where they will face conference foe and 2020 champs Dietrich.
WALLACE SWIMMING
BOISE — Dorsey Pearson became the highest finisher in the history of the Wallace High School swim team at the Idaho 4A Swimming Championships in Boise last weekend. The senior missed advancing to the second day of competition by one place and three-tenths of a second to finish the season 13th at state with a time of 2:07.52.
"I'm extremely happy for this opportunity I have been given for the past four years to compete at a higher level than I normally would have," Pearson said. "This could not have concluded in a better way, and I'm very happy about the outcome."
A four-year Wallace High School swim team member and two-time state qualifier, Pearson ends his high school career as the current holder of all four individual freestyle records in the program.
ALL LEAGUE VOLLEYBALL TEAMS
3A INTERMOUNTAIN LEAGUE VOLLEYBALL
MVP — Hailey Cheney, sr., Kellogg
Coach of the Year — Michelle Garwood, Timberlake.
ALL-LEAGUE — Sami Wilfong, sr., Timberlake; Grace Nearing, sr., Kellogg; Sierra Petesch, sr., Bonners Ferry; Jaycie Pratt, sr., Timberlake; Taylor Peterson, sr., Coeur d'Alene Charter; Ona Rose, sr., Priest River; Asha Abubakari, so., Bonners Ferry; Maddie Cheney, so., Kellogg; Lexie Maas, sr., Bonners Ferry.
1A DIVISION I SCENIC IDAHO CONFERENCE VOLLEYBALL
MVP — Riley Valley, sr., Wallace
ALL-LEAGUE — Jaden House, sr., Wallace; Elli Welch, sr., Wallace; Tia Hendrick, so., Wallace; Arianna Havier-Gorr, jr., Lakeside; Camryn Nichols, fr., Genesis Prep; Bella Anderson, fr., Genesis Prep; Shayla Hill, fr., Genesis Prep.
1A DIVISION II NORTH STAR LEAGUE VOLLEYBALL
MVP — Paige Valliere, jr., Clark Fork
ALL-LEAGUE — Katelyn Matteson, sr., Clark Fork; Caiya Yanik, sr., Clark Fork; Eloise Shelton, so., Clark Fork; Tayva Maitland, sr., Kootenai; Leah Frazier, jr., Mullan; Taylor Staley, sr., Clark Fork; Kaylee Lupo, fr., Kootenai.
Recent Headlines
---