Redistricting reshapes North Idaho voting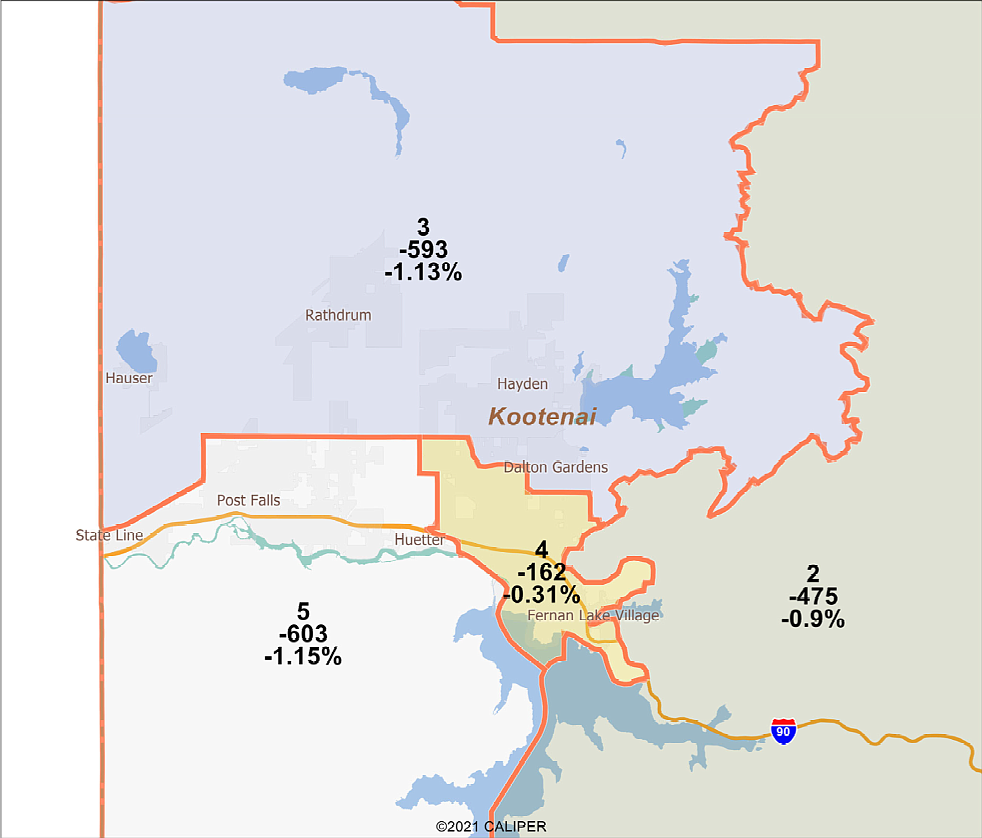 Kootenai County could gain a new legislative district for May 2022 election. Photo courtesy the Idaho State legislature.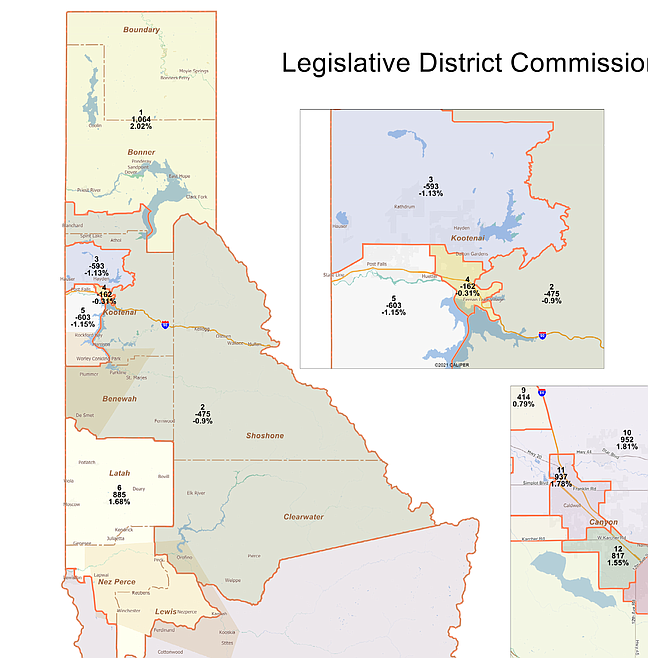 A new map of Idaho's 35 legislative districts cut Kootenai County into four pieces. Photo courtesy the Idaho State Legislature.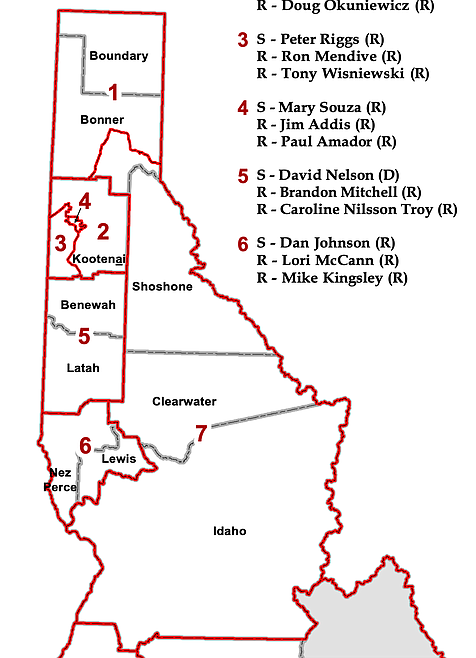 Kootenai County's three legislative districts are No. 2, 3 and 4. Photo courtesy the Idaho State Legislature.
Previous
Next
by
MADISON HARDY
Hagadone News Network
|
November 9, 2021 11:55 AM
New legislative and congressional districts will impact how Idahoans elect their representative for the next decade - and North Idaho voters are in for some big changes.
Idaho has 35 legislative districts and two congressional districts. Every decade, states undergo a redistricting process that uses U.S. Census Bureau population data to balance political representation across the districts. Redistricting is a required process under the U.S. Constitution and Idaho Constitution.
Data from the 2020 U.S. Census Bureau showed Idaho was the second-fastest growing state in the nation. Based on the 2020 Census, the ideal population for each of Idaho's 35 legislative districts is 52,546. As regions aren't naturally divided into perfect 52,000 pieces, the state must revise its district lines.
Last week, a bipartisan redistricting commission approved a new legislative district map titled L03. If approved, the districts will be in place for the May 2022 primary elections when Idahoans will vote on gubernatorial, congressional, and legislative races.
Kootenai County currently contains legislative districts 2, 3, and 4. The new map now splits Kootenai County between districts 2, 3, 4, and 5.
"North Idaho's gaining a district, essentially," Rep. Paul Amador, R-Coeur d'Alene, said during a meeting Saturday at The Press.
Amador represents District 4, which pretty much mirrors Coeur d'Alene city limit boundaries.
To meet population goals, District 4 shrunk by about 4,000 residents. Amador said he requested the reduction and felt many of the district revisions "made a lot of sense," particularly for those previously represented by District 7.
"One of the biggest complaints we heard was that people who lived in Hope right off Lake Pend Oreille were represented by District 7, which stretches all the way to Riggins," Amador said. "They felt they were completely detached."
For the last 10 years, District 7 has represented citizens from the southeast edge of Lake Pend Oreille to the southern border of Idaho County. For reference, it would take about five hours for a lawmaker to drive from Riggins to Hope.
Through the redistricting process, District 7 was divided in half, creating the northern District 2.

Residents in the eastern half of Kootenai County are lumped into the new District 2, according to the L03 map. District 2 will also include those on the Kootenai-Bonner border and Shoshone, Clearwater, and Benewah county residents. Based on boundary lines, the only sitting legislator in District 2 would be Rep. Heather Scott, R-Blanchard.
Scott did not respond to a Press interview request Monday.
Currently, Republican Rep. Caroline Troy represents Benewah and Latah County residents in District 5. After the redistricting process, however, Troy will serve District 6 constituents in the Latah, Nez Perce, and Lewis counties - losing Benewah and the Coeur d'Alene Tribe.
Scott will now be representing the Tribe.
"I'm sad to lose Benewah County because I feel like I've had a lot of good conversations up there," Troy said. "I understand their issues well."
While Troy has "mixed feelings" about redistricting changes, she said they better reflect the region's agricultural and educational base.
"They like to see things get done," Troy said. "People just want to know their kids are going to good schools and the university is going to be funded."
Rep. James Ruchti, D-Pocatello, said he and Rep. Chris Mathias, D-Boise, met with Coeur d'Alene Tribe's chairman, Chief Allan, during their trip up north. Ruchti said Allan was "disappointed" by the redistricting results.
"He came and testified in Plummer that (The Tribe) liked having a couple of different districts because they liked having more than just one group available to them," Troy said.
The Tribe did not respond Monday to a request for comment.
The most significant change for Kootenai County voters will be the addition of District 2, Amador said. The updated boundary lines also shift all of Kootenai County's previous districts.
"There will definitely be people voting in different districts," Amador said.
Here is the breakdown:
District 3, previously District 2, will now include all residents from the southern edge of Spirit Lake, Hayden, Dalton Gardens, Rathdrum, and the Hayden Lake area. Sitting lawmakers for District 3 are:
Sen. Steve Vick, R-Dalton Gardens
Rep. Vito Barbieri, R-Dalton Gardens
Rep. Doug Okuniewicz, R-Hayden
District 4 legislators will continue serving the Coeur d'Alene area. Amador's district comrades are:
Sen. Mary Souza, R-Coeur d'Alene
Rep. Jim Addis, R-Coeur d'Alene
District 5, previously District 3, is relatively unchanged. The district runs south of Prairie Avenue to the Benewah County border - excluding Coeur d'Alene and the eastern half of Kootenai County. Sitting lawmakers for District 5 are:
Rep. Ron Mendive, R-Post Falls
Rep. Tony Wisniewski, R-Post Falls
Sen. Peter Riggs, R-Post Falls
District 7 representatives will focus on the southern half of their former jurisdiction. Sitting lawmakers for District 7 are:
Sen. Carl Crabtree, R-Grangeville
Rep. Priscilla Giddings, R-White Bird
Rep. Charlie Shepherd, R-Pollock
The bipartisan commission also approved a new congressional district map, titled C03.
Commission members plan to vote on the complete redistricting plan Wednesday. If approved, the documents will be reviewed by the Secretary of State's Office and the Idaho Attorney General's Office.
Online versions of the approved legislative and congressional map are available on the commission website. Residents can also search their addresses to find out which district they'll be in through an interactive map online: https://bit.ly/3bTlha1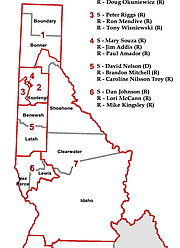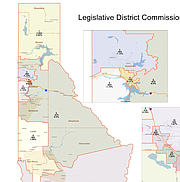 Recent Headlines
---