"Extravagant and Beautiful"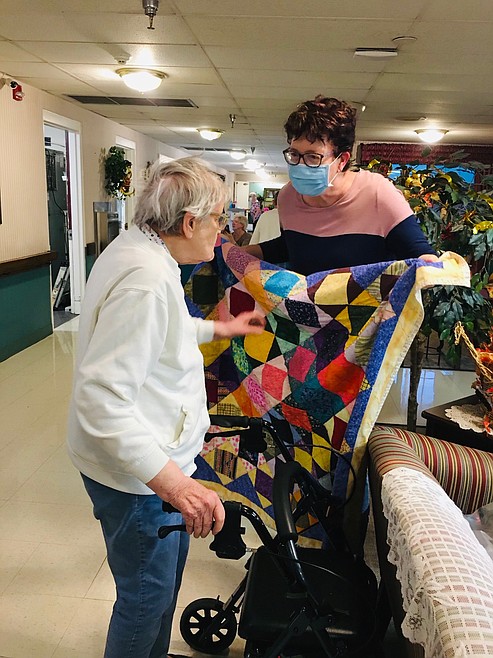 Diana Swindle presents a custom-made quilt to a resident at Mountain Valley of Cascadia in Kellogg. Swindle, whose mother is also a resident at the facility, along with the North Idaho Quilters made over 60 custom quilts for the residents to use during the colder months.
Courtesy photo
by
JOSH MCDONALD
Staff Reporter
|
November 11, 2021 11:53 AM
KELLOGG –– One resident at Mountain Valley of Cascadia and her daughter have given the gift of a little extra warmth to her fellow residents. It was last winter when Diana Swindle discussed with her mother Rose Buniger, how it would be nice if they could make a few quilts for the other folks residing at the skilled nursing center in Kellogg.
What Swindle and her mom imagined was making sure that each quilt was big enough to cover each resident's legs while they are sitting in their wheelchair.
Ambitiously, Swindle planned to make 60 quilts, but when life made things difficult for her she had to look for help in order to fulfill her promise.
"I was talking to a friend of mine and then she talked to the community service part of our quilt guild and they donated the rest," Swindle said. "So it was almost a 50/50 split between them and me."
Swindle belongs to the North Idaho Quilters – a group united by their love of quilting.
Swindle recently had the privilege of presenting the residents with their special gifts and the response she received was near overwhelming.
Mountain Valley CEO Emilee Kulin mentioned a few of the comments that she heard from the residents after they received their quilts.
"One resident said it was the nicest thing that anyone has done for them in a very long time," Kulin said. "Another said, 'they are so beautifully done, I cannot wait to see it laid over my bed.' and then they didn't leave and stayed in the lobby and watched everyone else get their quilts as well."
Mountain Valley Activities Director Brianna Carlin gushed further about the gesture and how it really has boosted morale around the facility as we move into the colder months of the year.
"They have really brought smiles to our residents who are happily showing off their new additions," Carlin said. "Diana was able to customize each quilt to a liking of that specific resident. Extravagant and thankful are two words I can think of to describe how we all at Mountain Valley feel about the gift given to our residents."
Recent Headlines
---