Jacqueline B. Purdy, 96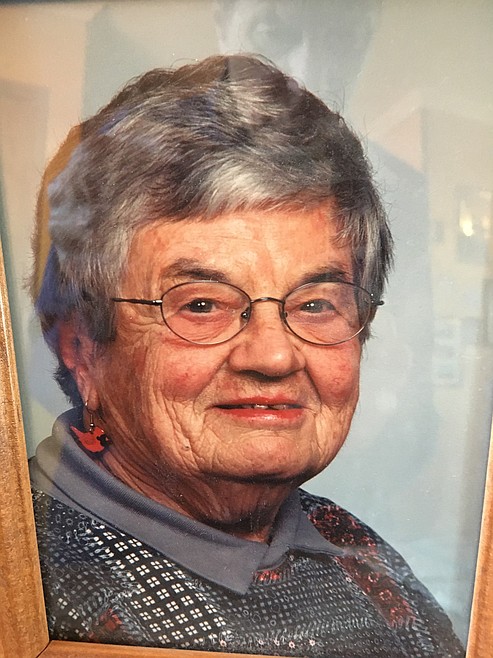 |
November 15, 2021 1:30 PM
Jackie was a remarkable woman. A severe case of spiral meningitis left her deaf at age 7. Her mother died when she was 9. In spite of these hardships, Jackie excelled in school. She graduated from Rogers High school in Spokane in 1942 as valedictorian of her class. She attended Whitworth College for two years and then went to work as an industrial engineer at the Aluminum Company of American (ALCOA) in Trentwood, Wash. When ALCOA ceased operations at the Trentwood location after World War II, she went to work for the John W. Graham Company of Spokane.
In 1946, Jackie married Gale Purdy. They made their home in Kellogg. She had two children, Alan and Sandra. She loved being a mother and a homemaker. She was a leader of the Blue Bird group and Camp Fire girls. She was also a den mother for the Cub Scouts and Boy Scouts. The four Purdys spent a lot of time together and were often seen skiing at Lookout Pass, playing golf at the Pinehurst Links, swimming, boating, waterskiing on Lake Coeur d'Alene, and building their summer cabin in Blue Creek Bay. She loved working in her yard and growing flowers. She played pinochle, bridge, and sewed her own clothes and made formals for Sandy.
After her kids graduated from high school and went on to the University of Idaho, Jackie returned to the workforce. She was a metallurgical chemist at the zinc plant laboratory and then the new Bunker Hill Laboratory. When Bunker Hill closed, she worked as the deputy auditor for Shoshone County for 31 years. She retired in 2005, two days before her 80th birthday!
Jackie was a former member of the Kellogg Country Club, National Ski Patrol System, Silverhorn Ski Patrol, American Contract Bridge League and several local bridge groups. In later years, she enjoyed membership in the Silver Valley Seniors, Kellogg Senior Dance Group, AARP and the Kellogg Elks Lodge. Jackie was loved by many and an inspiration to all who met her.
She is survived by her two children, Alan Purdy and wife Angela of Spokane, and Sandra Kruger of Calgary, Alberta; six grandchildren, Sean Gilman and wife, Kim, Megan Fitzpatrick and husband Jim, Scott Kruger and wife Trysh, Chris Kruger and wife Lynnsey, Alaina Barbairo and husband Anthony, and Bryce Purdy and wife Stephanie; and five great-grandchildren, James and Ryan Fitzpatrick, Henry and Elizabeth Gilman, and Leo Purdy.
The Lord called Jackie home on Oct. 30, 2021. She is now able to hear all the beautiful sounds of Heaven! She will be missed. A celebration of life ceremony will be held at a later date. You may make donations in Jackie's name to the Kellogg Senior Center or North Idaho Hospice (www.northidahohospice.org).
Yates Funeral Home is entrusted with final arrangements. Please visit Jackie's online memorial and sign her guest book at www.yatesfuneralhomes.com.
---